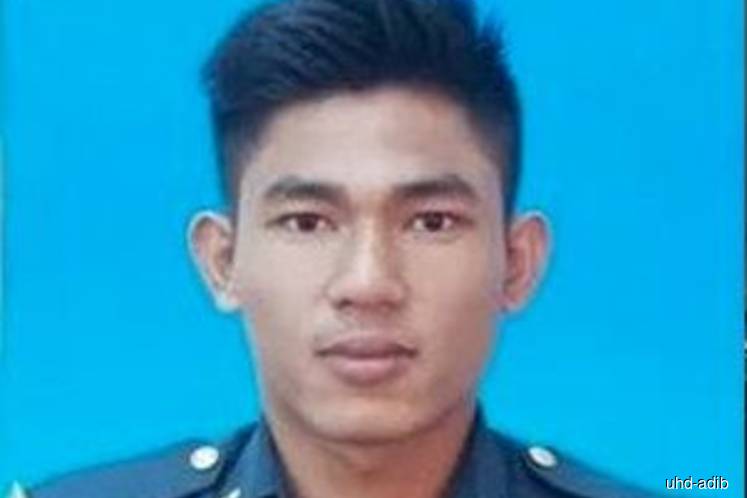 SHAH ALAM (Feb 27): A Fire and Rescue Department officer told the Coroner's Court here that Muhammad Adib Mohd Kassim indicated to him in writing that he was assaulted during the riot at the Sri Maha Mariamman Temple site, USJ 25, Subang Jaya, Nov 27, last year.
Subang Jaya Fire and Rescue Station chief, Syed Shahril Anuar Syed Sulaiman, 39, said Adib wrote on a document that he was hit using implements but he did not see the implements.
Syed Shahril Anuar said Adib divulged the information through 15 questions which were submitted to him.
The 18th witness said he prepared 15 questions for Adib after a discussion with his director.
"I asked Adib the questions on Dec 12, 2018. I asked his father's and the hospital's permission before asking the questions. At that time, Adib appeared lively.
"I entered the room with my colleague by the name of Shafie. I took along a document containing the questions for Adib to mark. At that time, he had just completed his physiotherapy and I gave the document to him," he said when answering a question from the Deputy Public Prosecutor Hamdan Hamzah who was handling the inquest.
"I asked him, 'Can you write, Adib? He gave a thumbs up. Adib held the document with his left hand because he was left handed. Then he gestured for a pen...he took the pen and read all the questions, I also read out all the questions," he said, adding that there were two nurses with them when Adib answered the questions.
The 15 questions posed to Adib were:
1. Did the rioters try to open the Emergency Medical Rescue Service (EMRS) van doors? he marked in the space for "Yes".
2. Did he try to prevent them from opening the EMRS van door, he answered "Yes".
3. Were they successful in opening the EMRS van door? "Yes".
4.How did he feel when they opened the EMRS van door? Adib ticked the box for "pressured".
5. Was Adib pulled out of the EMRS van? "Yes".
6. If he was pulled, which part was pulled? Adib answered "shoulder".
To the seventh and eighth questions, namely, "Did Adib fall" and "when Adib fell, was he pulled", the witness said Adib only shook his head as if to indicate he did not remember. He did not answer in the document.
The witness also said, Adib also did not answer question nine, namely, "when Adib was assaulted, was Adib conscious or not". He only shook his head.
To the 10th question, if they used implements to hit him, Adib replied "Yes".
To the 11th question, namely, if implements were used, did he see them, Adib replied "No".
To the 12th question, what objects were used by the rioters whether stone, wood, bottle and others, Adib marked in the space for "other implements".
To the 13th question, did Adib regain consciousness at the location or hospital, he ticked "hospital".
To the 14th question, did Adib feel threatened he answered "Yes", while to the 15th question, did Adib try to defend himself, Adib did not reply but gestured he did not remember.
After spending about 25 minutes to ask Adib all the questions, Syed Shahril Anuar said he left the hospital and informed his director concerning what had transpired.
When narrating about Adib's service at the Subang Jaya Fire and Rescue Department, the witness said his relations with Adib were like brothers although Adib had only served for four years.
"One day, he requested to go on leave from me as he wanted to get married. I joked that the first wedding invitation card must be given to me, if his leave is to be approved...and both of us burst into laughter," he said while dabbing his eyes.
On Adib's character, the witness said he liked to smile and was a very helpful person.
"I also proposed Adib's name for the excellent service award," he said.
When asked by lawyer Shazlin Mansor who represented Adib's family, Housing and Local Government Ministry and also the Fire and Rescue Department on the aim of the witness in preparing the questions, he said it was because at that time there were speculations that Adib was hit by a vehicle or assaulted and he wanted to know what actually happened.
Adib, who is also a member of the EMRS, was seriously hurt during the riot at the Sri Maha Mariamman Temple site, USJ 25, Subang Jaya on Nov 27 Nov last year.
He died on Dec 17 at the National Heart Institute.
The inquest before Coroner Rofiah Mohamad continues tomorrow.