This article first appeared in Personal Wealth, The Edge Malaysia Weekly, on December 11, 2017 - December 17, 2017.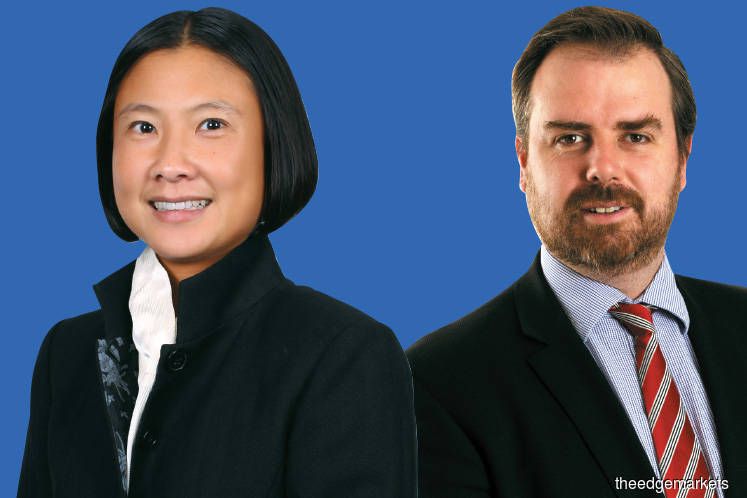 Next year could see more widespread use of e-payment services and remittances, driven by a more conducive regulatory environment for e-Know Your Customer (e-KYC) processes.
"If e-KYC can be safely performed [by e-payment and remittance service providers], then I see it as one of the factors that will make e-payment and remittances more appealing to a wider consumer market," says Wong Sue Wan, partner at law firm Wong & Partners, a member firm of international consultancy Baker McKenzie.
She tells Personal Wealth that current face-to-face anti-money-laundering and KYC processes do not lend themselves to the fast and seamless e-payment and remittance services that financial technology (fintech) start-ups are trying to create. 
Bank Negara Malaysia recently allowed companies involved in e-KYC into its fintech regulatory sandbox and released an exposure draft that touches on proposed e-KYC regulatory standards. Industry players looking to implement e-KYC processes will be able to apply to the regulator for approval once the regulations have been approved.
In line with this, the local landscape will likely see an increase in e-payment and remittance service providers. In a note to clients that Wong co-authored on the implementation of e-KYC standards, she wrote, "In the short term following the proposed implementation of e-KYC standards, we anticipate that there will be engagements between Bank Negara and industry players to develop pilot projects, technology platforms and processes that enable e-KYC.
"In the long term, e-KYC will replace existing manual and paper-based KYC processes with paperless verification of the customer through the internet. Remittance service providers ... will need to, in time, revisit the existing operational KYC protocols and further refine these protocols to keep up with the digitisation of the process..." 
Wong says another driver of the proliferation of e-payment service providers will be their ability to sign up as many merchants as possible for their payment platforms. "If a provider is able to sign up all the merchants in the Klang Valley, it will be that much easier for a user to just swipe with the app and pay. 
"Payments technology is a market that we see a lot of players wanting to tap into right now. And it will soon get to a point where you can pay for your teh tarik out of your e-wallet. 
"It would be even better if a user could use the same app and QR code in a café in Sydney. But that requires e-payment service providers to use a standardised QR code." 
Although standardised QR codes are not yet a reality, Baker McKenzie Australia partner Adrian Lawrence says Malaysia is heading in the same direction as Australia. "People in Australia are now just as comfortable using their phones to pay as they are with swiping cards, and that is just going to increase. However, we still have a long way to go to achieve the level of compatibility that Wong describes." 
He believes that even if one or two anchor companies adopt a universal e-payment platform, its popularity will eventually surge. Take China-based WeChat. The globally popular messaging service started out as just that — a straightforward messaging service provider. 
But once the company released its WeChat Pay e-wallet, users in China were able to connect their credit cards to their accounts and engage in a host of payment activities — such as paying utility bills, purchasing movie tickets, shopping on e-commerce sites and paying for taxi rides — all without having to exit the app. 
"You can imagine how (in the Malaysian context), a service such as Uber or Amazon could integrate e-payment platforms like e-wallets into their services that will become a launchpad for wider adoption of e-payment platforms in the market," says Lawrence.
In fact, last month, Grab launched its digital wallet GrabPay in Singapore, which can be used at hawker stalls, shops and restaurants. The ride-hailing giant says it will launch its e-wallet solution across Southeast Asia next year and that the move marked a significant step towards becoming the largest consumer internet platform in the region. 
With Grab's presence in many Southeast Asian countries, this could be the first step in creating the kind of all-encompassing e-payments ecosystem that Wong envisions. 
Micro-investing to make gains? 
Another emerging fintech trend is micro-investing, says Wong. "I think the micro-investing model is very viable for the Malaysian market, depending on how user-friendly the applications are, of course. We have seen interest in setting up micro-investing platforms here in Malaysia from certain companies." 
Quite simply, micro-investing platforms are the digital-age equivalent of putting your spare change in a piggy bank and then depositing the contents in an investment account. The idea behind such platforms is to get rid of the traditional barriers to investing, such as minimum amounts in a brokerage account, to encourage people to invest. The beauty about micro-investing is that even those with limited income and assets are able to participate in the securities markets. 
Users can make investments using lump sums or recurring deposits, with the sums automatically spread across an asset allocation in line with the user's chosen risk profile. Lawrence explains, "Micro-investing addresses a market for younger people who have probably never engaged with investment products before. They can now do so in a couple of ways. 
"You may agree, for example, to have a micro-investing platform take out maybe 50 cents from your account for every four dollars that you spend. That 50 cents could then be deposited in an investment product. That is one way. Then, of course, you can just regularly put a small amount of money in an investment product over a period of time." 
He adds that the money is then deposited in a pooled investment, "and you would then have a fractional interest in that pooled investment. From a customer interface point of view, you would just sign up for the product, make your selections as to how you would like to invest and then the money gets regularly funnelled into an investment product". 
Acorns is such a company. It started out in the US and now has nearly three million members. The app was launched in Australia early last year and there are now more than 250,000 members in that country. 
Fintech Down Under 
One of the most interesting developments for fintech in Australia is the idea of a fiat-backed cryptocurrency. "Proposals have come out of Australia recently calling for the creation of a Digital Australian Dollar (DAD)," says Lawrence. Fiat currency is simply any kind of legal tender that derives its value by force of laws and governments, rather than the backing of a precious commodity such as gold or silver. 
Industry body FinTech Australia, along with the Australian government's Fintech Advisory Group, submitted test cases attempting to justify the need for a brand new DAD, the value of which would be pegged to the physical Australian dollar. The digital currency would then compete against other cryprocurrencies such as bitcoin and ethereum. 
According to Lawrence, other parts of the world have also taken this concept to heart. In Japan, for instance, a consortium of banks are reported to be in the process of pioneering a digital currency ahead of the 2020 Summer Olympics in Tokyo. The proposed J-Coin will be exchanged at a 1:1 rate to the yen. 
"Something like DAD will facilitate a huge amount of activity in the financial space. But right now, I think much of the analysis has to do with the economic effects of removing physical cash from the economy, and also for the black economy (economic activity that goes unrecorded and, therefore, untaxed by the government," says Lawrence.
The acceptance of something like DAD will hinge on a gradual "normalisation" of its use by regulators, he adds. "I think it is too early to look at public opinion on this simply because right now, there are still plenty of people who find cryptocurrencies too complicated and speculative. It isn't 'real' enough for them yet. And inevitably, there will be comparisons to non-fiat-backed cryptocurrencies as as well as the initial coin offering (ICO) market." 
ICOs have been much maligned of late, with China clamping down hard on these offerings to prevent scams as well as to curtail their use as a mechanism to take capital out of the country. 
"I think the point at which DAD becomes 'real' for people is when the government comes out to back the digital currency. And I do believe that at some point, the government will do just that," says Lawrence.
Although the regulators have stopped short of declaring cryptocurrencies as legal tender, the Australian authorities have taken steps to indirectly affirm the use of digital currencies in the market. "In Australia, we have just passed legislation to remove double taxation from any form of digital currency," says Lawrence. 
In late October, the Australian parliament passed legislation to remove a dual Goods and Services Tax (GST) burden on the purchase and use of cryptocurrencies. Previously, consumers who used these currencies were charged GST on the purchase of the digital currency and then again on its use to purchase goods and services subject to the tax regime. 
The new legislation means that digital currencies used to purchase goods and services in Australia will be treated just like regular currencies for tax purposes. "We have also proposed a law to ensure that cryprocurrency exchanges are subject to the same anti-money-laundering requirements as that of traditional currency exchanges," says Lawrence.
"Every time these small regulatory updates take place, they slowly increase the public's trust in cryptocurrencies as a mechanism by which to transfer value. Again, this is not the government expressly saying that cryptocurrencies are legal tender, but it is acknowledging that they exist and it intends to regulate their use."