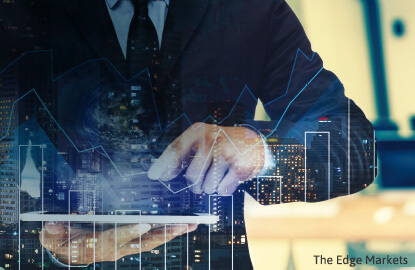 KUALA LUMPUR (Nov 8): The growing prominence of fintech in the banking and financial services sector is not mere hype but a real phenomenon, said fintech mentor and author Malikkhan Kotadia at the BankTechAsia 2016 conference here today.
"Up to 60% of banking profits and 40% of revenues are at risk from fintech," Malikkhan said, quoting a 2015 annual review on global banking by McKinsey.
Among the drivers of the fintech boom, according to Malikkhan, was the trust deficit in the banking system after the 2008 financial crisis and large unbanked and underbanked populations in the Southeast Asian region.
The slow-responding and opaque banking ecosystem, an exponential increase in funding and the growth of emerging technologies were also contributing factors.
Both Malikkhan and Standard Chartered Bank, Malaysia, chief information officer (CIO) and its Islamic banking group CIO Datuk Arif Siddiqui echoed Bill Gates in saying "banking is essential, but banks are not".
While certain forms of fintech such as gamification of personal financial management were enablers to the banking industry, Malikkhan said banks also stood to lose from disruptive technologies such as blockchain and banking-as-a-service (BaaP) platforms.
Meanwhile, regulating the fintech landscape has become more pertinent than ever, and it has brought regulatory technology, or regtech, to the forefront.
"There is pressure on banks to do a lot more," said Arif.
However, although regulators across the world have been continuously talking to each other and sharing information, he admitted it was not easy as there are high costs to addressing technological requirements such as data tracking, KYC (know your customer) compliance and customer due diligence (CDD).
"Southeast Asian countries in general have a lot of lip service [from regulators] but more must be done to make things more transparent, accessible and consistent," said tryb co-founder and partner Markus Gnirck. tryb is a Singapore-based private equity partnership that invests in fintech.
The protection of consumers must be a priority of regulators in addition to facilitating the entry of new entrants in the market, Gnirck said during the forum. Fellow panellist Swati Jindal, head of Matchi's Asian division, agreed that "regulators are very much responsible for the money in the country".
"Malaysia should focus on B2B (business-to-business) services as there is still room to grow in the back and middle-end areas," Gnirck said.