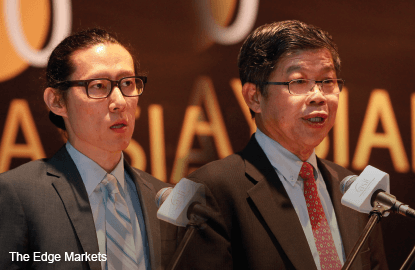 This article first appeared in The Edge Financial Daily, on May 30, 2016.
KUALA LUMPUR: Bank Negara Malaysia (BNM) has announced that the financial technology (fintech) regulatory framework will be ready by July. Does that mean traditional banks would become more vulnerable with the emergence of this new breed of rivals? But can start-ups challenge trust elements of banks?
"As with any new technological development in other industries, the new fintechs will increasingly disrupt the banking business. The pace of disruption may vary from country to country. In Malaysia, over the next two to three years, the impact may be felt on the periphery particularly in payments and through more transparency to consumers through potentially financial comparison," said Anshu Nahar, principal of global management consulting firm, AT Kearney.
In the long term, Anshu believes that either banks will become more like the very fintechs that threaten them (through partnerships or internal initiatives) or be subject to extinction.
"Thus, they will build completely digital models including 'know your customer' requirements. Those that continue to rely on physical documents and wet signatures will likely be the first to fall. And they will not do it all by themselves — partnerships with fintechs will be a key part of their strategy," Anshu told The Edge Financial Daily on the sidelines of the 20th Malaysian Banking Summit last Friday.
Secondly, he believes going forward, banks will not try to be everything to everyone, indeed, they will have greater focus by specialising in specific sectors.
For him, the crucial part of this evolution in the banking landscape will come in the form of identifying "pivotal customer events" and building a truly unique customer experience. Again, this will be done through digital models and partnerships.
Siew Yuen Tuck, co-founder of a fintech start-up called Jirnexu, also sees the potential of fintech activities to boom in Malaysia, although the big impact on banking giants is not likely to be prominent in the short term.
"If fintech can offer consumers [a] level of convenience plus value [such as faster service, better interest rates], some consumers will embrace that," he said.
Siew highlighted that more Malaysians are using the Internet to access banking services, and this has led to reducing the need to visit the banking halls.
"So banks need to react and figure out [how to cope with that] as these people are no longer walking into branches," he added.
According to BNM's statistics, the number of mobile banking subscribers increased to 7.3 million in 2015, from 1.56 million in 2011, while the Internet banking subscribers also grew to 19.8 million last year, from 11.9 million in 2011.
Meanwhile, Tan Sri Azman Hashim, the chairman of Asian Institute of Chartered Bankers, noted in his earlier introductory speech that up to 10% to 40% of the banking revenue will disappear by 2025, as fintech is challenging the status quo of the financial industry.
However, Siew said, it is not an easy feat for fintech firms to challenge established banks in Malaysia as the domestic financial market has been well regulated.
"Malaysia has strong regulators, thus, in a result, we have safe and secured banks, so it will be harder for start-ups to challenge trust elements of banks," Siew said, adding that Malaysia's financial landscape is different from developed markets, where trust over dominant players has been affected through credit crunch.
Singapore-listed Silverlake Axis Ltd founder and group executive chairman Goh Peng Ooi, however, opined that fintech could be an opportunity for banks, and indeed, their revenues will grow if they manage to adapt to the trend.
"It is the economic profile change that will cause rapid invention of financial products, which replace older products. It is just 'uberisation' of financial products. Again, banks that are weak in technology are definitely going to lose out in this chase for new revenues, and suffer impacts on 'old' revenues, " he told The Edge Financial Daily.
Goh, who sees fintech as an evolution started since the days of credit cards and automated teller machines, added that the only difference now is that fintech is moving much faster than before.
"In the old days, nearly all banks could react because sufficient time was given for them to adapt and generally external competition was negligible. However, this time it is happening much faster and both internal and external players are involved. Just like the last fintech revolution, some banks will win and some banks will lose ... but those weak in technology are nearly destined to lose out," he added.
Malayan Banking Bhd's (Maybank) chief strategy and transformation officer Michael Foong Seong Yew opined that banks are likely to engage with fintech companies through partnerships, instead of mergers and acquisitions (M&A).
If the regulators relax the M&A rules for banks, Foong believes there is an opportunity for the acquisition of fintech companies, however, it is quite rare now as the potential for fintech in Malaysia is still in an early stage.
According to him, Maybank is talking with several fintech companies to see how the group could partner, but most of the discussions are still in working progress.
Overall, Foong, who sees fintech has the main impact on banking customer experience, indicated the area that is subject to most change in fintech is the mobile payment.
As fintech is a new area, Foong believes that regulators will focus on consumers' protection by providing more clarity, thus, the trust of the system is able to continue.