This article first appeared in Personal Wealth, The Edge Malaysia Weekly, on July 10, 2017 - July 16, 2017.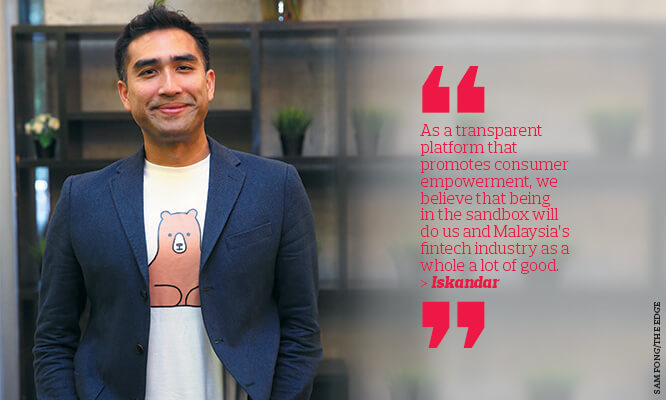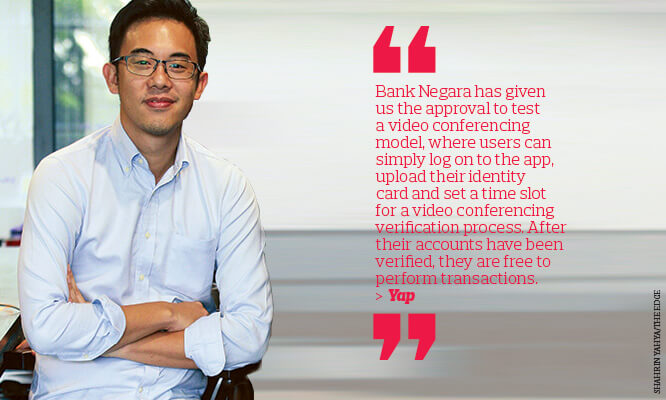 The financial technology (fintech) regulatory sandbox framework introduced by Bank Negara Malaysia last October has been well received. Players say it gives them the credibility to operate their business models, the opportunity to compete with more established players and the space to push the boundaries of their offerings.
Four fintech firms have been approved by the regulator — insurance aggregators GoBear Ltd and GetCover Sdn Bhd and remittance service providers MoneyMatch Sdn Bhd and WorldRemit Ltd.
Iskandar Ezzahuddin, country director of GoBear Malaysia, says the regulatory sandbox has allowed it to operate more seamlessly, on top of giving the company more credibility. "The criteria to be an eligible player approved for the sandbox include having a solution that is genuinely innovative and realistic. Additionally, assessments must have been conducted to demonstrate its functionality.
"Being one of the approved players means that we have fulfilled these criteria, thus giving us greater credibility. As an online insurance aggregator, it has become a lot easier discussing [future collaborations] with insurers and banks after being approved."
MoneyMatch CEO Adrian Yap says the regulatory sandbox has allowed it to realise its business model, which is the first of its kind in Malaysia. "While there are a few money exchange companies in the country, none has tried to bring peer-to-peer (P2P) remittance services and its accompanying solution, electronic Know Your Customer (KYC). Upon finalising our idea and model, we spoke to Bank Negara about 15 months ago.
"We were officially approved to operate on May 25. As a small player, we feel very privileged to be in the sandbox because this has given us the validation that we are able to fill a gap in the Malaysian financial services industry."
The regulatory sandbox allows financial institutions and fintech players to experiment with their solutions in a live controlled environment, with the appropriate safeguards. In June last year, Bank Negara established the Financial Technology Enabler Group (FTEG), a unit responsible for formulating and enhancing regulatory policies to facilitate the adoption of technological innovations in the Malaysian financial services industry.
GetCover will operate a mobile application that allows users to buy motor insurance directly from insurers. The platform will offer automated on-boarding, motor and road tax renewal and underwriting process to reduce the overall operating cost of insurance providers, allowing them to offer better rewards to their customers.
Enabling innovation
While Malaysia was one of the earliest in the region to come out with a fintech regulatory sandbox framework, other countries have since followed suit. Singapore released its framework on Nov 16 last year, with one approved participant, insurance broker PolicyPal. Countries in the region that have released similar guidelines include Hong Kong and Thailand, although the details of their regulatory frameworks vary.
In Malaysia, GoBear was the first to be approved for the regulatory sandbox on Jan 13 while the other three players were approved on May 25. According to Iskandar, the company had engaged with Bank Negara since January 2015 to discuss the launch of its operations in Malaysia. GoBear was launched in Singapore in February 2015 before it set up operations in Malaysia, the Philippines, Hong Kong, Thailand and Vietnam.
"When we started in May last year, we had three products on our platform — personal loans, credit cards and travel insurance. However, three months later, we were informed that we should not offer travel insurance as it is a regulated product," says Iskandar.
"According to the Financial Services Act 2013 (FSA), if you do anything in relation to insurance products, you need to be a licensed financial adviser. Of course, we do not see ourselves as advisers. Our role is compiling information for users to compare and choose the one that suits their needs.
"While some products may be arranged at the top and others at the bottom, that is purely based on the algorithm. There is no human intervention in the process. At the time, we had to discuss with Bank Negara how we could continue offering our services."
After GoBear was approved for the regulatory sandbox, it could resume offering its insurance product as it is now regulated. "As a transparent platform that promotes consumer empowerment, we believe that being in the sandbox will do us and Malaysia's fintech industry as a whole a lot of good," says Iskandar.
While GoBear had been up and running in Malaysia for some time before being approved for the sandbox, MoneyMatch has yet to launch its services. But everything is in place for its launch in the next few weeks. The company aims to be a fully digital and mobile one-stop shop for currency transactions with three products — money exchange, remittance services and electronic KYC (also known as e-KYC) solutions.
"With e-KYC, we can board 
clients without a physical branch as they can undertake the process at home. Bank Negara has given us the approval to test a video conferencing model, where users can simply log on to the app, upload their identity card and set a time slot for a video conferencing verification process. After their accounts have been verified, they are free to perform transactions," says Yap.
For remittance transactions, MoneyMatch will use a P2P model similar to those used by international players such as UK-based TransferWise and Taiwan-based CherryPay. This model allows such transactions to be done faster and cheaper than those offered by traditional financial institutions.
"For example, if you want to transfer money to your sister in Singapore, we could match this transaction with another person who wishes to send money to Malaysia. This exchange of transactions will effectively shorten the waiting time and cost since the money does not cross borders. Of course, if the wait time is too long, users are free to cancel their request and do a direct transfer instead, which will be pricier but still cheaper than what the incumbents charge," says Yap.
To get the cross-border model working seamlessly, MoneyMatch is planning a request to be regulated by the Monetary Authority of Singapore and other bodies in the near future.
Track record and beyond the sandbox
The fintech regulatory sandbox framework includes guidelines to ensure the preservation of sound financial and business practices consistent with monetary and financial stability, fair treatment of consumers, prevention of anti-money laundering and counter-terrorism financing activities and having secure payment systems and instruments.
The participants of the sandbox are given a testing period of 12 months. This is longer than the six months given to players in the UK and Australia. During this period, Bank Negara will oversee the development of the players and make sure they meet the predetermined goals.
"We have been given key performance indicators to achieve. They are based on a few things — making sure that we drive sufficient amount of traffic to the partnering insurers and bankers, and launching as many products as possible. This is a total shift for us as we did not have this luxury before," says Iskandar.
"By certain metrics, we have overachieved in bringing traffic to the insurers and banks and we are in line with our product launch road map. In the next 12 months, we will introduce health, life and motor insurance as well as bank deposits.
"Most of the products are easy for us to introduce as we can just replicate what we are offering in other countries. But motor insurance is quite complex as it is very market-specific. However, we managed to and it is going to be introduced in the coming months."
According to the framework, upon completion of the 12-month period, the central bank will decide whether to allow the product, service or solution to be introduced to the market on a wider scale. Should this be the case, the companies will be assessed based on the applicable licensing, approval and registration criteria under the FSA, Islamic Financial Services Act 2013 and Money Services Business Act 2011.
Yap says no matter the result, the company is grateful for the opportunity to operate its business model and observe how it can impact Malaysian users. "If we fail to meet their expectations, then we would just thank Bank Negara for the experience and think of another innovation that can be applied in Malaysia. But if we do have a true value proposition, we look forward to seeing how our business model can be accommodated in the future."
As a member of the Fintech Association of Malaysia, GoBear is involved in a lot of discussions about the sandbox and its implications for the local fintech players. Iskandar is optimistic that the sandbox will lead to a more robust environment for all financial service players to operate in.
"Some players wish they could operate in a free environment — they never want to be regulated — especially the smaller players, as being in the sandbox for 12 months means they will have to invest heavily to make sure that their systems are fully developed and ready to be tested," says Iskandar.
"But in the finance world, this is quite impossible. When you are dealing with people's money and are responsible for the security of the monies, regulation is important. Therefore, we have to embrace the regulatory sandbox and its outcome for the betterment of the industry."