This article first appeared in Personal Wealth, The Edge Malaysia Weekly, on July 20, 2020 - July 26, 2020.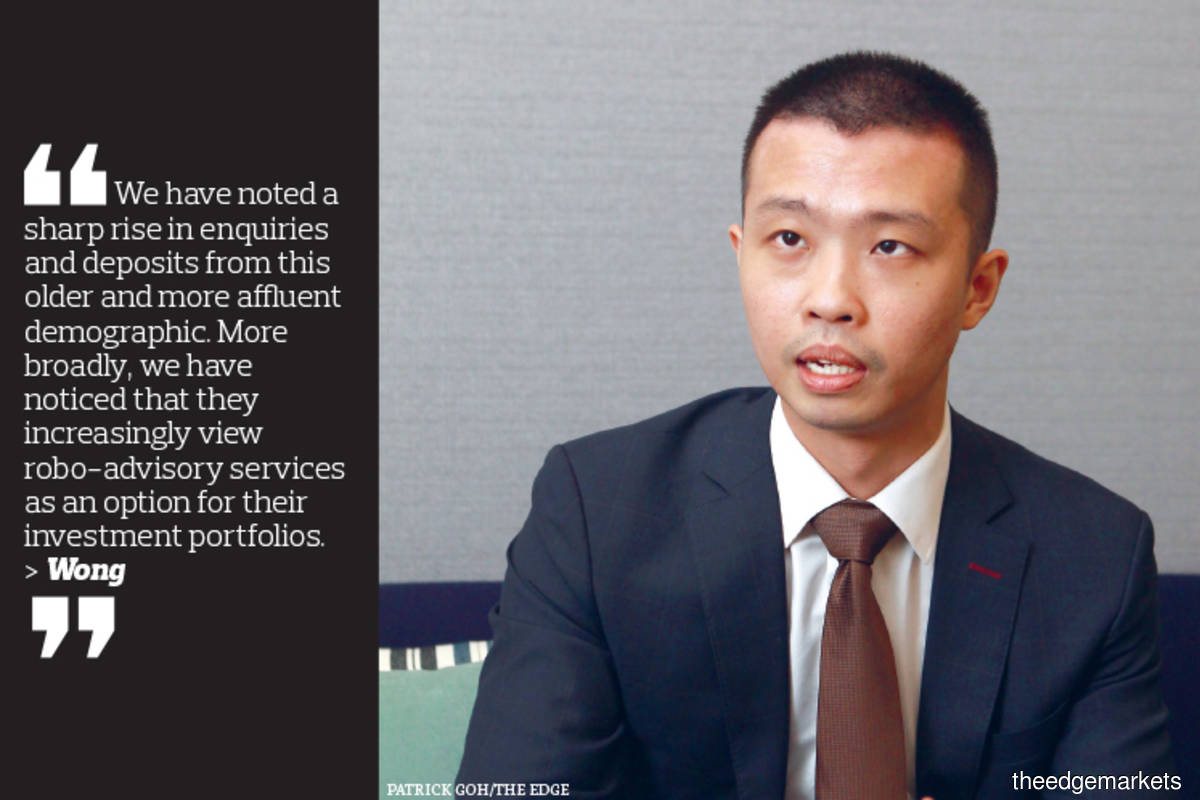 Large amounts of time spent at home, combined with financial uncertainties and market volatility, during the Covid-19 pandemic have seen an increasing number of older investors turn to low-cost financial technology (fintech) services such as robo-advisory platforms. 
StashAway Malaysia country manager Wong Wai Ken says the robo-advisor has seen more interest and investments from those in the 50 years and above age group during this period. "We have noted a sharp rise in enquiries and deposits from this older and more affluent demographic. More broadly, we have noticed that they increasingly view robo-advisory services as an option for their investment portfolios.
"Over the last few months, we have seen an increase in the volume and value of deposits from those in their fifties. We intuit that these people are looking to diversify their investments internationally following a rally that began at end-March. On average, investors' deposits in this segment have grown more than 40%."
According to Wong, the company currently manages more than half of the assets under management held in robo-advisory platforms in Malaysia. 
Low-cost digital investment options with a large international universe of securities are gaining traction among more experienced and high-net-worth investors, many of whom tend to be older, he says. "The average high-net-worth individual in Malaysia is familiar with the local stock market. They know all the good counters and from that, one can surmise that they have extensive and liquid local portfolios. 
"However, they are not that familiar with international markets. Therefore, this demographic sees robo-advisory platforms as a convenient and low-cost method to diversify into global markets."
Another broader reason for the increased interest from this demographic is their frustration with their existing private banking and unit trust fund management services, according to Wong. "When we get this older and more affluent demographic on board as investors, we naturally communicate with them a bit more. Anecdotally, we have found that these people are not happy with their private banking services. 
"When they come to us, it tends to be because they are unhappy with the products that they have been sold and the high fees that come with these. When they come to us, it is usually after spending years with private banks and unit trust agents, buying into expensive and underperforming structured products, foreign exchange-related instruments and unit trust funds."
 
Less aggressive portfolios
The sharp increase in the number of older investors on these platforms is interesting because robo-advisors — being long-term investment vehicles — have generally been perceived as more attractive to younger and less experienced investors. Furthermore, conventional wisdom suggests that those in their fifties are typically nearing retirement and, therefore, would be expecting to draw on their retirement income soon. 
However, this demographic, which tends to be in the final phase of their careers, is also enjoying the highest earning potential of their lives, according to Wong. With Malaysia's minimum retirement age set at 60, it can be inferred that many who recently turned 50 have roughly a decade's worth of earnings ahead of them. 
Once they hit 50, this demographic tends to continue working for another 5 to 10 years, with some choosing to work even longer, he notes. "This group of people have a realistic investment horizon of up to a decade. And if they are putting away the most amount of money during this time, then all the better for them." 
Older investors tend to have a more conservative risk profile because ultimately, most of them would be looking forward to retirement, says Wong. StashAway allows investors to create portfolios based on their objectives, and more than half of this older demographic consider retirement their top priority. This is followed by travel at 15%.
"This class of investors tend to have an allocation split of 33% equities and 67% bonds. They obviously know that they are in the final leg of their earnings phase and do not want to take on excessive risk," says Wong. 
By comparison, younger investors generally have aggressive portfolios, which comprise a 60:40 split in favour of equities. 
In all cases, investors do not rebalance their portfolios very much, implying a hands-off approach that is quite typical of those with a long-term investment horizon. This has held true even with the Covid-19 pandemic sending economies around the world into months-long lockdowns. 
"We have certainly not seen a noticeable risk-off trend in the current climate, although we allow investors to adjust the amount of risk they have in their portfolios. We recommend portfolios based on their risk appetite and investment horizon, and what we have noticed is that most of our users follow these recommendations, regardless of their age group," says Wong.
He is confident that this older demographic is in for the long haul, pointing to a demand for a beneficiary nomination option in StashAway's investor profile. "We have been receiving queries about legacy planning features, with the nomination of beneficiaries being a key request," he says. 
"However, there are strict Know Your Customer protocols for us to adhere to. It is not as simple as just creating a 'beneficiaries' tab on our portal. We need to be clear about who stands to inherit the StashAway investment profile in the event of a user's untimely death. 
"This is more of a feature than an investment product as such. Nonetheless, this is something of a must-have for our older and more affluent investors." 
Lukewarm reception for payment and gold investment platforms
While a larger number of older users have begun to invest via robo-advisory platforms, this demographic has largely remained on the sidelines when it comes to other financial technology (fintech) solutions such as payment and gold investment platforms. 
E-wallet players did see a large increase in their user base in the first half of the year. This was attributable to the previous government's e-Tunai Rakyat initiative, which provided spending vouchers to encourage the usage of e-wallets. However, the older age group has been hesitant to use such apps compared with their younger counterparts. 
TNG Digital Sdn Bhd CEO Ignatius Ong attributes the large user increase to this campaign. "The e-Tunai Rakyat campaign started in January and ended just a few days before the first Movement Control Order (MCO) period in March, and we saw a sharp increase in our overall e-wallet user base. We ended 2019 with about 6.5 million users. But by the end of the campaign, our user base had grown to about 10.4 million." 
TNG Digital is the company behind the Touch 'n Go eWallet. Ong says about 20% of its total user base comprises those who are 50 years and above. They generally use the e-wallet to perform mobile phone top-ups and bill payments, as well as to conduct offline payments at their local coffee shops. 
The older demographic also uses their Touch 'n Go eWallet at grocery stores and hypermarkets. So, they tend to have bigger-ticket sizes on individual transactions, in addition to having a more predictable pattern of usage. 
While the younger generation remains the more active users of the Touch 'n Go eWallet, there has been an increase in usage among its elderly users, says Ong. "The elderly are keen to embrace the technology, although many are unfamiliar with how it works and need a helping hand to build confidence." 
Priyanka Madan, head of GrabPay Malaysia, echoes this point. "I have noticed a general reluctance and hesitation among older customers to use the e-wallet for even one transaction. My belief is that if we can get them to use the service even once, they would quickly build a long-term habit around GrabPay."
Like Touch 'n Go eWallet, GrabPay experienced a surge of about 60% in new users from March to May on the back of the e-Tunai Rakyat campaign. However, it saw a decrease in new user growth among the 50 and above age group. 
"We saw a 5% monthly increase in new users in the over-50 bracket in January and February. But over the next three months, that number dropped to 3% a month," says Madan.
"Our hypothesis is that our older users rely on GrabPay primarily for transport and offline spending. During the MCO, these verticals experienced an abrupt and complete halt in business activity. 
"Also, during these months, I would imagine that this demographic would have preferred to cook at home. So, they would not be very inclined to use our GrabFood delivery service either."
Madan is working to increase engagement with the over-50 demographic. To this end, she believes that the company's recently launched GrabMart service will be particularly attractive to this age group. 
"I am happy with the new user rate of 5% among our over-50 demographic. But ideally, I would love to see that number increase to about 15%. I think we are in a position to achieve that with GrabMart," she says.
Launched at end-2019, GrabMart is an on-demand everyday-goods delivery service. Users can leverage the service via their Grab app to buy groceries, packaged foodstuff, healthcare products and beauty products, and have these delivered within an hour. 
"GrabMart has the potential to use the grocery vertical to get our over-50 users to engage more with our app. Although I do not see them running all of their grocery shopping via GrabMart, I still think we are in a position to receive great traction from this demographic, particularly as we continue to onboard more merchants," says Madan. 
Another fintech player that has not seen a substantial increase to its 50 and above user base is gold savings and investment platform HelloGold. According to CEO Robin Lee, about 80% of its user base are millennials. 
"We have not seen a discernible change to our user demographics over the last few months, even as overall user transactions took a hit due to the impact of Covid-19 and the lockdowns. In any event, we have certainly not been as heavily affected as other industries in Malaysia," Lee tells Personal Wealth. 
In the first quarter of the year, HelloGold conducted about US$9 million worth of transactions in Malaysia, with much of that volume supplied by its millennial customers. "However, I would suggest that our older, over-40, demographic gives us a transaction value per customer that is roughly twice that of our millennial users," he says. 
Lee believes that the reason the older demographic has not taken up HelloGold's services is down to long-term habits. "Financial services are incredibly sticky, and this is particularly true of gold. The most dominant method of getting exposure to the commodity is to literally go out and buy gold," he says. 
"Also, on top of its investment and hedging qualities, the precious metal is arguably the most 'emotive' asset out there. If you are a gold investor, chances are you have specific dealers whom you trust at any number of popular jewellery retailers. So, it is very hard to convince people to switch from such a channel of acquiring gold to another."