This article first appeared in Personal Wealth, The Edge Malaysia Weekly, on April 17, 2017 - April 23, 2017.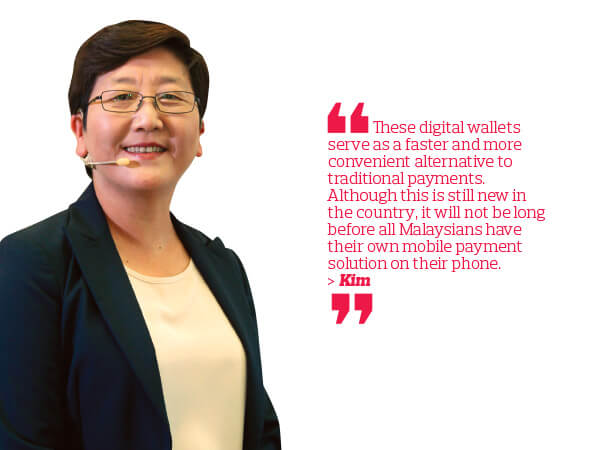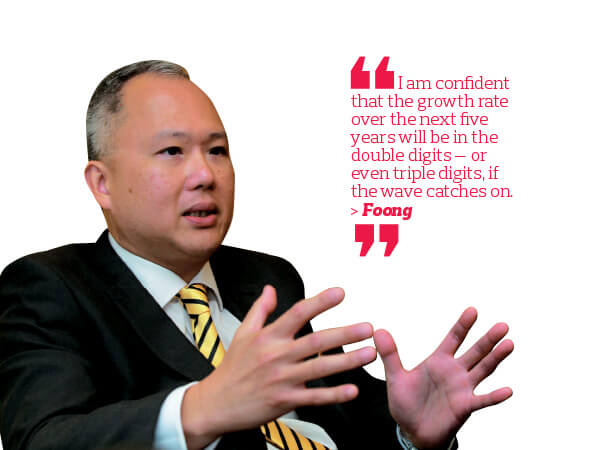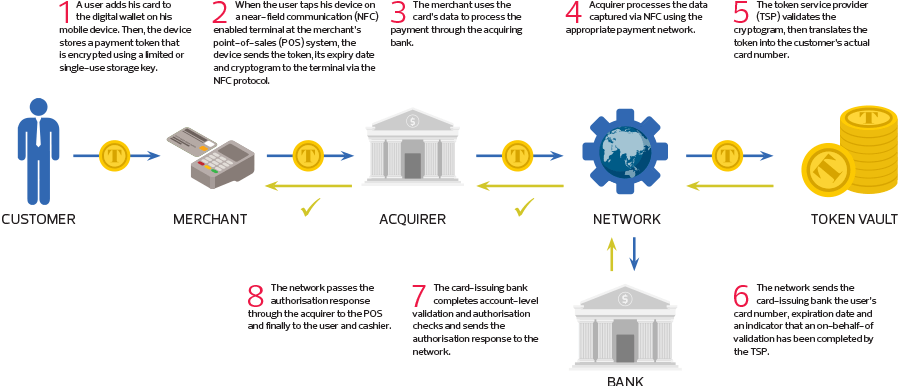 Mobile payment services, also known as digital wallets, are enabling consumers to make more secure and convenient transactions. As the technology arrives on our shores, both established and new players are looking to provide more options in this space.
According to Malayan Banking Bhd's (Maybank) group chief strategy officer Michael Foong, mobile payments are more secure than cash, credit card or debit card transactions. "Mobile payments can only be performed after clearing multiple layers of security (such as personal identification numbers and biometrics) and they typically do not store or transmit users' credit or debit card numbers. Instead, they use tokens to represent the card numbers," he says.
"Your phone itself has some sort of pattern or password lock, so it is not that easy to peer into, unlike your physical wallet. Also, if you misplace your wallet or credit card, it may take you a few hours or a few days before you realise it is missing. But if you lose your phone, you will notice it immediately due to how attached we are to our phones. So, which is more secure — your phone or your credit card?"
Basically, mobile payment systems allow users to link their credit or debit card to a smartphone app, or transfer money from their bank account to a digital wallet. Then, users can make cashless transactions by tapping their smartphones to a merchant's point-of-sales (POS) system, which uses radio-frequency identification (RFID), near-field communication (NFC) or similar technologies.
According to Visa country manager for Malaysia Ng Kong Boon, Malaysians are willing to adopt mobile payments as an alternative to cards or cash. Citing the Mobile Attitudes Study, which was conducted by YouGov and published in September last year, he says 70% of the 750 participants expressed a willingness to adopt the technology.
"Additionally, 83% stated that they were aware of contactless payments while 34% have used them. If you look at the uptake of contactless payments in the country, the growth has been extremely strong in the last 1½ years. We now see more than two million Visa payWave transactions monthly and continue to see double-digit month-on-month growth," says Ng. 
Foong says it will not be long before Malaysians use mobile payments on a daily basis, considering their growth since the technology was made available. The uptake of MaybankPay, which was launched in July last year, shows that there is huge potential for mobile payments to take off in the country, he adds.
"The weight of growth on a per annum basis since we launched is close to 200% — that is a lot. Obviously, we are talking about a small base. But it shows us two things — there is a lot of latent demand among the early adopters, who really look forward to the launch and use it on a day-to-day basis, and the growth rate is likely to sustain for a number of quarters," says Foong.
As one of the pioneers of innovation in the financial sector, Maybank faced a considerable challenge when it introduced digital banking in Malaysia. But all its efforts have been worthwhile given how widely it is used, he says.
"When Maybank2u was launched 17 years ago, we received a lot of feedback and concerns from customers saying that they did not trust it. It took us a few years to convince them that the transactions are safe and will save them a lot of time and effort compared with going to the bank's branches. Today, most of our valuable consumers cannot even imagine having a relationship with the bank only through the branches and over the phone," says Foong.  
Technology does not develop in a linear fashion, he adds. Therefore, getting the general public to accept mobile payments may not take as long as it did for digital banking. "I think we are going to see the same magnitude of change in a more compressed timeline — probably within the next five years," says Foong. 
Elle Kim, vice-president of payment business group at Samsung Electronics, says consumer expectations and needs are changing. "They are not just looking for a payment service, but an upgrade to their wallets to create a truly digital experience for everyday transactions and activities. 
"These wallets serve as a faster and more convenient alternative to traditional payments. Although this is still new in the country, it will not be long before all Malaysians have their own mobile payment solution on their phone." 
In the event that a user's device is lost or stolen, the credit or debit card issuer may excuse the user from any liability arising from unauthorised transactions. That is provided the issuer is satisfied that the user had taken all reasonable precautions to prevent the loss or theft, according to a statement by the Association of Banks in Malaysia last December. This includes notifying the card issuer promptly upon discovering the loss or theft.
Market readiness
In China, mobile payment solutions such as WeChat Pay and Alipay have transformed the financial industry since they were introduced a few years ago, completely doing away with the need for cards or cash in all consumer segments. This is quite telling as the core business of both Tencent, which operates WeChat, and Alibaba (Ant Financial), the operator of Alipay, is not payment solutions. 
Tencent created payment solution Tenpay to allow the users of its messaging systems QQ and WeChat to pay for online gaming. In 2014, it introduced WeChat Red Envelope just before the Lunar New Year for users to send money to or receive money from family members. As the feature was free and easy to use, the adoption of the peer-to-peer (P2P) payment method took off. Its digital wallet also integrates other financial services such as wealth management, utility bill payment and taxi booking. 
Ant Financial was initially an e-commerce company, with 350 million active users and brands such as Taobao, Tmall and Alibaba.com. Alipay was introduced as an alternative payment method for these sites, which eventually allowed the company to capture the lion's share of the market. 
It was not long before tech giants in the US, such as Apple and Android, followed suit with their own payment solutions, with Visa as the enabler. 
PayPal has enabled NFC-based payments since last year in its efforts to embrace contactless payments. The company, which launched its mobile solution in 2013, previously shunned the technology as former president David Marcus had predicted it would fail to gain mass adoption. 
Mobile payments have been widely adopted in countries with very low financial inclusion such as Kenya (M-Pesa) and India (Paytm Wallet). In Southeast Asia, countries that use mobile payments include Indonesia (T-Cash) and Thailand (Line Pay). 
Locally, banks are taking a proactive approach in the country's mobile payment space. Besides working hand in hand with new players by allowing their cards to be stored on digital wallets, the banks have also taken the initiative to introduce their own digital wallets such as CIMB Pay and Maybank Pay, which were launched in December and July last year respectively.
Meanwhile, global payments and technology company MasterCard has launched its digital payment solution MasterPass in Malaysia. Besides accepting contactless payments, the company plans to introduce a quick response (QR) payment solution to allow merchants to accept transactions without having to invest in new POS systems. 
Some of the local players looking to provide digital wallet solutions that complement their core offerings include ride-hailing service Grab and deals and discounts business Fave, which are coming out with their own in-app "pay" function. 
In Malaysia, merchants welcome contactless transactions, although they are mostly concentrated in the Klang Valley. That is because merchants in other parts of the country do not have the POS systems needed for RFID and NFC transactions. 
To solve this problem, Samsung Pay is offering its proprietary Magnetic Secure Transmission technology, which allows merchants to use their existing POS systems for credit and debit cards. The technology sends a magnetic signal from the user's device to the payment terminal's card reader, imitating the action of swiping a physical card without the merchant having to upgrade the terminal's software or hardware. 
"We have been actively engaging with merchants, providing training to their cashiers and POS acceptance marks. To date, more than 90% of merchants in Malaysia have adopted the system and more will be coming on board," says Kim. 
Competition in the space
Local financial technology (fintech) firms are also coming up with digital wallets that have added features. Kiple Pay, for instance, was in development for two years before it was launched in August last year by its parent Green Packet Bhd. 
Kiple Pay CEO Rashad Budeiri is no stranger to mobile payment solutions. In 2012, he developed a digital wallet that never caught on due to poor market awareness and adoption. 
"That was the time when the Singapore government was really pushing NFC technology and was giving a lot of grants to developers to do something with it. Back then, about 80% of Singaporeans were using iPhones. Hopes were high for the success of digital payments because everyone was expecting the iPhone 5 to be launched with NFC function," says Budeiri.
"Sadly, it did not. Even the iPhone 6, which had the NFC function, was locked to Apple Pay. There was nothing we could do, even with the QR code payment function that we had. 
"With the valuable lessons I learnt, I figured that I would have a better opportunity in Malaysia. The market is bigger and I can start over with better planning and funding." 
Despite not having any promotional campaigns or marketing activities, the platform currently has more than 8,000 users, growing 20% every 10 days, and more than 400 participating merchants, says Budeiri. He adds that the adoption is a lot faster in Malaysia than it was in Singapore a few years ago. 
"The most important thing about digital wallets is that you cannot just stop at payments. Sure, its core purpose is to replace cash and cards. But I think that is a recipe for failure. If you want the support of the mass market, you have to look at related segments such as rewards and cashback as well and keep on improving the features of the app," says Budeiri. 
This is certainly the case in Malaysia. According to a study by Nielsen, 55% of the respondents would adopt the technology if there were incentives or loyalty rewards that they could benefit from. Therefore, most digital wallets in the country have loyalty programmes that allow users to collect points. 
In Samsung Pay's case, users can upload loyalty cards such as Sunway Pals, BonusLink and B Infinite to continue collecting loyalty points that they would get from normal cash or card transactions. 
Kiple Pay's loyalty programme, however, takes a different approach. The digital wallet offers 10% cashback to users — 5% from the merchants and 5% from Kiple itself. 
"The 5% they get from merchants can only be spent on the merchant, so it encourages them to go back. The other 5%, although not planned to be permanently offered, can be used to top up phone credits or pay utility bills," says Budeiri. 
He adds that he wants to offer a lot more value add to Kiple Pay. In the near future, the company will install QR codes at the tables of participating restaurants so that it will be easier for users to alert the outlet's staff and pay for their meals. 
"We are also adding a gamification feature, where users can earn badges, collect points to earn discounts and connect with friends and family. On top of that, we may introduce something in collaboration with our sister company Atilze, which is an Internet of Things company. So, we are really trying to move away from the stiff payment enabler image," says Budeiri, adding that it will try to roll out new features on a regular basis. 
Kiple Pay aims to become a virtual bank after establishing a strong user base. As one of the smaller players in the space, Budeiri sees competition more as an opportunity than a threat. 
"The market is still nascent and competition is very good at this point. You do not want to be the only one promoting digital wallets and trying to change everybody's mind," he says. 
"That was the problem we had in Singapore. We were the only one fully committed, jumping up and down to get people to adopt the technology, and failed.
"Here, we feel that the more people there are in the game, the better it is for us because at least, we will be able to join forces in getting the word out — especially since they are bigger with fatter budgets to make it work. Afterwards, it becomes a competition of who has better service, footprint and value add. This is where we have an advantage."
It will be some time before mobile payments are widely used as not all local consumers own smartphones. But Foong is optimistic that mobile payments will gradually replace cash in Malaysians' daily transactions and be accepted by all merchants in the country. 
"I am confident that the growth rate over the next five years will be in the double digits — or even triple digits, if the wave catches on. I hope that we can extend digital payments right down to the sundry shops and even the pasar malam. That means if I go to the night market to buy a bag of oranges for RM12, I will not need to give a red note and two blue notes, I can just tap on my mobile phone and the transaction is done. This is something that I wish to see in the near future and we are definitely heading there," he says.
Proper awareness and education programmes need to be carried out to increase the adoption of mobile payments in the country, he adds. 
According to the Mobile Ecology: Are Malaysian Consumers Ready for the New Frontier of Mobile Banking & Payment? report released by Nielsen in October last year, 72% of Malaysians are concerned about security when it comes to mobile payments. However, this problem is not unique to Malaysians, says Budeiri.
"If you look at all the global reports — even in the US, security is the top concern for mobile payments. But that is expected because not everyone understands technology. It only takes one incident for people to lose trust in you and put you out of business. We, the developers of digital wallets, know that the applications are secure. But convincing others will take a bit of time and a lot of effort," he says. 
Breakthrough in China and the US
In Hangzhou, China, residents can leave their homes with only their mobile phones and carry on with the rest of their day. As the city where Alipay is headquartered and where founder Jack Ma introduced the digital payment solution in 2013, users are able to hail a taxi, rent a bicycle, ride a bus, pay for lunch or buy necessities at a shopping mall.
"In China, credit cards were not common at all with the younger generation in the lower segment of society. But what they do have is their smartphones," says Michael Foong, group chief strategy officer at Malayan Banking Bhd. 
According to Forbes, less than 10% of the Chinese population had credit cards in 2008, versus 78% in the US at the time. Recognising that China's expanding middle class needed an alternative payment method before they could adopt e-commerce on a large scale, Ant Financial (Alibaba) introduced Alipay. The country's e-commerce market tripled from 2006 to 2013, with US$294 billion in transactions. 
"The whole economy revolves around the payment platforms and you begin to see a lot of interesting innovations. Not just in the Tier-1 cities but also the Tier-2 and Tier-3 cities in China, you can be having your dinner and feel like having a particular seaweed dessert. You place your order and 20 minutes later, it arrives on your doorstep. They are able to do that because they do not have to pay 2% to any party. They receive 100% of the value. Thus, it creates a virtuous cycle," says Foong. 
"Additionally, what caused China to surpass the US in terms of mobile payment adoption is that the US invested in land lines. Every home and office building in Houston, San Francisco and New York already had very sophisticated landline phones, so it took a lot of convincing for them to move to mobile."
He adds that the Chinese population always had some negative perception about the strength of regional banks due to government control. "It is very different in the US where they have market discipline and feel comfortable keeping money in banks."
One of the challenges of the mobile payment system in the US is that large retail chains, such as Walmart and Sears, have invested in point-of-sales (POS) systems that only accept transactions using magnetic stripe and chip technology. 
"They cannot just reinvest in another 5,000 POS systems that are able to accept contactless payments. So, that hindered the development of the mobile payments for a while," says Foong. 
"However, just like how the US leapfrogged from landline technology to 5G, once the POS systems fully depreciate, it will be one of the leading countries in terms of payment technology."