This article first appeared in Personal Wealth, The Edge Malaysia Weekly, on May 29, 2017 - June 04, 2017.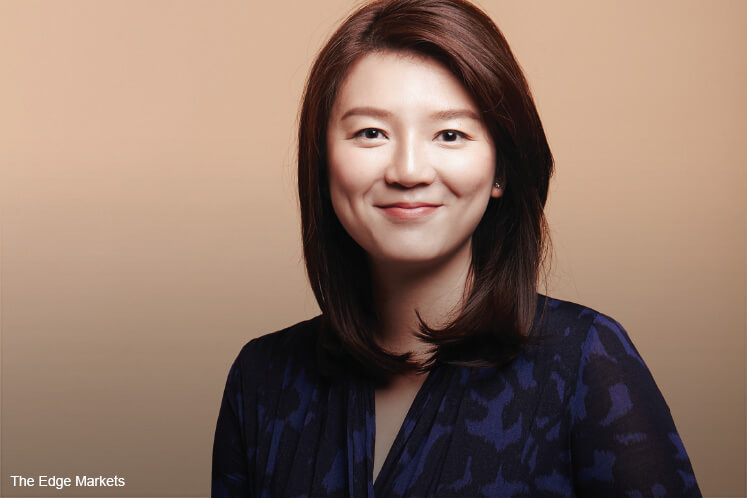 As women live longer than men, they need to have more in their savings to enjoy a comfortable retirement. However, women tend to put themselves last when it comes to building their wealth. Consequently, they do not have enough savings to last them during their retirement years, says Gina Heng, co-founder and CEO of Singapore-based Marvelstone Group.
"In general, women tend to work not for themselves but for the people around them. I see a lot of older women having to take care of their families and ignoring their own needs, which results in them not having a happy retirement. What's worse is that this cycle continues into the next generation.  
"Also, women tend not to invest, putting everything they have into savings and letting it collect dust. Therefore, I would like to send them a message — start investing now and do something with your accumulated wealth," she says.
To help empower women in the region achieve their longer-term financial goals, Heng started Miss Kaya, the first licensed financial robo-­advisor in Asia for female investors, under Marvelstone Group. The technology-powered wealth management platform focuses on three areas: education, budgeting and investment. It aims to increase the users' financial literacy, help plan their expenditure efficiently and grow their wealth to meet their goals.
"Since Marvelstone Capital is a licensed asset management company, Miss Kaya is able to work with both Marvelstone Capital as well as tying up with other business-to-business robo platforms. With the right technology, and a fund management background,  I want to combine these aspects to bring a solution for a specific group of investors — women," says Heng.
"Kaya" means wealthy in Malay. It is also the name of a famous delicacy in the region, made from coconut and eggs. Heng says the name was suggested by a Malaysian intern in a brainstorming session, and she believes the popularity of the delicacy will help strengthen the company's brand recognition.
From Heng's observation, women across the region have issues with portfolio planning for longer-term investments. Despite retirement schemes such as the Employees Provident Fund and Central Provident Fund, she feels there is a need for complementary products to help women enjoy a sustainable retirement.
Thus, Miss Kaya's prime objective is to help investors plan their retirement based on its investment philosophy of growth and success over time. "Miss Kaya's investment horizon is between 10 and 15 years. Although we can work for the shorter term, for example if a user is looking at a five-year horizon to buy a house, we advise our investors to think of a longer-term investment. We want them to let their money grow and compound, we want them to retire with a safety net," says Heng.
Unlike other robo-advisory platforms that rely solely on a general set of questions to determine investors' risk appetite, Miss Kaya takes a customised approach. It takes into account the customers' goals, risk appetite and profile information, among others, to develop a unique portfolio along with a specific timeline and suggested recurring contributions. Customers can modify these suggestions as they see fit and Miss Kaya then reassesses the outcome.
Heng feels a customised approach is important because though some women say they are risk-averse, they may actually prefer to take on more risk in their portfolios. "Sometimes, they say they are conservative but at the same time, they display a lot of high-risk behaviour, such as preferring to invest in property with leverage. These are actually high-risk products but they do not categorise them as such," she explains.
Customised approach
Heng began her career as an analyst at asset management consultancy Cerulli Associates, where her day-to-day job included talking to CEOs and chief financial officers to get an in-depth understanding of the asset management business. With the knowledge that she acquired, Heng, then only 26, decided to quit her analyst job and start her first quant hedge fund with a market-neutral strategy that focused on futures and options.
"I started the company with my business partner, Joe Seunghyun Cho, who is now my husband. He is a programmer and trader by training. Soon after, we realised that high-net-worth individuals were interested in other types of investments as well, such as private equity (PE) and real estate. Since our hedge fund was quite new at the time, we didn't push it to investors. By working with fund managers and other investment platforms, we began to offer other investment products as well," she says.
Later, Heng, Cho and their managing partner Joel Ko Hyun Sik exited the business to start
Marvelstone Group. With a background in hedge funds, PE and venture capital (VC), the company aims to introduce a multi-pronged approach to investing rather than just traditional asset management.
As someone who understands her peers and their primary goals, Heng says there is definitely a need for gender-specific products in wealth management.  "Generally, I find that women are intimidated by finances. The financial lingo, the jargon and the analogies are quite difficult for them to swallow. I find that the best way to reach out to women in the region is to make financial products simple by using a conversational approach and trying to identify their needs and concerns."
With Heng's current licence, she is only able to offer Miss Kaya services to accredited investors — in Singapore's terms, those with an annual income of S$300,000 or net assets worth S$2 million. However, she is able to accommodate affluent foreign investors and plans to turn her licence into one of full retail. If this cannot be achieved, Heng says she will be able to partner other financial institutions with the relevant licence, bringing her technology and investment algorithm to the table.
She adds that even affluent investors need help in managing their finances. "For example, they may be very successful businesswomen but that doesn't mean they are trained in finance or are able to do everything in wealth management. Miss Kaya's approach is relatable to them and makes investing comfortable for them."
At present, Miss Kaya only offers investments in exchange-traded funds but soon alternative investments, such as PE-structured products with underlying assets in VC or hedge funds and other PE products, will be available. The investment amount for each investor ranges from S$200,000 to S$1 million.
Miss Kaya comes fully equipped with budgeting tools and an e-wallet, which, says Heng, will help the company understand the users' financial behaviour. The e-wallet will also enable Miss Kaya to track and study the users' financial actions, whether they have too much expenditure or whether they allocate money to their investment portfolio.
"The whole point is to make use of technology to understand the underlying data and make it more transparent and efficient both for managing the business and for the investors to look at their portfolio and understand their financial behaviour and tendencies," says Heng.
Creating robo-advisory platforms specifically for women is not a new concept. Many such products have been introduced in the West, for example Ellevest and WorthFM. One of the earliest players, SheCapital, however, shut down last July — a year after it was launched — citing heavy time commitment and low traction.
Heng, though, is confident that Miss Kaya will be able to sustain its operations with its expertise. "We are very lean — Miss Kaya is just one product of our investment firm, so we will be able to manage it internally and partner external parties to build the brand and its exposure, apart from scaling up in other markets. Outside Asia, the US is one of the markets we are looking at."
Despite its gender-specific audience, Marvelstone's capabilities are
gender-neutral, says Heng. "We do what we do best, and that is delivering investors' expectations. Our message, however, is gender-specific because we try to understand their thoughts and their needs. I'm speaking for myself as well because I am trying to solve my own problems along the way — and I think my problems should be more or less similar to those of my peers."
Heng highlights that Western robo-advisory services are very different from the ones developed for Asian investors. "Typically, robo-advisory services in the West are for tax management purposes. They have very complicated tax structures, therefore they need a service to manage and fine-tune their portfolios. This is not the case for Asians. For us, retirement planning is the gap. The Asian market is fragmented with a unique pension structure in each country. There is no one solution for all but understanding the opportunity and filling the gap is where we come in," she says.
On potential returns, Heng says she is confident of achieving the investors' goals. "We are pretty good in terms of our deal flow and investment strategies — this is more of our in-house proprietary expertise. Although the returns really depend on the portfolio itself, we will be able to deploy capabilities whenever the need arises. On top of that, the company will make sure the products are customised for Asian investors, which means it will manage investors' assets in the local currency."
Currently, Miss Kaya's portfolio management fee ranges from 0.5% to 1.5% of the portfolio's value, depending on the products in it. This fee is separate from that for the additional services it may offer investors.
Building a network of products
Miss Kaya is just one of the products that Heng offers her clients; her long-term goal is to build a network of businesses to complement the wealth management services that the company delivers. To do this, Marvelstone launched LATTICE80, its financial technology hub. "We want to come up with a hybrid combination of fintech solutions to add to our existing business, such as mergers and acquisitions, PE and other services like Miss Kaya as a tech platform to expand the framework.
"On a bigger scale, we want to build an ecosystem in the region, starting with Singapore. What we found out along the way is that there is a need for a bigger, more concentrated fintech hub and there is no such thing in Asia. So it is very timely for us. In fact, we just recently signed a memorandum of understanding with the state of Vizag (Visakhapatnam) in India and secured 30,000 sq ft of space there. So hopefully, we will start some activities there soon," says Heng.
She adds that she hopes to find strategic partners to expand locally in countries such as Indonesia and Malaysia, where the number of financial services available specifically for women is limited. "Right now, there are still some barriers, such as the legal structure and the know-your-customer issues that we have to observe, depending on the financial regulations of the respective country. It is important for us to tread carefully with the regulators. If there is anything we want to do that is currently not being done, we will definitely talk to the regulators to make sure they are comfortable."
On May 9, the Securities Commission Malaysia introduced a digital investment management framework that sets out licensing and conduct requirements for the offering of automated discretionary portfolio management services (such as robo-advisors) to investors.
As Malaysia is one of the first countries where Heng would like to introduce Miss Kaya, she sees the SC's move as positive and is weighing the option of entering the market independently or with a local partner.
In the future, Heng is planning to offer financial workshops for investors to gain higher exposure and understanding. Acknowledging that robo-advisory services are still new to the region, Heng says she is not expecting overnight success for her platform. "It has to be a long-term commitment but I am confident there will be good progression in terms of education and awareness among investors of robo-advisory here in the next one to two years."