This article first appeared in Personal Wealth, The Edge Malaysia Weekly, on January 20, 2020 - January 26, 2020.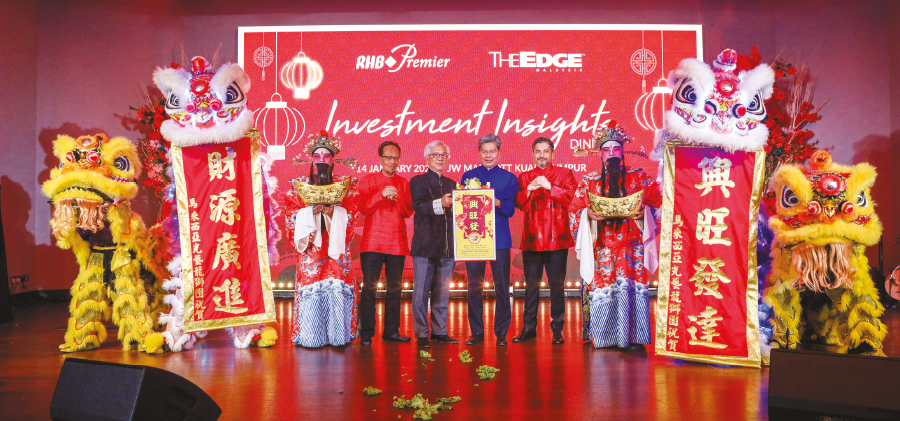 From left: The Edge editor-in-chief Azam Aris, The Edge Media Group publisher and group CEO Datuk Ho Kay Tat, RHB Banking Group group managing director Datuk Khairussaleh Ramli and head of group retail banking Rakesh Kaul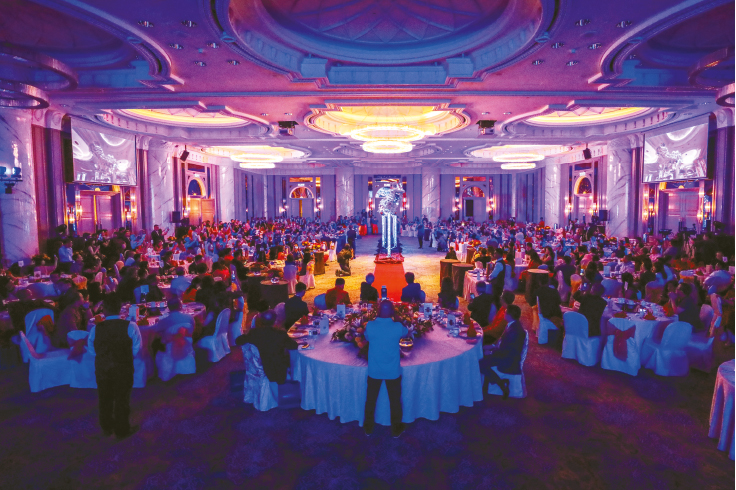 More than 400 people attended The Edge - RHB Premier Investment Insights Dinner at JW Marriott Hotel Kuala Lumpur on Jan 14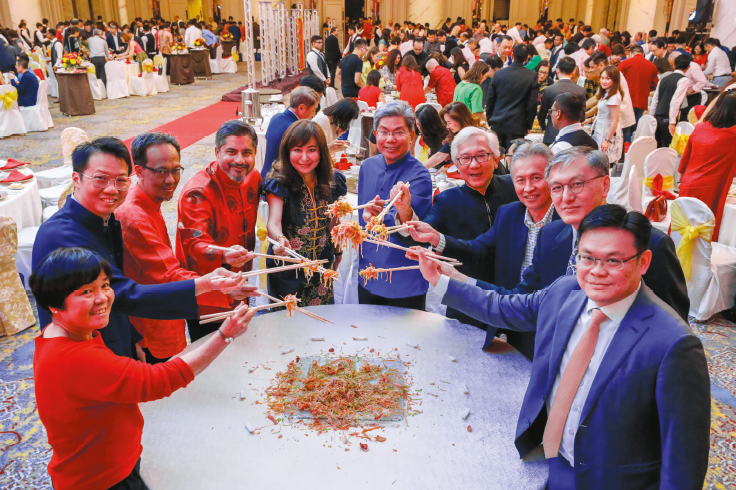 VIP guests kicking off the dinner with a yee sang toss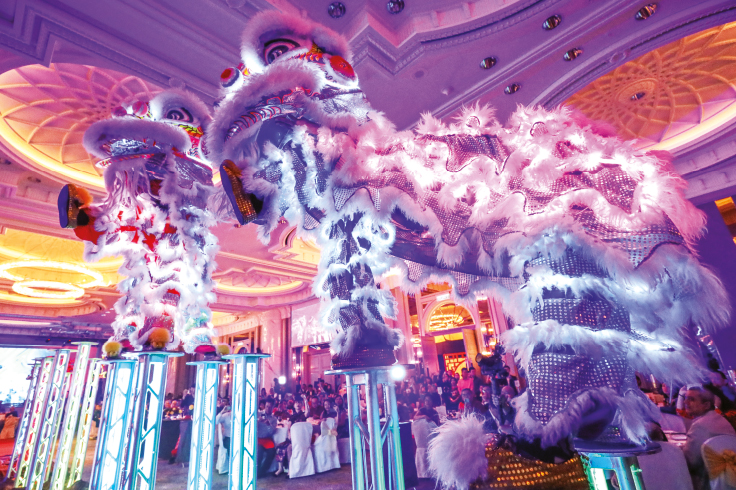 Guests were entertained by a thrilling neon lion dance performance
What does the Year of the Metal Rat have in store for investors? Speakers at The Edge-RHB Premier Investment Insights Dinner offer their outlook for 2020.
The Year of the Metal Rat is expected to bring new opportunities for investors despite the lingering uncertainties in the financial markets, according to some of the speakers at The Edge-RHB
Premier Investment Insights Dinner on Jan 14. The event was held at the JW Marriott Hotel Kuala Lumpur and attended by more than 400 people.
RHB Bank Bhd group managing director Datuk Khairussaleh Ramli kicked off the event by explaining the significance of the Year of the Rat, which will be ushered in with the celebration of Chinese New Year on Jan 25.
"In the Chinese culture, rats are seen as a sign of wealth and surplus. I was told this was because of their reproduction rate. The rat represents firmness, agility, persistence, strength and determination. These are important traits, particularly in identifying opportunities and allocating investment strategies, especially in a challenging economic environment," he said.
The global and regional economic challenges seen in 2019 are expected to remain this year, he added.
This view was shared by Datuk Ho Kay Tat, publisher and group CEO of The Edge Media Group. In the first two weeks of 2020, many significant events have already occurred, he pointed out.
"Heightened tensions in the Middle East have not helped the financial markets. But that was counterbalanced by the impending signing of an interim trade agreement between the US and China. As we know, trade friction between the world's two biggest economies was the cause of much market volatility in 2019. Hopefully, it will be less problematic in 2020."
Local and global opportunities
But it is not all doom and gloom as silver linings can still be found.
Tan Jee Toon, chief investment officer for Asia-Pacific equities at RHB Asset Management Pte Ltd in Singapore, said the investment environment in 2020 is expected to be less volatile than that in 2019 due to the de-escalation of the US-China trade war. He was presenting the market outlook for Asia.
He is positive on technology stocks in China as the trade war has forced Chinese companies to upgrade their capabilities and produce essential parts for local smartphone brands such as Huawei. "I believe such a trend will continue in the years to come and it is positive for Chinese [tech] companies. Our flagship fund can invest a lot more in China as these companies get more interesting," he said.
He added that he also likes Malaysian equities, although domestic politics is a concern.
On the outlook for the global market, Schroders head of multi-asset products for Southeast Asia Reginald Tan highlighted equities as a favourable asset class in 2020. "In 2019, even though the MSCI World Index was up 27% in US dollar terms and is still slightly up this year, investors can expect modest gains in equity. [This year,] there is still potential for gains in markets, although returns may not be as strong as in 2019, especially when economic growth has stabilised with the US-China trade truce and liquidity remains abundant," he said.
Other investments that he found favourable include Nasdaq, emerging market and Asia-Pacific ex-Japan equities, the Asian credit market and Singapore real estate investment trusts (REITs). He and his team have also invested in gold to mitigate recession risks.
Datuk Joey Yap, chief consultant of Joey Yap Consulting Group, wrapped up the event with a talk on "Feng Shui & Investment Outlook". He said the strongest element of 2020 is earth, which is a non-moving and safe element. This means growth will be sluggish but people should not worry about a recession.
"People are worried about whether we are going into a recession [this year]. Metal [related to gold] is the second dominant element, so the explosion will not occur in 2020. If [the recession] does happen, it will probably be at the end of the year. If you look at it conservatively, I think growth will be sluggish but it will still be there," said Yap.
Chinese tech stocks and Malaysian equities attractive