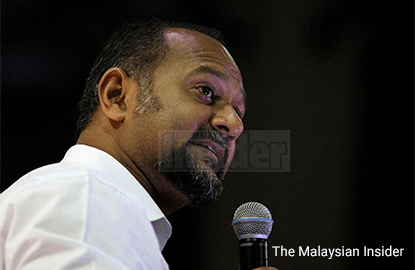 (Dec 1): Police must first establish if there was indeed a draft charge sheet against Prime Minister Datuk Seri Najib Razak before insulting whistle-blowers or dimissing their statutory declarations (SD), the Dewan Rakyat heard today.
Puchong MP Gobind Singh Deo said this in relation to a report lodged by the Malaysian Anti-Corruption Commission (MACC) denying the existence of the draft charge sheet against Najib when the issue cropped up in late July.
However, this was debunked by the brother of deputy public prosecutor Datuk Anthony Kevin Morais, Charles, who had alleged in an SD that his older brother's murder was linked to a charge sheet he was preparing against a "high-ranking government official".
"MACC has said there is no charge sheet and it lodged a report to deny this, but Charles Morais has said there is one," Gobind told the house when debating the Budget 2016 at the committee stage.
"So I want to know what is happening to this police investigation. I want to know what has happened to the report by MACC in denying there was a draft charge sheet."
He also asked if Najib should be allowed to keep his post as prime minister if the draft charge sheet did indeed exist, as this was a position with the powers to appoint the attorney-general.
"Can we have a situation that there is an investigation against the PM but he still remains as PM? Can we expect a free and fair investigation?"
Charles had said the draft charge sheet on Najib, an alleged copy of which was released by whistle-blower site Sarawak Report, had Kevin's initials on it.
In an 18-page statutory declaration, Charles said two or three months before Kevin's death, the deceased told him that he was working on a case involving a very high-level government official.
On July 30, Sarawak Report uploaded what it claimed was a draft charge sheet of a corruption charge against Najib in relation to SRC International Sdn Bhd, a former subsidiary of debt-ridden state investor 1Malaysia Development Bhd (1MDB).
SRC International is now owned by the Finance Ministry, which Najib heads.
MACC later lodged a police report, denying the existence of a draft charge sheet against the prime minister and another person, and also denied that the commission was responsible for the leak in its probe into 1MDB.
Calling him a coward, Inspector-General of Police Tan Sri Khalid Abu Bakar said police were tracking down Charles as he was under investigation for withholding information and attempting to commit sabotage.
Slamming the top cop, Gobind said Khalid should instead look at his own self before insulting others by calling them "coward".
"Even after the SD by Charles, the IGP did not come out to say 'the MACC lodged a report in August and here are our findings from the investigations'. Instead, there is silence on the matter.
"He is so clever at calling people names but what about him? There are reasons why the people of Malaysia have no confidence in our own police."
Drawing on the high number of death in custody cases, the DAP lawmaker said Khalid should be ashamed over these incidents in his own backyard.
"Shame on the IGP. You call people coward but you yourself are one. You can't face up to the fact that your force is not up to the mark." – The Malaysian Insider