This article first appeared in The Edge Financial Daily, on November 10, 2017.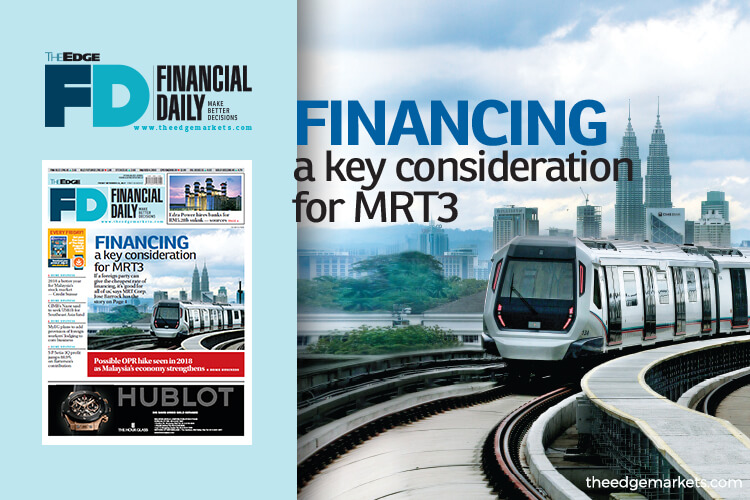 KUALA LUMPUR: Financing is the key consideration for the Mass Rapid Transit Corp Sdn Bhd concerning the construction of the mass rail transit line 3 (MRT3), where the criteria for its lead contractor have been said to be out of reach of local players.
"If I utilise funds from, say, DanaInfra, we would be pegged with an interest rate of about 5.1% at least ... the borrowing costs will kill us ... If foreign parties can give us 3% then why not, it's good for all of us," MRT Corp chief executive officer Datuk Seri Shahril Mokhtar told The Edge Financial Daily.
Shahril's comments come after some research houses suggested that no local companies seem to fit the role as lead contractor based on MRT Corp's notice of tender issued earlier this week for MRT3, also known as the MRT Circle Line.
In calling for bids, MRT Corp said it is for a contractor to build and finance, on a turnkey basis, the upcoming MRT3, and that the successful bidder would be responsible for the engineering, procurement, construction, testing and commissioning of the 40km rail project.
A particularly thorny requirement is the turnkey contractor has to propose a financing package of up to 90% of the total MRT3 cost for a minimum 30-year repayment period, and sanctioned with a moratorium for the first eight years.
The chosen candidate must have experiences in performing civil works of either two urban metro projects worth at least RM5 billion, or one urban metro project worth at least RM10 billion. The selected bidder is expected to develop tunnels, viaducts, stations, depots, trackwork, rolling stock, signalling, power supply and other related structures for the project.
Analysts have estimated the cost of MRT3 to be RM35 billion to RM40 billion, and entail the construction of 32km of twin-bored tunnels and 8km of elevated viaducts. 
Shahril urges local constructrion players to form joint ventures and create consortiums to become the lead contractor for the MRT3. He also said he will explain all the requirements and aspirations of MRT Corp at the tender briefing slated for Nov 15.
"Please be patient, wait for the [tender] briefing [next week] before jumping to any conclusions. We are actually hoping for the [local construction] companies to create joint ventures or some consortium ... they can even partner foreign parties. You must understand it's an international tender," he said.
Some analysts have said the exclusion of the project delivery partner role from MRT3 may reduce profitability and margins under subcontract packages.
CIMB's Sharizan Rosely estimated the cost of the 40km-long MRT3 to be RM40 billion, or 25% higher than the estimated RM32 billion cost for MRT2.
While MRT Corp has not revealed the preliminary alignment of the upcoming rail network, the MRT3 is expected to be integrated with MRT1, from Sungai Buloh to Kajang, and MRT2, connecting Sungai Buloh to Putrajaya via Serdang, as well as to other rail transportation — the light rail transit, KTM Komuter and Monorail systems.