This article first appeared in The Edge Malaysia Weekly, on March 15, 2021 - March 21, 2021.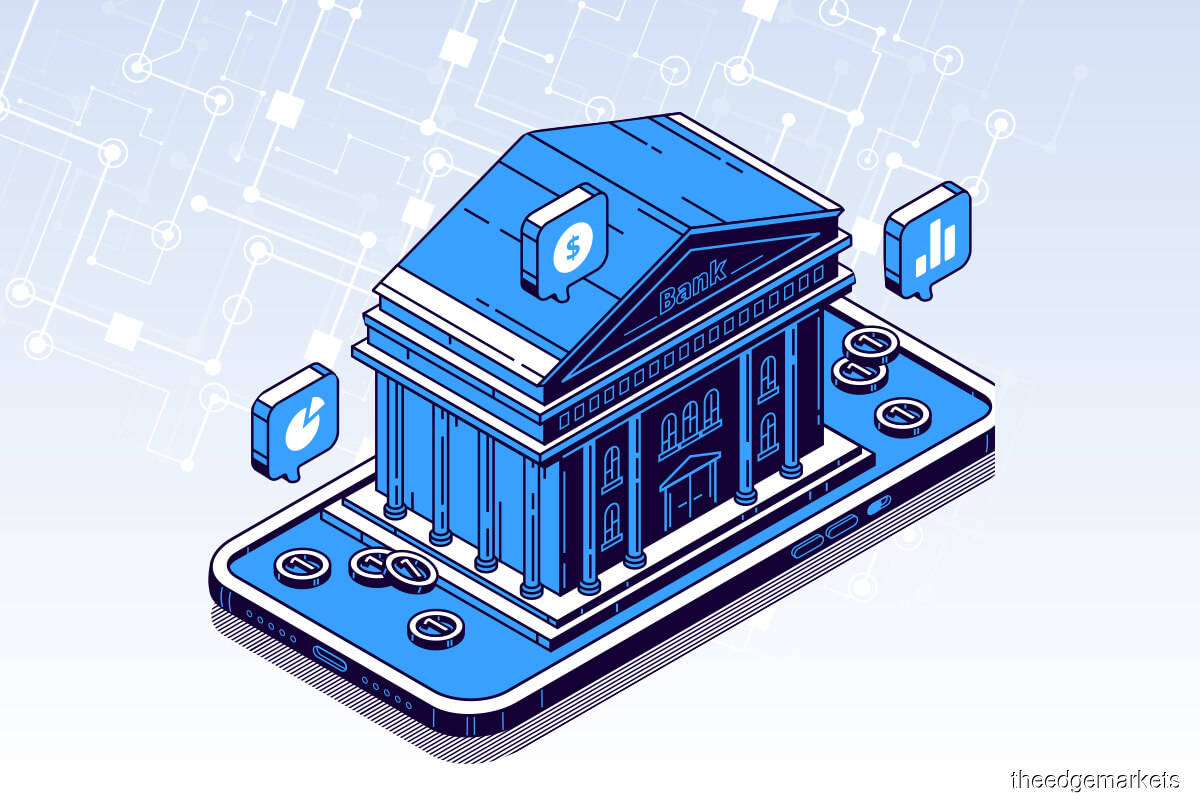 In recent years, the financial services sector has been one of the most impacted by the digital revolution taking place across the globe. Domestically, the industry has been shaken and stirred by the rapid pace of digitalisation and the emergence of new technologies.
With the government giving the digital transformation of the Malaysian economy a further push under the MyDIGITAL initiative, more changes loom for the financial services industry and, inevitably, many players — conventional and non-conventional — will be forced to rethink their playbook.
The good thing is, players in both the conventional banking and fintech spaces see new opportunities being opened up by the various initiatives under the blueprint. They also expect banks and fintech start-ups to collaborate, instead of competing, with each other more closely.
An initiative that caught the attention of Abrar Anwar, managing director and CEO of Standard Chartered Malaysia, is the government's plan to onboard 875,000 micro, small and medium enterprises (MSMEs) to adopt e-commerce by 2025. The government also wants to catalyse 5,000 start-ups over the next five years and aspires to draw RM70 billion in funds from international and domestic investors.
"These two initiatives would translate into potential business and market share for banks in helping MSMEs and start-ups to expand their operations," he says.
The cloud-first strategy, laid out by the blueprint, could bring huge benefits to local banks as banking processes are expected to be simpler, faster and more convenient to meet the present and future banking needs of clients, adds Abrar.
"Banks will be less dependent on the location of data centres when they can access the cloud from anywhere as and when required. They can utilise processing power more flexibly, thus effectively minimising obsolescence and be leaner and more resilient over the long term," he says.
Another thing that bodes well for banks is that public sector agencies are expected to provide the public with cashless transaction facilities as the main option by 2022. Banks that derive their earnings from payment services would be obvious beneficiaries.
The digital payment business has been growing strong in recent years. "Digital payments, including FPX, Direct Debit, JomPay and Interbank Giro, have grown by 87% year-on-year (as at March 10)," notes Abrar.
As it stands now, the local banking sector has already been moving fast to tap the online businesses. The blueprint could accelerate such a trend, says Lai Heow Gran, director of asset management and wealth management at Asia Pacific Investment Bank (APIB).
APIB is a Chinese state-owned bank that was registered in Labuan International Business Financial Centre in 2015 and obtained its investment banking licence in April 2017.
"A majority of the banks in Malaysia have been moving relentlessly in their digitalisation journey. This is inevitable as consumers and businesses are increasingly moving towards e-commerce and online banking," says Lai.
He adds that initiatives in the blueprint will allow banks, fintech start-ups and market participants to grow their business in a healthy digital ecosystem.
Meanwhile, Teoh Wei-Xiang, CEO of fintech start-up Versa, likes the fact that the blueprint aims to position Malaysia as a fintech gateway to the Asean market.
"I always believe that our country is in a good spot to achieve such a goal. We have a high internet penetration rate with active smartphone users. We have quite a sizeable population with a mixture of Muslims and non-Muslims that would allow foreign start-ups to test the waters before expanding to Asean," he says.
The blueprint's goal to build agile and competent talent is another good initiative, Teoh opines. "We need a good talent base to develop new products. But our talent pool isn't strong enough.
"For us, our tech team has less than ten people, and it has taken me so long to identify these talents. Local fintech start-ups are still quite reliant on foreign talent."
Teoh lauds the fact that the blueprint emphasises the building of a trusted, secure and ethical digital environment. He believes it would lead people to conduct more activities online and electronic know-your-customer (e-KYC) will be widely used. All these are beneficial to fintech start-ups specialising in customer acquisition and product distribution through various online channels and methods.
"However, these are just broad descriptions. We need to have more details to assess whether these initiatives can help us," he says.
Wong Kah Meng, CEO of Modalku Ventures Sdn Bhd, which operates the peer-to-peer (P2P) financing platform Funding Society Malaysia, is excited about MyDIGITAL's move to build an enabling digital infrastructure — mainly the implementation of 5G projects aimed at improving the country's internet connectivity.
"From a digital SME financing platform point of view, it will enable us to reach out to many more SMEs and to get in touch with them in a faster and more reliable manner.
"And when more SMEs transition their business to the online space, or enhance their existing online business, it will be easier for P2P platforms to acquire data and assess their repayment capabilities. This improves SMEs' access to financing," he says.
Better digital infrastructure will also allow fintech start-ups to reach out to investors more easily and lower their customer acquisition cost, adds Wong.
Tipping the balance of power between banks and fintechs?
APIB's Lai says the blueprint, if implemented successfully, could tip the balance of power between banks and fintechs in the favour of the latter, especially in the area of payments and transactions.
"Digitalisation has enabled disintermediation, where users no longer perform various activities through intermediaries. The same is happening in the financial services industry, with fintech start-ups accelerating such a trend.
"The blueprint will further digitalise the country's economy and accelerate the disintermediation process. This is more in favour of fintech start-ups than banks," he says.
"Fintech start-ups are also smaller in size, less regulated and, thus, are more flexible to cope with the fast-changing market environment on the back of rapid digitalisation."
According to Lai, fintech start-ups play an important role in the country's digitalisation process as they are likely to replace the old practices in the financial services industry with new and innovative ones. "They are building the pillars of the highway of the financial industry for future growth."
That said, banks still have an advantage over fintech start-ups because they have better resources, financial muscle and are investing more aggressively in technology. Among other advantages, banks have a much large depositor base and a broad range of products and services, says Lai.
Standard Chartered's Abrar says the agile and focused nature of fintech start-ups have allowed them to concentrate on niche issues along the financial services value chain. These are issues that banks are unable to address efficiently due to their complex legacy systems and competing investment priorities.
He says banks respond to the challenge posed by fintech start-ups by competing or collaborating with the latter. "Competing with fintech start-ups means banks will continue to provide services in the sectors that these start-ups have entered, hoping to limit their advancement, or even to win them over through innovation, investment and compelling propositions.
"Collaboration, on the other hand, comprises several options, from investing capital in developing the offering of a fintech start-up [for mutual benefit], or to develop commercial partnerships with these start-ups. Banks can also provide financial solutions and infrastructure to enable fintechs to scale their businesses.
"There is no one-size-fits-all banking response to the rise of fintech start-ups. But one thing is clear. Banks must educate themselves, weigh the options and cooperate with each other to come out with a measured response," he says.
However, cooperation between banks and fintech start-ups seems to be have prevailed over competition in recent years, says Abrar.
"Banks' engagement with fintech start-ups has matured significantly in recent years, from a relationship that was partly cautious and adversarial to one that is opportunistic, collaborative and partnership-oriented.
"Such a bank and fintech engagement needs to be able to respond effectively to the possibility of any unexpected changes happening in the future. It has to be open and flexible to potential changes and evolving demands," he says.
Versa's Teoh shares the same view. He prefers collaboration over competition. "I hope the blueprint can harmonise the relationship between fintech start-ups, banks and the public sector, instead of allowing them to compete with each other. It is not a zero-sum game.
"I hope banks will be more willing to work with fintech start-ups in various ways. They can provide us with infrastructure and products, and we can focus on user acquisition, data analytics and more.
"In fact, it will be interesting to see how Malaysian digital banks will market their products through digital distribution channels," he says.
Collaboration, not competition
Over the longer term, the relationship between banks, asset managers and fintech players will lean towards being complementary rather than competitive, says Effendy Shahul Hamid, CEO of CIMB Digital Assets, CIMB Group, and group CEO of Touch 'n Go.
"This is already happening, and many financial services delivered by fintechs often have banks, asset managers and insurers as important partners in the actual product value chain," he says, when responding to questions on the MyDIGITAL initiative, and how it will impact the financial services sector.
The only difference, he says, is how the economics are shared — and more and more so, banks are collaborating with fintechs to ensure they continue to be relevant in the customer lifecycle.
"Fintechs often excel in the origination area, while banks excel in balance sheet provision – and together they could be a force in understanding customer behaviour to enable better credit profiling and building good products. So, the balance of power really tips towards the consumers as they will now have more choices and can demand higher standards from providers of financial services, whoever these providers may be.
CIMB Digital Assets, which comprises CIMB's digital businesses, is positioning itself in the forefront of digital financial services. The group includes Touch 'n Go, TNG Digital as well as CIMB's digital bank business in the Philippines and Vietnam.
Effendy notes that banks have been innovating product offerings and digitalising services at a fairly good pace over the last few years, and that should pave the way for manufacturing better products for these segments going forward.
"However, the ability to capture opportunity goes beyond cloud infrastructure and cashless payments — it needs to extend into how these 'facilities' can be used to design and offer products that are relevant to these segments. One example could be how cleverly banks use analytics capabilities to get comfortable with the credit profile of the segment, which would then lead to differentiated products that are dynamically priced and digitally fulfilled."
How can banks up their game, given the growing threat from fintech? Effendy believes that banks are already on it. "Many are innovating from within, upping their game, and modernising their infrastructure for better customer delivery and internal operations," he notes. Some banks, he adds, are opting to participate in consortiums to form new digital banks, running them as completely different businesses.
"I believe that large banks will always be forces to be dealt with, and most have the will to innovate. What then becomes important is for the innovation to be purposeful and angled towards delivering superior customer propositions instead of innovating for incremental improvements.
"In addition to this, fintechs are often extremely focused, giving them the ability to deliver incisively in specific product and customer segments; banks generally behave in a much 'broader' way, but I suspect they will move towards being more focused and prioritise better as they become more purposeful in innovation amid an evolving financial services landscape.