This article first appeared in Personal Wealth, The Edge Malaysia Weekly, on February 17, 2020 - February 23, 2020.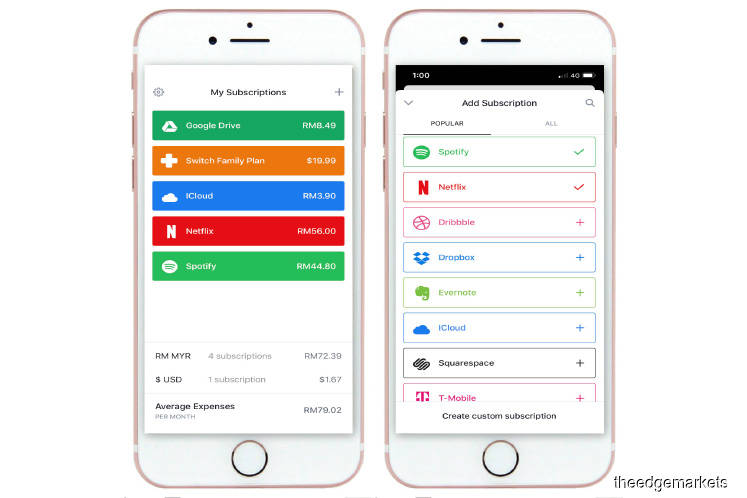 We are subscribing to a lot of services today, whether we realise it or not. The list may include Netflix, Spotify, iCloud or The New York Times. Most of these subscriptions are small individual amounts — usually RM5 to RM50 — but they can add up to a large amount. We may have even signed up for a free month's trial but forgotten to cancel later on.
Typically, we do not know exactly how much we are spending on these services and it would be a hassle to track them all. This is what Bobis looking to solve. The app is aimed at helping people take control of their spending habits and avoid spending more money than necessary on their subscriptions.
The Amsterdam-based service allows users to see all of their subscriptions on one dashboard. Users can choose from a list of more than 260 subscription services and record how much these cost and their cycle duration.
Bobsupports up to 49 currencies, including the ringgit. It also has a currency breakdown feature that helps users keep track of any foreign-currency subscriptions they may have.
The app supports arbitrary payment cycles, allowing users to adjust the recurring billing cycle the day, week, month or year and set a duration for temporary subscriptions. They can also set reminders to be notified when a bill is due, which is especially useful for cancelling trial subscriptions and avoiding late payment fees.
Although most of the services listed on Bobare digital subscriptions, users can also use the app to track their spending on other recurring payments such as car loans, utility bills and rent. This way, they are able to get an insight into their fixed costs.
Currently, users can list up to five subscriptions for free. They can buy upgrades for the app, which include an unlimited subscription, iCloud sync and further customisation tools, for a one-time fee of RM12. At press time, there was a 35% discount being offered.
Bobcan be downloaded for free from the App Store. The app is currently not available for Android devices.