This article first appeared in Personal Wealth, The Edge Malaysia Weekly, on April 15, 2019 - April 21, 2019.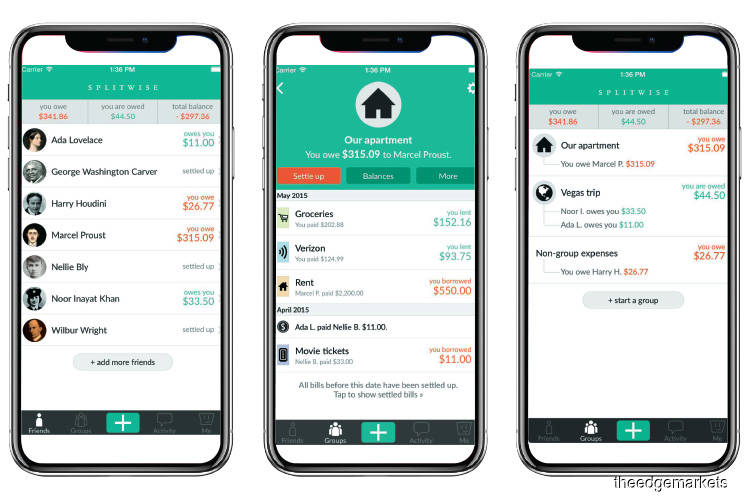 Splitting the bill between several people, whether for group vacations, monthly expenses or dining out, can be a tedious affair. These calculations can be time-consuming, especially when miscellaneous charges or taxes are involved.
Enter Splitwise, a cloud-based shared finance app that can minimise or even prevent arguments over transactions involving significant others, friends or family. The service, available on iOS, Android and the web, has come a long way from its humble beginnings as a rent-splitting calculator.
Users can create groups for each category of expenses, such as home or trip, and add the email addresses or phone numbers of friends and family. The free app offers a debt simplification feature, which makes it easier to split outstanding amounts owed.
The feature restructures group debt to minimise the total number of payments without changing the amount owed anyone. For example, Arman, Geoff and Fiona go on a trip together. Arman owes Geoff RM30 while Geoff owes Fiona RM30. The app would simplify the process telling Arman to pay RM30 directly to Fiona, rather than issue two separate instructions.
Payments cannot be made directly through the app, however, as only US-based users are allowed to do so via PayPal and Venmo. That means users outside the US have to manually hit the "settle up" button after making payment in cash or via online banking to record the transaction. They can also accumulate the debts and settle the amount at a later date.
Users may change the default currency in the account settings, but doing so will not change the currency on existing bills. They can change the currency on existing bills using the "edit bill" button. Alternatively, they can change the currency on all existing bills at one go using the "advanced features" button.
The paid (and advertisement-free) version, Splitwise Pro, offers more features such as currency conversion (based on the current foreign exchange rate), receipt scanning, receipt itemisation and expense search option (to help locate old bills). It also uses charts and graphs to show the breakdown of expenditure category, which allows users to identify any excessive spending.
"In addition to helping people honour their debts, we provide mediation advice on fairness issues through our 'fairness calculators'. These calculators turn our crowdsourced data into a neutral fairness opinion on your personal situation," the creators of the app say on their website.
There are currently four fairness calculators on the website: to determine how much you should pay in taxes (based on the US tax code), to determine the resale value of used furniture, to know how much couch-surfers should pay their hosts as a token of appreciation and — the most interesting one — the noise calculator, which calculates how much you should spend on a gift to apologise to neighbours who were bothered your night-time activities.
The most useful tool is the travel calculator. It offers a clean way to divide more complex expenses that may not be shared equally, such as when someone in the group can only stay for a night instead of two. The app allows the uneven splitting of costs, but it is less intuitive when it is on the default settings.