This article first appeared in Personal Wealth, The Edge Malaysia Weekly, on June 24, 2019 - June 30, 2019.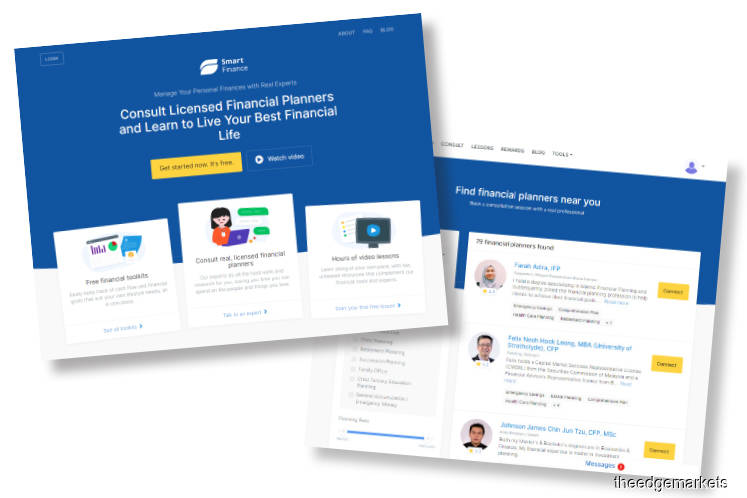 Have you thought of engaging a financial planner to help you sort out your personal finances? If your answer is yes, Smartfinance.my is a good place to start.
The online platform, launched by the Financial Planning Association of Malaysia (FPAM), allows users to look up certified financial planners in the country and connect with them.
Each profile contains the name of the planner, the firm the planner is attached to and its location, and the language spoken. It also provides the range of fees and the planner's areas of expertise. Users can click on the "connect" button located next to each financial planner's profile picture and have a webchat with him or her.
In addition, the platform allows users to filter financial planners based on their current location and areas of specialisation, including comprehensive planning, estate planning, retirement planning and child tertiary education planning.
They can also provide reviews of these planners based on their level of satisfaction. As at June 14, only four planners were scored by users, and there were 79 financial planners listed on the platform. Users can scroll through the list to read each of their personal introduction and credibility by clicking on their profile picture.
Linnet Lee, CEO of FPAM, says financial planners listed on the website are selected by the association. All of them are certified planners and some are winners of the Malaysian Financial Planner of the Year Award.
"We went through a selection process before listing the planners on the platform," she adds.
Besides operating as a directory, the online platform also serves as an educational portal that provides users with videos on personal finance topics such as "How should you set up your retirement fund?" and "Understand and improve your financial net worth".
Lee says these videos are sourced mainly from government agencies and the Employees Provident Fund (EPF). Thus, the knowledge and advice conveyed through them are independent and non-bias. The videos have received more than 370,000 views collectively since the launch of the platform in July last year, she adds.
Another feature provided on the platform is the dashboard, which allows users to generate a snapshot of the current state of their monthly and yearly cash flow. To do so, they need to key in their monthly salary and expenses (including car loan, mortgage, utilities and transport cost) and the dashboard will produce a cash flow chart, which would allow them to better understand the status of their personal finance.