This article first appeared in Personal Wealth, The Edge Malaysia Weekly, on September 16, 2019 - September 22, 2019.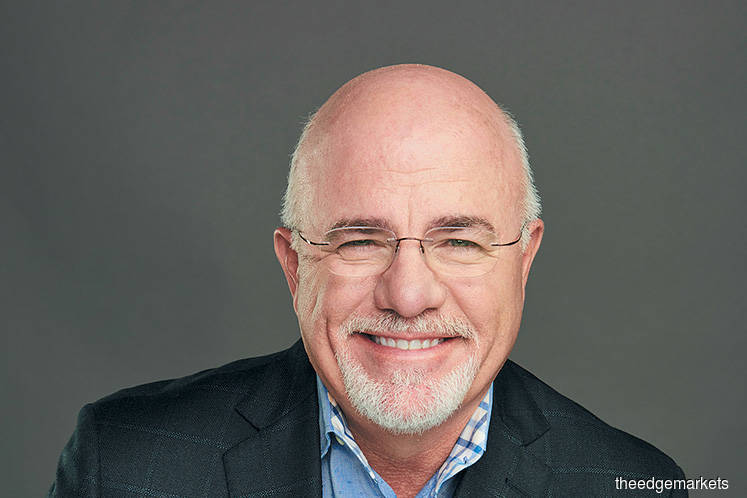 Dave Ramsey (picture) is a real estate investor turned popular American radio host, bestselling author and, more recently, internet personality. A finance graduate of the University of Tennessee, he fancied himself a maverick property investor early on in his career, having built a US$4 million rental real estate portfolio the time he was 26. But according to his website, he had lost the entire portfolio age 30.
After recovering financially, Ramsey decided to parlay his experience in real estate investing and subsequent failures into a successful, decades-long career in money management, personal finance and life coaching. Today, he is a multi-award-winning radio talk show personality and host of a personal finance show called The Dave Ramsey Show, on which he offers his opinions and advice on life and money to listeners who call in. The callers are and large American millennials in varying states of financial distress.
Ramsey has taken the time to build a substantial online presence and now boasts 1.2 million subscribers on YouTube alone. His advice and anecdotes reach listeners from around the world. His radio shows are also available on Spotify while podcasts are available for download on Apple Podcasts and Google Podcasts.  
One of Ramsey's popular books — The Total Money Makeover: A Proven Plan for Financial Fitness — is a New York Times and Wall Street Journal bestseller, with more than five million copies sold.
What makes Ramsey unique is the way in which he connects with each of his callers. His response to the routine "How are you?" he receives from most of his callers is a simple but endearing "Better than I deserve". In those few seconds, he establishes an informal tone, conveys a sense of humility and does not come off as patronising.
Ramsey takes the time to listen to his callers, never cutting them off mid-sentence and, perhaps crucially, never rushes to give a generic answer. More often than not, once the caller has laid out his or her financial problems, he starts with a series of innocuous and seemingly irrelevant questions.
Without betraying the identity of his callers, Ramsey nudges them into explaining the circumstances of their domestic and professional lives. He asks specific questions about the state of their relationships, quickly establishing whether his callers have support networks or, more tragically, if it appears that they have been left to fend for themselves and are now struggling financially.
Only then does Ramsey ask more pointed questions about their lifestyles, expenses and education backgrounds. Quite simply, he offers more than just financial advisory. It tends to be couched in broader observations and advice on a caller's personal, non-financial circumstances. In particularly dire cases however, he is not above chastising his callers for their decisions. He has been known to go off on stereotypical anti-millennial tirades on air.
Surprisingly, that does not stop young people from calling in. In fact, what is particularly refreshing about Ramsey's videos are just how familiar the problems are to those of the average Malaysian millennial. The vast majority of his callers are students or young workers with no one else to turn to. Many are married, some with children. Nearly all are stuck with crippling amounts of debt and very few have even started to think about saving for retirement.
Interestingly, it is not uncommon for seemingly well-off, highly paid professionals to phone in as well. There are many videos in which Ramsey can be seen coaching couples whose annual joint incomes are well into the hundreds of thousands of dollars and yet are stuck with crippling debt.
As someone who is a proponent of debt-free living, Ramsey's methods for getting out of debt can appear almost draconian. He advises callers to first put aside US$1,000 in an emergency fund. Then, he advocates committing all discretionary funds to paying off debts.
Ramsey can be routinely heard warning callers that there can be no eating out or shopping for non-essentials until they are above water once more. He is also a big believer in the side hustle culture and regularly advises callers to make extra money with part-time or freelance work.