This article first appeared in Personal Wealth, The Edge Malaysia Weekly, on October 14, 2019 - October 20, 2019.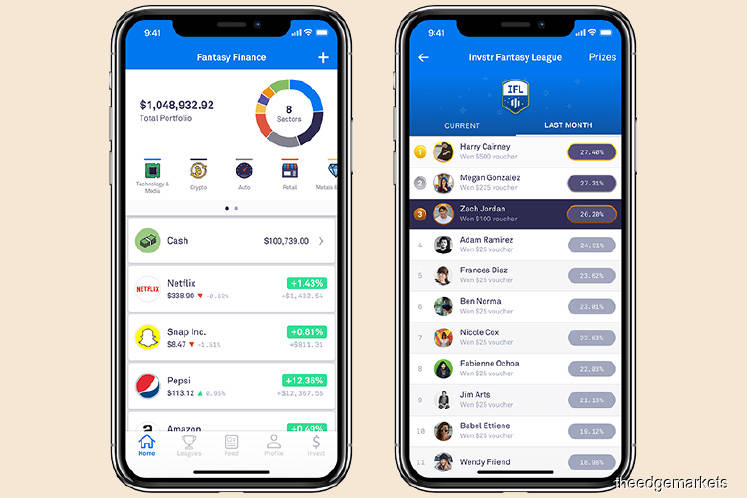 Stock simulation is a concept that can be found on a growing number of online trading platforms. Many of them give out free "practice money" as a way of letting rookie investors familiarise themselves with the platform or practise trading before they commit real money.
Invstr is an app that aims to provide users with such a training ground through gamification. The core feature of the platform is the Fantasy Finance game, which allows users to easily trade 2,000 financial instruments from around the world, with each user starting with US$1 million in virtual currency. Available instruments include equities, bonds, commodities, currencies and cryptocurrencies.
In terms of stocks, users can practise trading via major bourses such as the Singapore Exchange, the Nasdaq and the New York Stock Exchange. However, the FBM KLCI is not on this list. Tradable commodities include Brent crude oil, gold, silver and platinum while cryptocurrencies include bitcoin, ethereum, IOTA and litecoin.
Invstr encourages responsible trading among users by imposing limitations on trades. For instance, a regular user only gets to practise four trades a day while a premium member gets another eight trades.
Users trade by committing a percentage of the total virtual currency they hold instead of keying in a fixed value for each trade. Users of the free version have a 10% cap on their entire portfolio per trade while premium members are able to trade within a broader framework of 2.5% to 20%.
The app does not feature a stop-loss or take-profit option. Invstr justifies this by saying that it does so to encourage users to develop the habit of staying on top of the markets. The developer says having these options will have the opposite result as users will be complacent if they know that their investments are safe.
Every month, Invstr users from around the world compete with each other and the top 10 are automatically added to the Invstr Fantasy League leaderboard. They are then able to lay claim to prizes worth up to US$1,000. For example, this month, the winner will receive US$500 while those who finish second and third will receive US$225 and US$100 respectively. Those in fourth to 10th place will receive US$25 worth of prizes, which can be claimed as Amazon vouchers.
For a less competitive environment, users can set up private leagues, where they can challenge friends, family and colleagues to a "trade-off". Hopefully, this will encourage the formation of sub-communities, which will further cement responsible trading practices.
Invstr also features a social media platform within the app. Users can look up the latest market news and share their recent trade results with the community on their respective page. Through the gamification of stock trading, users are able to earn points, badges and rewards, which will boost their social standing, with tier levels ranging from "intern" to "guru".
Seasoned intraday investors understand the importance of real-time market updates. With that, Invstr has licensed most of the market data through US-based ICE Data Services, which directly links them with recognised investment exchanges, index providers and contributors to supply live data wherever possible. In the case of cryptocurrencies, the app sources its data from CryptoCompare.
Once a user is comfortable investing in real stocks, they are able to do so directly in-app by opening a DriveWealth account. DriveWealth LLC is a Financial Industry Regulatory Authority-registered broker that provides access to US-listed securities, including stocks, exchange-traded funds and American depositary receipts.
Invstr is available on Google Play and the App Store. The premium subscription costs RM15.99 per month.