This article first appeared in Personal Wealth, The Edge Malaysia Weekly, on March 16, 2020 - March 22, 2020.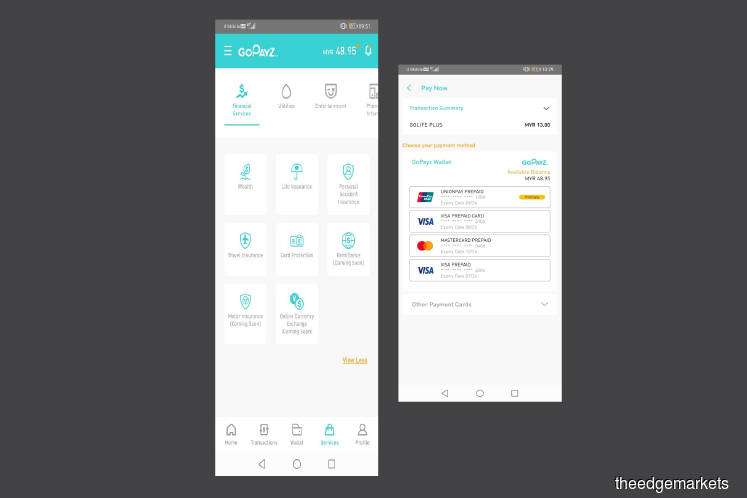 Local mobile telecommunications company U Mobile Sdn Bhd entered the e-wallet fray with the launch of GoPayz last October.
By and large, it provides most of the common features that users have come to expect of e-wallets. It allows bill payments, mobile phone and gaming account top-ups and peer-to-peer fund transfers. It also has a rewards and cashback programme that allows users to earn points for making purchases at participating merchants.
However, GoPayz does boast a unique feature that sets it apart from the other e-wallet players. It is the first e-wallet service in the country to provide access to unit trust investments, via a partnership with FSMOne Malaysia.
When contacted, GoPayz clarifies that it acts as a marketing referral platform and payment channel for users looking to buy into unit trusts. Customers can choose to use either the GoPayz e-wallet or an FPX payment gateway to perform transactions.
There is a minimum initial investment amount of RM1,000, similar to most funds available on FSMOne. There is an additional "Regular Savings Plan" for GoPayz users to take advantage of, which starts at RM100 a month. The service provider confirms that it does not impose any extra fees on investments made via the e-wallet. However, users will still be subject to the charges typically imposed by FSMOne for their funds, which range from 0% to 1.75%.
GoPayz also has a service known as GoPayz Card. The service, provided in conjunction with UnionPay Prepaid, MasterCard Prepaid and Visa Prepaid, refers to a physical prepaid card that GoPayz e-wallet users can apply for and use as a cashless payment option. The card can also be used at ATMs, allowing users to withdraw money from their e-wallet accounts. The standard ATM charges apply. 
The GoPayz e-wallet offers insurance and foreign remittance services as well which, while uncommon, are not necessarily first-in-market features for e-wallets. The remittance feature boasts fixed service charges and competitive exchange rates for transferring funds to 11 countries.
As for the insurance services, GoPayz provides several low premium life, personal accident, travel and motor insurance plans. These are underwritten by insurers such as Sun Life Malaysia and Chubb Insurance Malaysia Bhd. 
There is a series of fees and charges that users need to be mindful of, including a one-time fee of RM16 for a physical GoPayz Card, an ATM withdrawal fee of RM1 as well as a balance enquiry fee of an RM1 at the ATM. Balance enquiries made via the app or website are free.The full list of charges can be found on its frequently asked questions
section.