This article first appeared in Personal Wealth, The Edge Malaysia Weekly, on August 19, 2019 - August 25, 2019.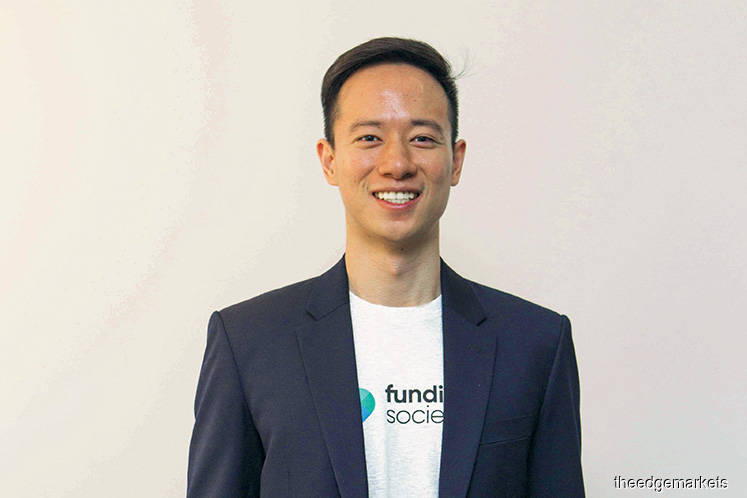 From an investor's perspective, the product allows one to invest in an asset class that is collateralised and with a shorter tenure. So, it is lower risk. - Wong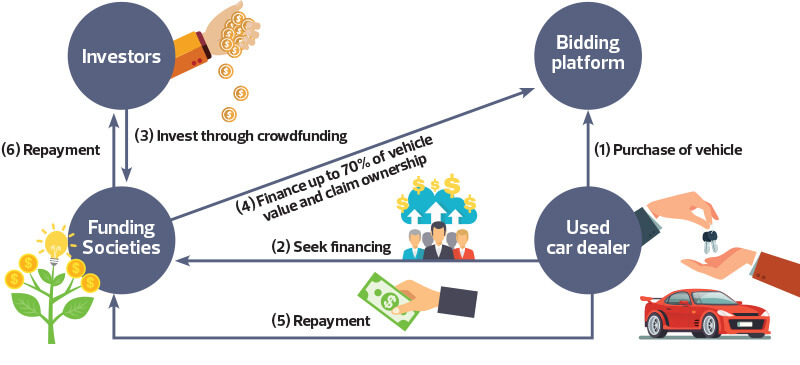 While raising funds for working capital is the core offering of most peer-to-peer (P2P) financing platforms in the country, some players are looking to introduce something different to meet the demands of investors, who want notes with shorter tenures and lower risk.
Last month, Funding Societies Malaysia launched a new product to offer dealer financing for the purchase of used vehicles. It is not only the first P2P dealer financing product but also the first collateralised P2P financing product in the country, where the used car serves as collateral.
"From an investor's perspective, the product allows one to invest in an asset class that is collateralised and with a shorter tenure. So, it is lower risk," says CEO Wong Kah Meng.
"Obviously, the rates are lower than those of other products such as business term financing [funds for working capital] and non-notified invoice financing [notes that are repaid by the, issuer as opposed to being repaid directly by the customer of the supplier], both of which carry higher risk. The trade-off [between risk and reward] is suitable for more conservative investors, compared with those with a higher risk appetite and want P2P financing to be a more aggressive segment of their portfolio."
Funding Societies is currently offering this financing product on three online used car sales platforms — Carlist.my, myTukar.com and MUV. These players have digitalised the used car sales process and provided more price transparency for customers.
Used car dealers, especially the small and mid-sized ones, often have trouble securing loans from banks to buy used vehicles. The new product gives them another financing avenue while offering investors a lower-risk investment option.
Used car dealers on online platforms will seek financing from Funding Societies when they have successfully bid for a used vehicle on the bidding platform. After going through the due diligence process with the used car sales platform and Funding Societies, the dealers will receive up to 70% of the vehicle's value, which is crowdfunded by investors.
The used car dealers will pay investors their principal along with the interest by the end of the tenure. There are no early payment charges. If the issuer does not pay on time, he will be charged a late fee of 0.1% a day on the outstanding amount after a seven-day grace period.
According to Funding Societies, the average interest rate for this type of financing is 12% per annum and the expected net return for investors is more than 8% per annum. The minimum investment amount is RM100.
The platform operator's decision to launch the product comes from two observations. One is the realisation that shorter-term financing is popular among its investors, who want to diversify their investments to manage risk.  
"If the tenure is more than 12 months, you can see that the investor appetite is lower, regardless of whether it is term or invoice financing. Of course, the interest rate is a key driver. But if you hold it constant, then the bigger driver is the tenure," says Wong.
Funding Societies also found that many small and mid-sized used car dealers struggle to obtain financing from banks, which typically serve the bigger players. Smaller players, who usually operate as sole proprietorships or partnerships, may have to borrow from family and friends to fund their short-term needs.
"From an operational standpoint, a lot of these financing facilities require the used car dealer to buy the car first by paying the full amount and then claiming it back from the bank. That is not so ideal because you have to come up with 100% of the funds up front," says Wong.
Potentially lower risk
Over the years, many smaller used car dealers have gone online to expand their reach amid stiff competition from the larger players and new car dealers. Between 70% and 90% of second-hand car owners now buy their vehicles online, according to a 2018 report.
"The universe for used car dealers is definitely big and offers a lot of opportunities. There were about 400,000 used cars transacted in Malaysia on an annual basis [in 2014]," says Wong.
"The digitalisation of this process began two or three years ago. This is where we see an opportunity. We are quite confident that it will be a worthwhile area to venture into."
He adds that the used car platforms that the company has partnered have shown sizeable growth over the years.
Dealer financing notes could carry lower risk because they only fund up to 70% of a used car, which serves as collateral. Also, the notes have a 90-day tenure, whereas other types of notes can go up to 24 months.
To test the product, Funding Societies had issued 310 notes since June last year, with RM7 million disbursed. There were no defaults and the full amount had been repaid as at June this year, according to its website.
The Funding Societies team observed that many issuers (dealers) tend to pay off the amount before the three-month tenure is up. They usually settle within a month, says Wong.
"The reason is that the dealers always make sure they have a buyer for the car before bidding for it on the platform. Otherwise, they will be stuck with inventory. Depreciation will affect the price of a car. So, they are very mindful of that."
Another insight they gained was that if a dealer was unable to secure a customer, he would still try to sell the car to another dealer so that he can get the cash and pay off the financing.
"There is no point defaulting on financing of RM20,000 or RM30,000 for a car. You may suffer a small capital loss from selling it [at a lower price or to another dealer]. But if that period of time is short enough, the potential loss is fairly minimal, if any," says Wong.
The financing product is for a very specific reason and offers a lower amount of RM20,000 to RM30,000 per note. This is low compared with business term financing for working capital, which can go as high as RM500,000.
"The financing that we provide is only for buying used cars. If everything else is held constant, they will still be running the business. It is just that this dealer financing allows them to expand their business more quickly," says Wong.
"For instance, the dealer used to be able to buy two or three cars with RM100,000. But with this product, the dealer can easily double or triple the amount."
Funding Societies has a legal charge on the car during the financing period. If the issuer fails to pay the amount owed within the time limit, it will facilitate the repossession process and resell the car on the platform. If the used car is repossessed and sold at the same price the issuer bought it for, the platform will have an additional 30% in funds to pay interest and other fees.
"The used car dealer will not be able to sell the car unless he pays off the financing to us and the investors. The ownership of the car is in the name of the dealer, but we have a charge on it [like banks do in the case of a car loan]," says Wong.
So far, Funding Societies has disbursed RM20 million in dealer financing and funded over 1,000 notes for more than 100 unique issuers. There were more than 300 notes on the platform as at end-July.
Funding Societies will continue to explore other types of financing products for small and medium enterprises (SMEs) based on their pain points. Already, it is offering financing to merchants on e-commerce platforms such as Lazada.
Wong expects business term financing to remain the platform's core business because it is applicable to more SMEs. The company will also focus on short-term financing.
"We will not focus on what the banks are already doing very well, which is long-term financing and is collateralised against property, land or machinery. We will focus on short-term financing, typically with tenures of less than a year. We address short-term cash flow gaps for SMEs," says Wong.