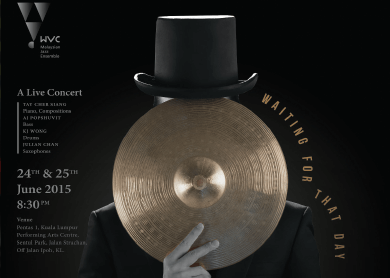 Jazz band WVC chronicles their journey how they know best — through music
IT may have been a long-awaited moment for Malaysian jazz band WVC, but the quartet is now more than ready to amalgamate their long journey with Waiting For That Day — A Live Concert, at the Kuala Lumpur Performing Arts Centre next week. 
I paid a visit to the StarMount Studio café in Kepong to have a chat with Tay Cher Siang (founder and pianist), Julian Chan (saxophone) and KJ Wong (drums) about the rather unconventional, and ambitious, jazz concert set to take place at Pentas 1. 
Started in West Virginia eight years ago by Tay during his studies in music, the current line-up of WVC (formerly West Virginia Connection and WVC Trio + 1), included bassist AJ of Pop Shuvit fame, who has been playing with them for the last three years. 
"WVC plays with a lot of different singers, but as a band, we focus on instrumental music. It becomes less playful and more serious," says Tay on what the band is about. 
Chan, formerly the "+1" of the band's original trio before becoming the second permanent member in 2009, also explains, "When we play for shows, we perform covers, jazz standards and other songs, but now we are doing more original music than ever. It's serious, but then we are always playful whether onstage or off." 
After coming together through serendipity and intentional approach, the current quartet played extensively for two years — including a month-long 23-show tour last year in 18 cities overseas — before deciding it is time to head into the studio. 
Waiting For That Day, WVC's fourth studio album (the first with this line-up) came out last year. It comes at the end of a transition period for Tay personally and musically for the band. "I felt like I should stop recording because it felt stuck at one point," says the composer. Chan chimes in, "As close friends, I witnessed that transition period. I then got to know this guy, KJ, and also I've known AJ since way back before I even met Cher Siang, so he said he wanted to try playing together. I guess the rest, as they say is history." 
The 12-track album is also like a report card of sorts for the band's new synergy, marking the natural progression and growth of WVC's music and overall sound. Tay draws a comparison, "I first wrote the [title track] Waiting For That Day while waiting for my baby's arrival. At the same time, for this particular line-up, we went many, many places musically, and even though we call ourselves a jazz band, we really took it to a very broad definition.
"Each of the members contributed a lot, from their personalities and the way they look at music," adds Tay, "I really felt like we know each other very well." 
He cites that the creative limitation that was there before soon lifted. From Wong's quirky sense of humour that translates to his playing, to AJ's down-to-earth yet "rock star" persona and remarkable musicianship, WVC's identity begun to evolve. "It made me feel like I've got a new pair of wings. So this particular album, it's something I've been waiting for as well." 
Now entirely a local band, the full-time musicians also regard their music as "rojak". Tay clarifies "We throw in every type of music elements we grew up with and are familiar with … it's very Malaysian." 
From Chinese oldies to 90s pop, Jimi Hendrix, reggae and Keronchong style, WVC describes their sound as a sum of their musical influences. "I personally grew up with pop music … then my listening palette grew into more instrumental [music] when I got into playing the saxophone. I also like R&B, so the sound, at least from my contribution, the way I play the melody or improvise … is the accumulation of all of that," says Chan. 
If their music takes a broad definition of jazz, WVC's upcoming live concert promises an exceptional experience from the usual jazz performances. "It's a buy one free five or six," jokes Tay. "We are going to have a ten-piece string ensemble consisting of 15- to 18-year old kids," he goes on, "and we will be featuring guest singers that we have worked with all over the years."  The four guest performers will be singing songs composed or co-written with Tay, including a Teochew dialect son. 
There will also be five dancers — three ballroom dancers, one classical Indian dancer and a modern contemporary dancer — as well as a calligrapher, who wrote out a poem by Tang-dynasty poet Li Bai for the band's The Moon and the City Light song. Inspired by Beethoven's Moonlight Sonata, Tay says the inspiration came from the symbolism of the moon in Chinese literature. 
"This is a very deliberate, very focused kind of show," says Chan, "I would say that jazz is only part of the entire picture. So in that sense, it's like a festival." 
Affecting the jazz spirit of breaking conventions, the band admits that the concert had always been in the back of their mind from the beginning, to "do something bigger and local".
Their challenge has been in cutting down their repertoire, as Wong points out, "We've played for long hours before, and have been known to play two and a half hours non-stop." Tay laughs, "It'll be about two hours at least. I'm still trying to trim the fat. When I look at the song list I already prepared, it's scary." 
Both nights will feature a different set list, with also a strong focus on visuals. There will be video and photo presentations both during the show and at the foyer of Pentas 1, displaying shots of WVC on tour or in candid moments. The photo exhibition in particular, is something the band is proud of, as it was taken by a fan-turned-friend who paid his own way to go with them on tour.  
"It's an opportunity to showcase our interaction with the people who travelled with us from the beginning," says Tay. "People don't see them, but they are just as involved with the whole music making process," echoes Wong. 
Expressing confidence in their audience, the quartet says they've been blessed by people who have been paying and coming to listen to their music. They highlight that there's also been a growth in maturity and interest in jazz music in the country. 
"More and more young people come and listen to these things, so it's not just something for the oldies now. It's relevant," observes Tay. 
Their immediate goal would be to sell-out the concert, and continue to tour to different countries and cities, but in the end, Wong says, "the satisfaction just comes from the music, as old fashioned as it sounds." 
However, Tay couldn't resist a cheeky but honest confession, "At least at this point, I think we deserve a chance to play in the DFP (Dewan Filharmonik Petronas)." He says that for whatever reasons, local jazz acts tend to be overlooked. 
"But it's amazing how Malaysian artists across different disciplines survive. All these are really grass-roots efforts," he concludes, "people are just doing it regardless." 
Waiting For That Day — A Live Concert will be staging on June 24 and 25. Tickets are priced at RM58, RM78, RM108 and RM158. For discounts and other information, visit www.klpac.org or www.fb.com/wvctrioplusone. To purchase, call (03) 4047 9000 or visit www.ticketpro.com.my.
This article first appeared in The Edge Financial Daily, on June 15, 2015.