This article first appeared in The Edge Financial Daily, on January 20, 2020.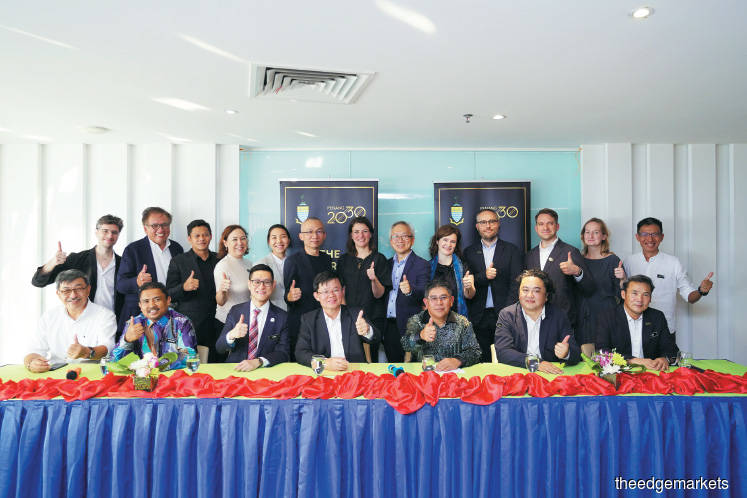 Chow (seated, fourth from left) and MDC adviser and jury convenor Ar Ang Chee Cheong (seated, sixth from left) with the finalists.
KUALA LUMPUR: The Penang government has announced five finalists of the Penang South Islands (PSI) Masterplan Design Competition (MDC). The PSI comprises three man-made islands under the Penang South Reclamation project.
Chief Minister Chow Kon Yeow said the MDC, an international competition with a qualification process, saw an overwhelming global response with 124 submissions from 26 countries, including Malaysia.
"The contestants submitted as consortium teams comprising outstanding Malaysian and world-leading architects and planners, and also included experts in smart city, engineering, design and branding, technology and innovation, mobility and transportation, landscape, sustainability and environmental design," Chow said in a statement.
The five finalists are Bjarke Ingels Group (Denmark) with Hijjas Architect & Planner, Foster + Partners (UK) with GDP Architects Sdn Bhd, MVRDV (the Netherlands) with aLM Architects, Tekuma Frenchman Urban Design (US) with Eowon Architects, and UN Studio (the Netherlands) with Architects 61 Sdn Bhd.
Chow said the finalists were selected based on their capabilities and experiences in projects similar to PSI's nature and challenges, urban design excellence and technical innovation, a brief project outline statement and their commitment and credentials in producing sustainable solutions.
"Each of the five finalist teams is led by international and Malaysian companies to ensure all proposals submitted contain excellent concepts and solutions and are informed by local knowledge and context," he said.
He said the five finalists' design submissions will be displayed in a public exhibition at the competition's conclusion, expected in April.
"The MDC Master Jury Panel will be finalised and announced again by the Penang state government in early February. After that, the selected winner will be appointed as the lead master plan designer for PSI, subject to terms and conditions," he added.
The PSI is a state-owned long-term development of 4,500 acres (1,821.09ha) of land providing affordable housing, public and private amenities, with 4.6km of public beaches, over 600 acres of parks and 25km of waterfront promenade.
Chow said the project will prepare Penang for Industry 4.0 by incorporating smart city and smart park features with an efficient integrated transportation system.
"The PSI will be a game-changer for Penang as it will trigger a paradigm shift in the business growth of the electrical and electronics sector, healthcare and digital industries, global business services and tourism. We anticipate significant foreign direct investments as well as reinvestments from local businesses," he added.