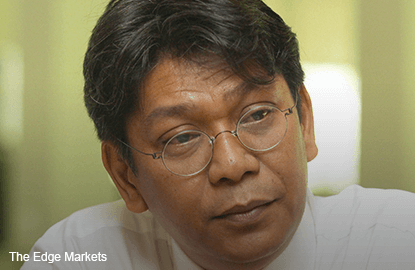 This article first appeared in The Edge Financial Daily, on September 23, 2015.
KUALA LUMPUR: Fima Corp Bhd is looking to raise its plantation segment's contribution to the group's bottom line from 40% currently to 50% in five years, as a way to lessen dependence on its core business of security document printing, which is facing limited growth.
In terms of revenue, plantation makes up about 30% of the group's total now, said Fima group managing director Roslan Hamir. The remainder comes from security document printing.
"Eventually, our target is to reach 50:50 within five years — 50% for printing and 50% for plantation in terms of bottom line," Roslan told reporters after the group's annual general meeting here yesterday.
He said the group has a total plantable area of 2,800ha in Peninsular Malaysia, of which 200ha is fully planted; the remaining 2,600ha will be planted within the next three years, for which it has allocated RM30 million as capital expenditure.
Additionally, it has another 6,500ha of mature plantation in Indonesia. As of March 31, the yield of the Indonesian plantation was 23.37 tonnes of palm oil per ha.
Roslan also said the group is always on the lookout for land acquisition opportunities in Malaysia. As of March 31, the group had net cash of RM172 million, with zero borrowings.
On the outlook for the financial year 2016 (FY16), Roslan said the group is "cautiously optimistic" amid the more-challenging economic environment currently.
He expects growth for FY16 to be flattish, as the production growth of palm oil will be flat as most of its trees are mature.
Meanwhile, Fima chief operating officer Nazaruddin Mohd Hadri said prospects for the group will look better in three years.
"We have acquired land [so] we are now working on the land ... In three years, we will be harvesting. I would say we will be better than now in three years," Nazaruddin said.
Although crude palm oil (CPO) prices have been softening, Nazaruddin noted that the cost of producing a tonne of CPO is RM1,200. Hence, as long as the CPO is quoted above RM1,200, the group will be making profit, he said.
As for its security document-printing segment, growth is limited as security documents are controlled items, so the volume of orders is determined by its clients, who are the governments, and is premised on population growth. If population grows, the volume will increase, he added.
Presently, only 5% of the segment's revenue is from the export market, which the group said is difficult to expand due to stiff competition.
"It's difficult [as] there are a lot of big players out there. They have been in the market for a long time and some countries have their own state printer. The margin is very small and the cost of marketing is too high," he added.
On the weakening ringgit, Roslan said it won't impact the group. Its plantation segment contributes revenue in US dollars, while its security document printing uses imported inputs denominated in US dollar and euro, so "one offsets the other".
Fima shares closed unchanged at RM2.32 yesterday, with a market capitalisation of RM579.2 million.