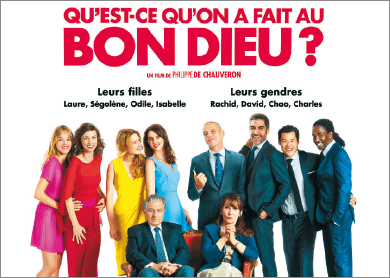 Serial (Bad) Weddings (Qu'est-Ce Qu'On A Fait Au Bon Dieu?)
Director: Philippe de Chauveron
Cast: Christian Clavier, Chantal Lauby, Ary Abittan, Medi Sadoun, Frederique Bel, Julia Piaton
Rating: 3.5 out of 5 stars
Length: 97 minutes
Showing: May 15 (GSC 1 Utama) and May 23 (GSC Mid Valley)
CLAUDE and Marie Verneuil are a French provincial bourgeoisie couple who have four adult daughters who live in Paris. After their first three daughters marry a Muslim, a Jew and a Chinese respectively, they try to keep an open mind about the marriages of their offspring. However, they have trouble accepting people from outside their Catholic and bourgeoisie community. With their youngest still single they secretly hope she will bring home a Catholic fiancé. To their wonderful surprise Laure announces at Christmas that she is engaged and that her husband-to-be is Catholic and is named Charles. Their happiness however, quickly evaporates upon first meeting him as they discover that he is black and from the Ivory Coast. With Laure's impending nuptials facing disapproval from both sides, her chance of having a happy wedding appear to be slim.
The film plays on the awkwardness and clichés surrounding race and religion as the Verneuils' try and accept their sons-in-law for what they are. It also provides good commentary on highlighting the difference between the provincial and predominantly Catholic town that they live in, in comparison to the multi-ethnic city that Paris has transformed into over the past few decades.
Ultimately, Serial (Bad) Weddings manages to tackle the issues of race and religion with light-hearted humour and good chemistry between the cast. Moviegoers should watch this with an upbeat attitude and not take the jokes too seriously.
This article first appeared in The Edge Financial Daily, on May 13, 2015.