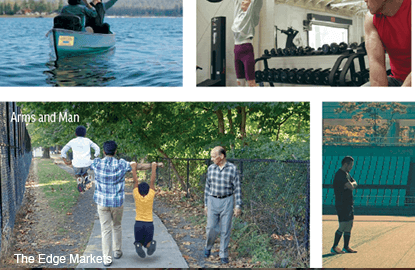 This article first appeared in The Edge Financial Daily, on November 2, 2015.
American carmaker Ford's EcoBoost engines deliver great power, use less fuel and generate fewer emissions compared with larger-displacement naturally aspirated engines. Not the most poetic muse for filmmaking, you'd think, and yet it has been done. 
Under the theme of Small but Mighty, five emerging filmmakers from around the world have created a series of entertaining short films that celebrate small acts and ideas that pack a mighty punch. The admittedly heart-warming theme is inspired by much-celebrated range of EcoBoost engines.
In capturing the spirit of what the engine range is all about, filmmakers were tasked with demonstrating a moment in life, a person or an idea that is Small but Mighty. From a man with incredibly strong superhero-like arms, to a young boy who dominates the soccer field; from a super granny, to a couple who are inspired by little moments that shape the mighty world — the short films explore a variety of subjects, but at their core the compelling message of Small but Mighty shines through.
A pint-sized football champ proves that size doesn't matter in Soccer Prodigy. Director Jude Chun casts a talented eight-year-old with incredible ball-handling skills in this film, and the young boy's impressive moves on the pitch steal the show in this comic book-style short.
Andy Kelemen — an award-winning filmmaker — produced Small but Mighty Arms. In the style of a mockumentary, the film's comedic narrative revolves around the life of a slim man who at first struggles but then finds amazing use of his incredibly strong arms.
With Mighty Ride, get prepared to be taken on a heart-warming journey. Directed by Ricky Rojas, the film is based on an ethereal daydream, and features a series of stunning landscapes. It's about the small details, moments, and actions that shape lives and the big, mighty affect they have.
Independent filmmaker Ellenor Argyropoulos created Bite with a Kick. The film, set in the Australian outback, tells the story of a family on a camping adventure, and the surprising power of a small chili.
Daniel Brothers and Lauren Schad of Long Way Home Films weave together a series of highly visual scenes of small feats, which prove that good things really do come in small packages. Ranging from the hilarious to the heart-warming, these five little vignettes will leave you wanting more.
All five films can be viewed on ford.to/smallbutmighty.