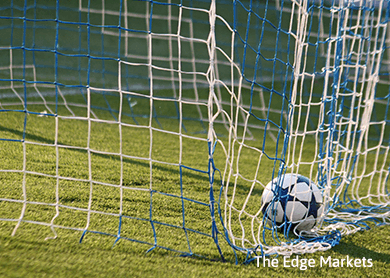 (Sept 9): The World Cup 2018 Asian qualifier between Malaysia and Saudi Arabia came to a sudden halt in the 88th minute when spectators threw flares on to the pitch. Saudi Arabia were leading 2-1 at the time. There were also reports of fights breaking out between fans.
Players from both teams left the pitch as smoke began filling the ground and the game was suspended. Local media reports that fans had thrown the flares as well as fireworks on to the pitch.
According to Reuters, the match was later abandoned with the outcome to be decided by the sport's world governing body FIFA.
The match had earlier come to life late when the home team scored in the 70th minute through captain Mohd Safiq Rahim.
However, Harimau Malaya quickly capitulated and let in two goals in the 73rd (scored by Taisir Al-Jassim) and 76th minutes (Mohammed Al-Sahlawi).
The two nations were competing in the Asian Football Confederation Group A match at the Stadium Shah Alam tonight.
Interim coach Ong Kim Swee's boys were chasing every ball to find an equaliser after going down but were unable to break down the Saudi defence.
Ong had yesterday asked disgruntled Malaysian supporters not to disrupt the game after the supporters' group Ultras Malaya called on fans to protest at the team's poor performances.
As a result of the threats, police had also increased their resources deployed at the match in case there was trouble.
Following the match, Youth and Sports Minister Khairy Jamaluddin blamed the unruly fans as well as the Football Association of Malaysia (FAM) for not being able to control the situation.
"FAM lost control of their own stadium. Fans throwing flares were wrong. Both at fault tonight," Khairy said in a tweet.
This is Malaysia's fourth match in the group. Harimau Malaysia only managed to draw, 1-1, with Timor Leste in the first match played on June 11 at Stadium Bukit Jalil in Kuala Lumpur.
In the second match played five days later, Malaysia hosted Palestine but were thrashed 6-0. The ultimate humiliation came last week when Harimau Malaya lost by a record 10-0 to the United Arab Emirates in Dubai on September 3.
Coach Dollah Salleh quit following the defeat and his place was taken over by Ong.
Harimau Malaya next play away to Timor Leste on October 13. – The Malaysian Insider