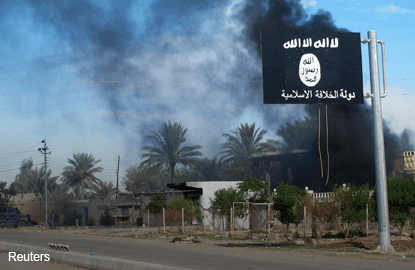 KUALA LUMPUR (Feb 3): Putrajaya must uncover the reasons Malaysians find the caliphate system appealing if it wants to eradicate the threat of the Islamic State of Iraq and Syria (Isis), a think-tank says today.
Research group Iman said the number of Malaysian fighters was higher than Indonesia's when adjusted according to population, proving that the caliphate has supporters in the country.
"On a long-term basis, the government will need to grapple with the elephant in the room, which is why the idea of caliphate — as amorphous and romanticised as it is – so appealing to a segment of the Malaysian community?
"Questionable it may be, with Pew Research showing 11% of Malaysians having favourable views towards Isis (as compared with 4% among Indonesians), it is imperative that serious research is done to shed light to Malaysia's radical milieu," said Iman in the report.
Iman said Malaysia needed to undertake a study which took into account the identity of those who joined the militant group, the conditions droving them to do so, as well as the textual sources they relied on.
Meanwhile, Malaysia's short-term focus should be on law enforcement action to prevent Isis's recruitment efforts and attacks on Malaysia, it said.
In the intermediate term, it said, the government must anticipate the threat of returning fighters, who would have better operational capabilities, wider networks, and a hardened jihadi mindset.
Iman added that Isis appeared to be in its "germinating phase" in Malaysia, given its recruitment and operations were unstructured, it relied on leadership from the Middle East, and most of its operatives lacked a militant past.
It said Malaysia's security apparatus and intelligence community had also shown "remarkable competence" in dealing with terror threats and militancy, such as the Kumpulan Militan Malaysia (KMM) and Jemaah Islamiyah in 2001.
It said the crackdown on the past militant groups may be why it was more difficult for Isis to gain a foothold in Malaysia, since "networks are dismantled, radical preachers arrested, and training camps eliminated".
Iman also outlined four underlying factors in the Isis threat in Malaysia: the group's plan to strike at the heart of Malaysia, the high proportion of Malaysian fighters, the lack of consistent profiles among Isis supporters here, and the use of social media to recruit new fighters.
"Considering Malaysia has an Internet penetration rate of 67.5% and Malaysians are generally active social media users, this poses difficulties for the authorities to stem Isis's growing influence