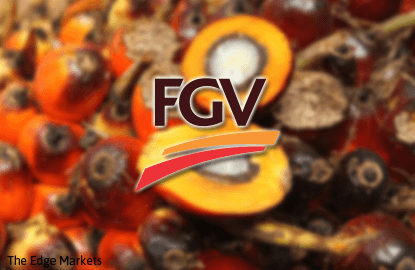 KUALA LUMPUR (Feb 29): Felda Global Ventures Holdings Bhd's (FGV) net profit surged two-and-a-half times to RM101.38 million or 2.8 sen per share for the fourth quarter ended Dec 31, 2015 (4QFY15), against RM39.33 million or 1.1 sen per share a year ago, on foreign exchange (forex) realisation on disposal of subsidiary, totaling RM37.95 million.
On Nov 3, 2015, FGV had disposed of Twin Rivers Technologies Enterprises De Transformation De Graines Oleagineuses Du Quebec Inc (TRT ETGO) for C$172.15 million (RM567.1 million), which had resulted in a gain of RM13.02 million.
Revenue came in 8.8% higher at RM4.26 billion, compared to RM3.91 billion in 4QFY14.
FGV also declared a final dividend of 2 sen per share, totaling RM72.96 million for the financial year ended Dec 31, 2015 (FY15), subject to approval of shareholders at the forthcoming annual general meeting.
For the full year (FY15), FGV saw its net profit plunge 64% to RM117.12 million or 3.2 sen per share, against RM325.49 million or 8.9 sen per share in FY14, mainly due to the lower contribution from palm plantation and trading, marketing and logistics (TML) segments.
Revenue, however, rose by a marginal 2.7% to RM15.67 billion, compared to RM15.26 billion in FY14.
In a filing with Bursa Malaysia today, FGV said profit from its palm upstream segment fell by 54.7% to RM349.24 million in FY15, mainly due to lower average crude palm oil (CPO) price realised of RM2,210 per tonne, compared to RM2,410 per tonne in FY14; and lower fresh fruit bunch (FFB) production of 4.63 million tonnes, from 4.97 million tonnes in FY14. The oil extraction rate (OER) achieved was also lower at 20.91%, compared to 21.01% in the previous year.
For the TML segment, FGV registered a loss of RM93.56 million in FY15, mainly attributable to losses in forex of RM62.96 million, due to the effect of weakening of the ringgit against the US dollar.
Going forward, FGV said 2016 is set to be another challenging year, amid concerns of a slow-down in China's economy, weak global market growth and plummeting commodity prices led by oil prices that slumped to a multi-year lows.
Barring any unforeseen circumstances, it expects its performance for FY16 to be in line with the industry.
"Management has implemented several new cost saving measures in addition to those initiated in 2015. These cover both direct and indirect costs. However, such cost reduction measures will not be at the expense of improving yields.
"Programmes focused on improving yields have also commenced, with close monitoring from senior management," it added.
FGV shares closed four sen or 2.55% lower at RM1.53 today, for a market capitalisation of RM5.58 billion.