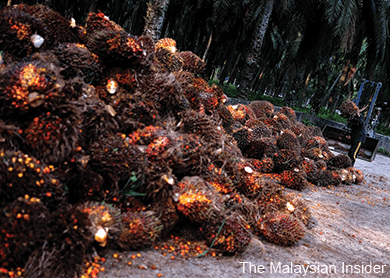 (December 3): Felda Global Ventures Holdings Bhd (FGVH) was the worst performer among plantation stocks in Bursa Malaysia in the last quarter on derivative contracts losses and exposure to risky trading instruments, said DAP MP Tony Pua.
The state-controlled planter, which was the second largest initial public offering to Facebook Inc in 2012, lost RM52 million from derivative contracts in its Canadian business for the quarter.
"This was clearly a direct consequence of a drastic increase in the exposure to risky and volatile trading instruments.
"FGVH's investment in commodity futures increased sharply from a mere RM118,500 as at September last year to a whopping RM1.15 billion for the current period," the Petaling Jaya MP, who is also the DAP national publicity secretary, said in a statement.
He added FGVH dabbled with foreign currency forward contracts, increasing its exposure from just RM233,000 to RM1.2 billion over the same period.
"The shareholders of FGVH, including Felda, Lembaga Tabung Haji and Employees Provident Fund must be concerned about the substantial increase in the risk exposure, which is big enough to cripple the entire FGV group."
Pua questioned if the plantation company – which made a stunning debut on the stock exchange more than two years ago – will go down the same road as flag carrier Malaysian Airline System (MAS) which has been nationalised.
In its latest filing, FGVH reported its first quarterly loss of RM12 million for the quarter ending September 2014.
The counter closed at RM3.08 yesterday, registering a decline of 42.9% since its listing in June 2012.
Pua said that FGVH's nine-months' results only achieved 53% of the market consensus full year profit forecast, significantly disappointing  investors.
He added that the results also showed  a clear drop in productivity, where FGVH reduced its total palm fresh fruit bunch (FFB) production by 1% in the 9-months of 2014, despite having added about 5% of additional mature palm oil area from the RM1.2 billion acquisition of Pontian United Plantations last year.
Pua said FGVH blamed the decline in productivity on the lower rainfall, but added that the excuse could not hold water given that in comparison,
Malaysia's average FFB production increased by 3% over the same period.
He pointed out that the latest analyst report by CIMB on FGVH on Nov 27  was damning, where the bank downgraded the stock from a "Hold" to a "Sell".
Pua said in October, the Ministry of Finance had responded to his question of the increasingly weak financial performance by FGVH by attributing it entirely to the falling commodity prices.
But, he added that he said in October if the terrible performance of FGVH was solely attributable to crude palm oil prices, then all other plantation companies will be afflicted with the same poor performance.
Instead he pointed out then that FGVH was the worst performer of all plantation stocks listed on Bursa Malaysia over six months.
Based on data as at 15 October 2014, FGVH stock price dropped by 29.1% compared against its peers – IJM Plantations (-6.3%), IOI Corp (-2.7%), Genting Plantatins (-9.4%) and Sime Darby (-1.6%).
The closest poor performer was KL Kepong whose price dropped by 16.6% over the same period.
"Therefore, with the latest results, it is clear that the worsening performance is caused by factors well beyond just falling commodity prices," Pua said.
He added that while the company may remain profitable for the current financial year, the signs are clear of a consistent deteriorating performance.
He urged FGVH chairman Tan Sri Isa Samad and the top management to take collective responsibility of the company's declining results.
He added that this was especially so since  FGVH in its 2012 Annual Report boasted that  'FGVH's stunning debut on the main market in Bursa Malaysia in 2012 was a global sensation.  This is just the start of our metamorphosis into a global powerhouse'.
"Datuk Seri Najib Razak, as both the finance and prime minister, who promised Felda settlers the stars during the listing exercise must therefore take decisive and immediate actions to stem the decline in the company.
"Otherwise, the latest loss incurred by FGVH may signal the start of another winding road to financial collapse just like the Malaysian Airlines System." – The Malaysian Insider