This article first appeared in The Edge Financial Daily, on January 15, 2019.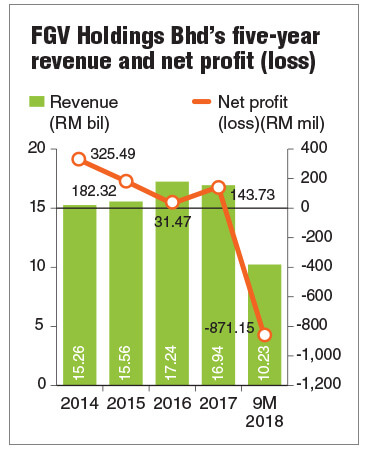 KUALA LUMPUR: Shareholders of FGV Holdings Bhd are expected to see "improved returns" from the plantation giant starting this year, according to its chairman Datuk Wira Azhar Abdul Hamid.
In a move likened to billionaire Warren Buffett's highly anticipated annual letter to shareholders, Azhar said this in his letter to FGV shareholders for the first time on Bursa Malaysia yesterday.
In the letter, Azhar said the transformation team had spent the last few months unearthing a slew of problems.
"The good news is the problems can be solved, and the better news is, we expect improved returns to start flowing to shareholders this year," he said.
As part of its transformation plan, Azhar said FGV has almost completed its appointment of the group's top management except for the group chief executive officer's position, left vacant after Datuk Zakaria Arshad resigned on Sept 18 last year. Azhar added that the board of directors hopes to make an announcement in "the next few days".
"We have appointed a new group chief financial officer, a new chief procurement officer, a new chief operating officer of the plantation operations and a new chief human resources officer.
"With this professional team in place, FGV will be able to make the changes that need to be made, make the tough decisions to cut waste and trim the fat, and start sweating our assets as they ought to be," he said.
Azhar acknowledged that FGV's operations are not effectively and efficiently managed, as evidenced by its persistent poor performance.
"Furthermore, there are operational leakages and inefficiencies in the system that run into millions of ringgit a year. This has contributed to our poor financial performance," he said.
Through its transformation plan, Azhar said FGV will correct its legacy issues and restore operational integrity.
"It is estimated that at an average CPO price of RM2,500 per tonne, FGV should be able to earn profit before tax (PBT) of RM1 billion a year," he said.
Operational processes are being improved under the transformation plan. These include improvements such as intensifying crop recovery, cost reduction in the estates, implementing mechanisation and enhancements of agricultural practices.
"FGV's fresh fruit bunches (FFB) yield for 2018 is forecast at 16.9 tonnes per hectare, whereas the industry average for Malaysia is 19 tonnes per hectare. In 2019, we expect to close this gap with yields at 19.4 tonnes per hectare.
"For 2018, we are forecasting average crude palm oil (CPO) production cost (ex-mill) at RM1,666 per tonne. In 2019, we are targeting average CPO production cost (ex-mill) at RM1,469 per tonne," said Azhar.
He said another revelation was the scale of the leakages and inefficiencies that have permeated almost the whole company, and several initiatives are being implemented, including a group-wide review of procurement policies and practices.
"We are also reviewing our capital structure and financing costs.
"Additionally, the group is looking at rightsizing our manpower requirements," he added.
With this move, it is estimated that FGV will be able to save at least RM150 million in 2019.
Half of FGV's oil palm trees 'unacceptably old' in 2012
When FGV was listed in mid-2012, Azhar said half of the group's estates had oil palm trees that were "unacceptably old" due to decisions made to reduce cost by not replanting sufficiently, which he deemed unwise as it resulted sub-optimal age profile.
As at 2018, 28% of its trees are above 25 years old.