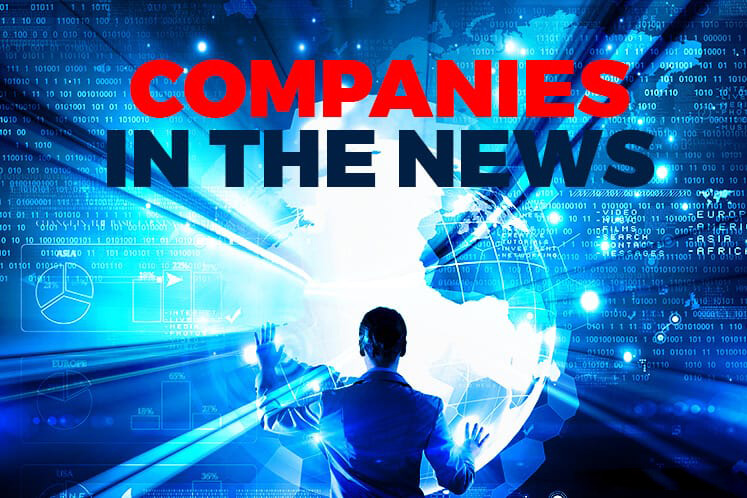 KUALA LUMPUR (Sept 12):  Based on corporate announcements and news flow today, companies that may be in focus on Thursday (Sept 13) may include the following: FGV Holdings Bhd, Sapura Energy Bhd, Unisem (M) Bhd, Sunway Bhd, MY E.G. Services Bhd, Pasukhas Group Bhd, Vertice Bhd, Land & General Bhd, Only World Group Holdings Bhd, MMAG Holdings Bhd and Magni-Tech Industries Bhd.
The Ministry of Finance has removed Datuk Zakaria Arshad as the Government-appointed director to the board of directors at FGV Holdings Bhd.
FGV said it has received a letter from the Minister of Finance Inc instructing it on the withdrawal of its nomination of Zakaria as director of FGV.
Sapura Energy Bhd is disposing a 50% stake in its unit Sapura Upstream Sdn Bhd to OMV Akteingesellschaft, signalling it is opting for a stake sale rather than an IPO avenue to pare down its debts.
It said it had entered into a Heads of Agreement with OMV for the transaction, which is based on an enterprise value of US$1.6 billion.
Sapura Energy said OMV is one of Austria's largest listed industrial companies with group sales of €20 billion.
Unisem (M) Bhd has received a pre-conditional voluntary conditional takeover offer from joint offerors, comprising  executive chairman and managing director John Chia Sin Tet as well as China's Tianshui Huatian Technology Co Ltd (TSHT).
The pre-conditional offer is being made at RM3.30 per share, with a total outlay of RM1.82 billion for the exercise, the semiconductor manufacturer said.
"Upon completion of the offer, HT Malaysia will be the single largest shareholder of Unisem. The Malaysian offerors will not acquire any offer shares," it said.
The bid is being made by Huatian Electronics Group (HK) Ltd and Huatian Technology (Malaysia) Sdn Bhd on behalf of TSHT, as well as John Chia, his son Alexander Chia Jhet-Wern, and John Chia's private vehicles, Jayvest Holdings Sdn Bhd and SCQ Industries Sdn Bhd.
Sunway Bhd and a Singapore company have won the tender to develop a 4.46-acre executive condominium site in the island republic via their S$271 million (RM817.17 million) bid.
Sunway said the Housing and Development Board of Singapore awarded the land, located in Sembawang, for a 99-year lease term to Hoi Hup Realty Pte Ltd and its wholly-owned subsidiary - Sunway Developments Pte Ltd
The joint-venture company will be owned 65% by Hoi Hup and 35% by Sunway Developments.
MY EG Services Bhd has been granted a two-year licence to carry out recruitment activities for job seekers within and outside Malaysia and foreign employees within Malaysia.
Its sub-subsidiary Agensi Pekerjaan MY EG Jobs Sdn Bhd today received the licence to conduct matters relating to private employment agencies from the Department of Labour Peninsular Malaysia, Ministry of Human Resources.
MyEG added that the licence, which is valid from Sept 1 this year to Aug 31, 2020, is in line with the recent launch of the job matching and placement service to match Malaysian employers with foreign workers.
Pasukhas Group Bhd has secured a contract to sell a vessel of steam coal in South Kalimantan, Indonesia for US$4.93 million (RM20.44 million).
Its wholly-owned subsidiary Pasukhas Products Sdn Bhd signed the contract with a Singapore company, which it did not name.
Vertice Bhd is teaming up with two local construction firms to pursue pre-qualification tender for two infrastructure projects in Sarawak, which comprise the balance of works to complete the coastal road network and the second trunk road in the State.
It entered into a Memorandum of Understanding with Pembinaan RU Sdn Bhd and Image Façade Construction Sdn Bhd to jointly submit the pre-qualification tender for the projects.
Under the JV, Pembinaan RU is tasked to secure the contract and to provide a management team to successfully deliver the project, while Vertice and Image Façade will provide the necessary expertise and equipment to deliver the project on time and satisfactorily.
Land & General Bhd aims to roll out three projects with an estimated GDV of RM4.2 billion next year in the Klang Valley.
Managing director Low Gay Teck said these projects are Aria Rimba at U10, Shah Alam, a serviced apartment project at The Mines Resort in Seri Kembangan and a high-rise residential development in Bandar Sri Damansara.
"We plan to launch these projects starting mid-2019. The first will be the 120-acre Aria Rimba township developments with residential and commercial offerings," he told reporters after the company's annual general meeting.
Only World Group Holdings Bhd (OWG) has allocated RM50 million as capital expenditure for the financial year ending June 30, 2019, mainly to upgrade its existing indoor playgrounds or playlands, as the company calls it, and to build new ones.
MMAG Holdings Bhd has appointed Big Data analytics strategist and serial entrepreneur Datuk Khan Mohd Akram Khan as its chairman effective today, replacing Datuk Johari Yahya who has been redesignated as independent director.
Magni-Tech Industries Bhd's first quarter net profit grew 12.38% to RM22.01 million or 13.53 sen per share, compared with RM19.59 million or 12.04 sen per share a year ago, on higher earnings from its garment business.
Total revenue for the quarter ended July 31, 2018 (1QFY19) however, fell 6.8% to RM273.74 million, from RM293.71 million previously.