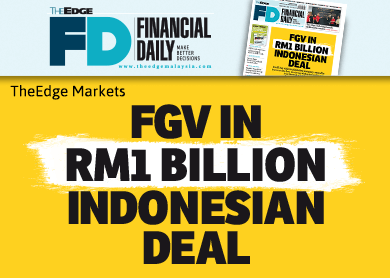 KUALA LUMPUR: Felda Global Ventures Holdings Bhd (FGV) is close to sealing the deal to buy a substantial stake in PT Eagle High Plantations Tbk — the third largest plantation group listed in Jakarta, according to industry sources.
It is understood that FGV has been in talks with PT Eagle High's controlling shareholder Tan Sri Peter Sondakh, whose investment vehicle PT Rajawali Corp holds a 65.5% equity interest in the Indonesian plantation group.
Sources said the negotiations are in the final stage, with a stake of some 30% set to change hands. "It (the acquisition) is almost concluded, just some of the minor details left to be sorted out … it's a big acquisition for FGV," the source said.
Eagle High's share price has gained some 75% since end-April nudging its market capitalisation to just over US$1 billion (RM3.74 billion), which would indicate that Sondakh's 65.5% has a market value in excess of RM2.4 billion. Thus, 30% of the company would fetch a price tag of about RM1 billion.
The company's net assets per share as at end-March was 214.7 rupiah. 
Sondakh, who according to Forbes has a net worth of US$2.3 billion, is Indonesia's sixth richest individual and ranked No 810 in the world, with his Rajawali group active in telecommunications, hotels, cement, consumer goods, retail, department stores and transport in Indonesia, among others. It is learnt that Sondakh is close to prominent political leaders in Malaysia.
Eagle High came about when in September 2014, Indonesian PT BW Plantation acquired Green Eagle Holdings Pte Ltd, which has a plantation land bank of some 196,000ha in Indonesia, for 10.5 trillion rupiah (RM2.95 billion at the current exchange rate). The month before, BW Plantation also acquired nine plantation companies with a total land bank of 129,000ha from the Rajawali Group. The merged entity, Eagle High, currently has total Indonesian land bank of 419,006ha, of which 147,000ha are planted. For its financial year ended December 2014 (FY14), Eagle High posted a net profit of US$16 million from US$191 million in sales.
Cash-rich FGV has been on the acquisition trail since its listing on Bursa Malaysia in June 2012. Among the major acquisitions are the takeover of Pontian United Plantations Bhd for RM1.2 billion and Asia Plantation Ltd for RM628 million. It also spent RM2.2 billion to buy the remaining 51% stake in Felda Holdings Bhd from its substantial shareholder Koperasi Permodalan Felda Malaysia Bhd in October 2013. Felda Holdings owns the upstream assets.
The latest purchase is 836.1ha of oil palm land from Golden Land Bhd for RM655 million cash.
FGV's cash coffers have shrunk as a result of the purchases to RM2.86 million as at March 31, 2015 from RM5.68 billion as at Dec 31, 2012. Its long-term borrowings swelled to RM415 million from RM509,000  while its short-term borrowings leapt to RM1.945 billion from RM599.16 million in the same period.
However, the acquisitions have yet to translate into earnings. For its first three months ended March of FY15, FGV posted a paltry net profit of RM3.5 million from close to RM3 billion in sales. For the corresponding period a year ago, FGV posted a net profit of RM143.6 million from RM3.7 billion in sales. This explains why FGV's share price has been on a downward slope, falling from RM5.50 in late June 2012 to a record low of RM1.86 yesterday, 59% below its initial public offering price of RM4.55.
This article first appeared in The Edge Financial Daily, on June 12, 2015.