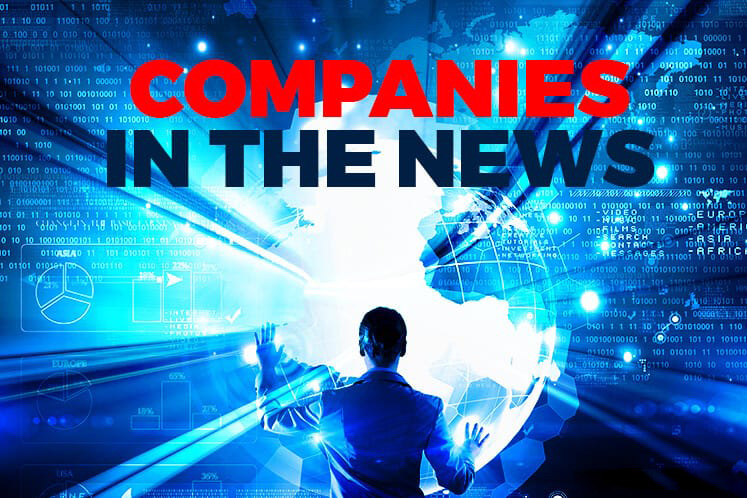 KUALA LUMPUR (Jan 8): Based on corporate announcements and news flow today, stocks in focus for Thursday (Jan 9) may include the following: FGV Holdings Bhd, MSM Malaysia Holdings Bhd, Kerjaya Prospek Group Bhd, APFT Bhd, Dolphin International Bhd, Radiant Globaltech Bhd and Goodway Integrated Industries Bhd.
The worst is behind us, FGV Holdings Bhd chairman Datuk Wira Azhar Abdul Hamid said, noting that the group is on the "right path towards a new and far better future".
"There are still a couple of lingering challenges with our subsidiary, MSM Malaysia Holdings Bhd, but there are plans underway to address each and every one of them, sooner rather than later," he said.
He added that the board of directors intends to transform FGV into an organisation that is not wholly dependent on crude palm oil (CPO) price for its performance.
Kerjaya Prospek Group Bhd's property arm Kerjaya Prospek Property Bhd (formerly GSB Group Bhd) is buying five pieces of land along Jalan Puchong/Jalan Klang Lama here for a combined RM13.03 million.
Kerjaya Prospek Property said the land will complement its existing Bloomsvale mixed development on Jalan Klang Lama.
It added that the proposed acquisition will enable the group to focus on its core business of property development and to expand and strengthen its landbank.
APFT Bhd has aborted its plan to collaborate with Malaysian Aviation Training Academy Sdn Bhd (MATA), an aircraft maintenance academy, to provide training for aviation professionals in the country.
The decision comes as its wholly-owned subsidiary APFT Aviation Sdn Bhd (AASB) had been served with a notice of application for interim injunction seeking to repossess its fleet of 16 aircraft.
Dolphin International Bhd has appointed Pelaburan Mara Bhd (PMB) group chief operating officer Tengku Ahmad Badli Shah Raja Hussin as its independent and non-executive director.
Dolphin said Tengku Ahmad Badli Shah, 50, also currently holds directorship in NetX Holdings Bhd, Fintec Global Bhd, PDZ Holdings Bhd, PMB Investment Bhd and PMB Tijari Bhd.
He has extensive years of exposure in the financial industry, where he started his career as resident manager in HSBC in Hong Kong in 1993.
Radiant Globaltech Bhd today announced that it has entered into a joint venture (JV) with Thailand's Simat Technologies Public Company Ltd to provide point of sales equipment and retail software solutions to retailers in Thailand.
The JV company, named Rgtech Simat Co Ltd, will be a special purpose vehicle (SPV) to undertake the business of selling computer hardware, software, network equipment, development of information technology solutions and to provide maintenance services in Thailand. The SPV will distribute a range of front-end retail hardware and provide back-end retail software solutions to retailers.
Radiant Globaltech said it will fund its THB 4.9 million (equivalent to RM700,000) investment in the SPV for a 49% stake with cash from internal funds. Simat, meanwhile, will inject the same amount into the SPV for its 49% share.
Goodway Integrated Industries Bhd has a new substantial shareholder in lawyer Yee Wei Meng, who acquired 14.5 million shares in an off-market transaction, increasing his equity holding in the tyre maker to 11.93%.
Yee is likely to have bought his shares from Goodway's largest shareholder Ng Chee Siong, who sold off half of his shares or 14.5 million in an off-market transaction today as well.
Following the transactions, Ng, who is also Revenue Group Bhd co-founder, managing director and chief executive officer, now remains with an 11.93% stake in Goodway.