This article first appeared in The Edge Malaysia Weekly, on March 2, 2020 - March 08, 2020.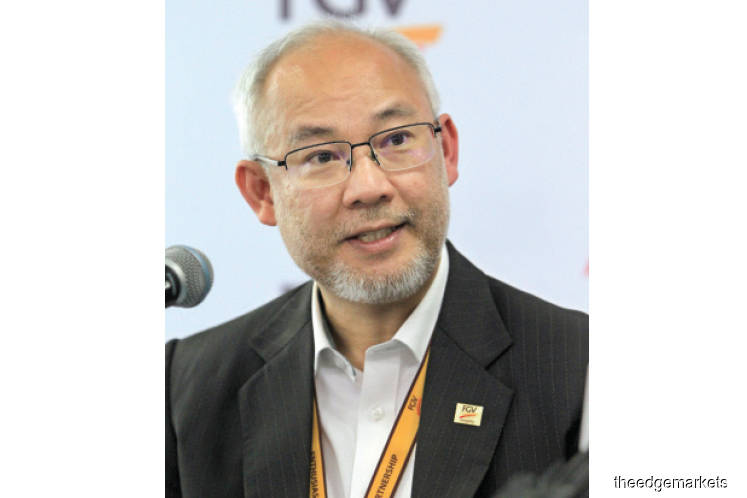 Haris: Whether FGV will continue to stay in the black is subject to CPO prices
Photo by Shahrin Yahya/The Edge
THE worst appears to be over for plantation giant FGV Holdings Bhd. The once-beleaguered company finally seems to be getting its act together and has its financial results for the just-ended quarterly period to prove it.
Last Friday, the group turned a profit in the fourth quarter of 2019 (4QFY2019) after six consecutive quarters of losses. It posted a net profit of RM75.79 million compared with a net loss of RM209.16 million a year ago, which it attributed to improved crude palm oil (CPO) margins for the quarter. However, revenue was down 2% year on year to RM3.15 billion.
As the group is being put back into shape by its current management team, is the stock, which debuted as the world's second largest initial public offering in 2012, worth a second look?
Since its listing on the Main Market of Bursa Malaysia, FGV has undergone a series of questionable investments, massive impairments and several changes of CEO, all of which led to the stock taking a beating over the years.
Last Friday, its share price closed at RM1.14, valuing the group at RM4.16 billion.
With the better fourth-quarter results, FGV's full-year net loss narrowed to RM242.19 million from the previous year while revenue contracted by a marginal 1.5% to RM13.26 billion. It declared a dividend of two sen per share for FY2019.
The better performance was attributed to the positive operational performance of the plantation sector and improved tax recoverability and debt management.
Just a year ago, the group's  net loss stood at RM1.08 billion, largely due to the massive RM1.04 billion impairment because of the acquisition of Asian Plantations Ltd in 2014.
Nevertheless, 2020 has thrown FGV a curve ball in the form of the Covid-19 pandemic. Some solace for the group, say observers, is that it is a macro problem and that many other plantation companies are facing the same issue.
The main concern for the plantation companies is whether the virus outbreak and Malaysia's palm oil issue with India will derail demand.
"For now, the main concern is how Covid-19 will impact demand and if India curbing Malaysian palm oil purchases will impact earnings this year. Having said that, I am sure demand will bounce back once the pandemic is contained," says an analyst.
FGV group CEO Datuk Haris Fadzilah Hassan told a press conference last Friday that the impact on the group would be minimal, given its small exposure to China. As for the restrictions placed by India on imports of refined palm oil, the group is finding ways to deal with it, he said.
"For FGV, the key is CPO prices. In the first quarter of 2020, the whole country is experiencing low production, but this is being offset by the [trade] disruption from China and India. So, whether FGV will continue to stay in the black is subject to CPO prices."
Haris cautioned that FGV is still experiencing low levels of production, which will likely impact its 1QFY2020 results.
The group expects CPO prices to range from RM2,200 to RM2,400 per tonne in FY2020. In the short term, it expects prices to be between RM2,450 and RM2,550 per tonne.
Observers point out that FGV is more dependent on CPO prices than other plantation companies because of its land lease agreement with the Federal Land Development Authority (FELDA). Under the agreement, FELDA is to receive RM248 million a year for leasing its land, as well as 15% of FGV's profits per year.
So, when CPO prices increase, there is less of a burden on FGV's coffers in doling out the payments to FELDA.
CPO is currently down to RM2,450 per tonne as crude oil prices slump amid concerns of Covid-19's rapid spread across the globe.
While the plantation segment seems to be in better shape after the massive impairment in FY2018, the stability of FGV's sugar business, under 51%-owned MSM Malaysia Holdings Bhd, still remains in question.
In FY2019, the sugar segment registered a loss of RM319.7 million compared with a profit of RM58.71 million in the previous year. Among the reasons were the lower average selling prices due to excess supply and negative export margin, higher average refining cost owing to the low utilisation rate at its Johor plant that was commissioned in 2019 and an increase in finance cost due to loan modification.
"I believe MSM will be able to break even this year and this will lift the drag on FGV," an analyst with a local research house tells The Edge.
Last year, there was talk that FGV was looking to sell part of its stake in MSM. However, Haris said there was currently no urgency in getting a partner or divesting a stake in MSM given that things were looking better for the sugar company.
"At that point, we were looking for partners that could help provide offtake because when MSM's plant in Johor came onstream in April 2019, it was an additional one million tonnes in capacity, bringing the total capacity to 2.25 million tonnes. The total demand in Malaysia is only 1.6 million tonnes, so that is why we were looking for a potential partner that could help with offtake.
"However, in terms of the situation surrounding the sugar industry now, things are getting better because of a shortage of raw sugar supply, meaning prices are moving up. It is about 14 US cents per pound currently," Haris said.
A long-term sugar supply contract for MSM also ended last December, which means the group is now back to normal pricing. It has restructured its financial commitment so there is no immediate need to get a partner or divest MSM, Haris explained.
FGV is also diversifying its revenue stream by moving into other sectors of the agricultural business. It recently acquired a 60% stake in dairy milk operator RedAgri Farm Sdn Bhd.
Nevertheless, analysts feel its diversification will take time to bear fruit. Haris said palm oil would continue to be the mainstay of FGV despite the group's diversification plans.
Of the 11 analysts tracking the stock, six recommend a "buy", four a "hold" call and one a "sell", with the average target price being RM1.59.
"The higher CPO prices were the main selling point of FGV. But with CPO prices now not as high as they were a month ago, I don't find anything that attractive in the stock," says one analyst.
Will FGV be able to keep up the momentum?