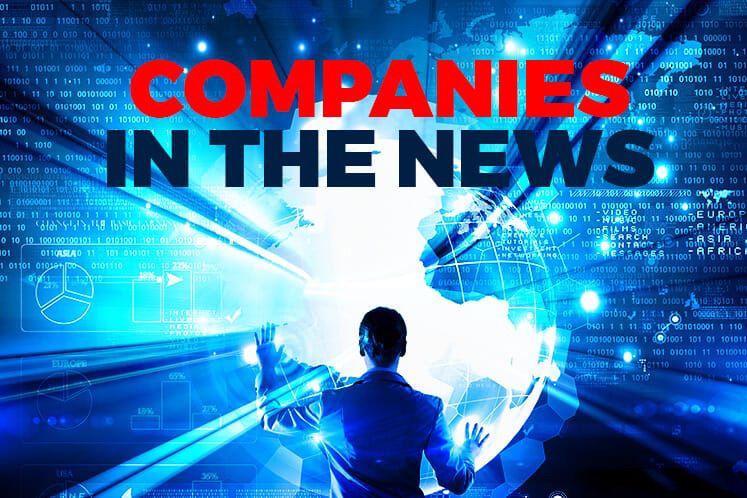 KUALA LUMPUR (April 10): Based on corporate news flows and announcements, stocks on focus for April 11 (Thursday) may be as follows: FGV Holdings Bhd, G3 Global Bhd, London Biscuits Bhd, Malaysia Airports Holdings Bhd (MAHB), Malaysia Marine and Heavy Engineering Holdings Bhd's (MHB), VIzione Holdings Bhd and Daya Materials Bhd.
FGV Holdings Bhd, which is 33.67% owned by the  Federal Land Development Authority (Felda), bought six companies above market price for RM2.48 billion, according to the White Paper on Felda presented in Parliament today. These six companies are Pontian United Plantations Bhd (for RM1.21 billion in 2013), Asia Plantations Ltd (at RM628 million or 290% above market price in 2014) and four companies and a Sabah plantation lot from Golden Land Bhd (RM655 million).
G3 Global Bhd has collaborated with China Harbour Engineering Company Ltd and SenseTime Group Ltd to set up the first artificial intelligence (AI) park in Malaysia, with a total investment of more than US$1 billion (RM4.11 billion) over the next five years. The park will serve as a stage for the development of AI solutions in computer vision, speech recognition, natural language and humanoid/robots.
London Biscuits Bhd is set to raise RM3.45 million via the issuance of the first tranche of its private placement. The cake and biscuit maker said its board had fixed the issue price for the tranche totalling 10 million shares at 34.5 sen per share. The price represents an approximate 9.78% discount to its average 5-day volume weighted average market price of London Biscuits shares up to yesterday. The group's private placement, which received shareholders' approval on April 1, seeks to raise up to RM22.73 million to further pare down the its bank borrowings.
Malaysia Airports Holdings Bhd has seen passenger volume at the 39 Malaysian airports it operates rise by 3.1% annually to 8.88 million in March. It noted that the domestic sector grew 6.9% to 4.4 million, while international passenger traffic fell 0.4% to 4.5 million passengers. Overall aircraft movements increased 1%, with 2.5% growth in domestic movements offset by a 1.2% decline in international aircraft movements. KLIA saw passenger traffic dipping by 0.04% in March to 5.2 million, pulled down by a 0.7% decline in the international sector to 3.8 million passengers. KLIA's  main terminal saw passenger movements fall 0.6% while traffic at klia2 increased by 0.6%.
Malaysia Marine and Heavy Engineering Holdings Bhd's wholly-owned unit Malaysia Marine and Heavy Engineering Sdn Bhd has bagged a five-year master service agreement contract for turnaround works and daily maintenance work on mechanical static for plants owned by Petronas — with the option to extend. The contract's value was not disclosed.
Vizione Holdings Bhd has bought property developer Pembinaan Angkasa Permai Sdn Bhd for RM7 million. The firm is developing a block of serviced apartments called 'The 216 Residences' which carry an estimated gross development value of RM111.3 million, on a leasehold commercial plot on Jalan Kuchai Lama. The purchase of the developer marks Vizione's maiden venture into property development.
Daya Materials Bhd's CEO Datuk Lim Thean Shiang, 47, was redesignated as its chairman, effective immediately. Lin had joined the group as its executive director and Group CEO in March 2015. He has also sat on the boards of FGV Holdings Bhd and MSM Malaysia Holdings Bhd. The group also announced the appointment of former Felcra Bhd CEO Datuk Zulkarnain MD Eusope, 51, as independent and non-executive director. It also appointed former Perdana Petroleum Bhd managing director Shamsul Saad, 54, as its new managing director.