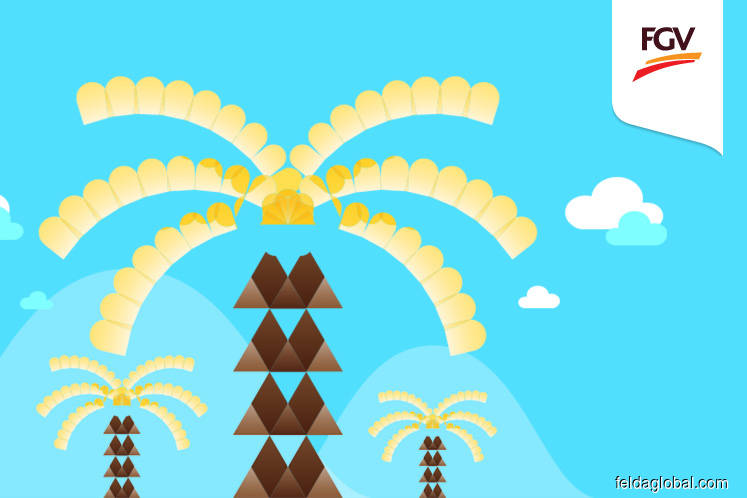 KUALA LUMPUR (Jan 15): FGV Holdings Bhd said today that it will appeal the Roundtable on Sustainable Palm Oil's (RSPO) complaints panel's (CP) decision to suspend FGV's Serting complex and the ongoing certification process of the group's 20 other entities, in view of FGV's progress updates and action plan for its foreign worker employment process.
FGV said this in a statement on its website today after the RSPO said in a statement yesterday (Jan 14) that effective immediately, the RSPO CP has suspended the principles and criteria certification processes for all uncertified units of FGV and reimposed its suspension on FGV's Serting's oil palm mill for non-compliance of the panel's decision.
Today, FGV said all the non-compliances identified by the CP were at the Triang complex in Pahang, and the Sabah-based Lanchang Kemudi and Nilam Permata complexes. "Additionally, FGV notes that the CP has suspended Kompleks Serting and the ongoing certification processes at 20 other complexes, following its latest findings and pending resolution of the identified non-compliances," FGV said.
"In summary, FGV commenced the review and revision of all its briefing documents, processes and procedures in December 2018. This exercise was completed in mid-2019. As reported, among the actions FGV had taken to ensure workers' understanding of their terms of employment are, translating the contracts of employment into relevant languages and providing briefing sessions for workers during the recruitment process, to explain the terms of employment. We have conveyed this to the RSPO through our progress report."
"Furthermore, FGV has entered into a tripartite partnership with the United Nations International Organization for Migration (IOM) and with Geneva-based non-profit organization Earthworm Foundation, to review all of its processes and procedures relating to the recruitment of foreign workers, with a view of identifying and addressing any gaps, and to ensure that all such processes and procedures are in line with international standards. As part of the above partnership, IOM and Earthworm had also reviewed our policies and interviewed workers at three estates in December 2019. Their report and findings will be published in due course.
"In addition, FGV will seek clarification from the RSPO and the CP on where the identified gaps are. FGV commits to closing all gaps immediately," FGV said.
According to FGV, it actively participates in a two-day pre-departure familiarisation and training programme, which are conducted by local authorities in the workers' country of origin, in particular Indonesia and India.
FGV said  workers are comprehensively briefed on the terms of their employment contracts during these sessions, and that they are able to ask any questions they may have in the presence of their local government officials.
"Moving forward, FGV will ensure that the actual signing of the physical contracts of employment are also conducted in the countries of origin.
"Through the aforementioned tripartite partnership, both IOM and Earthworm Foundation are assisting FGV to verify the compliance of the recruitment agencies, to ensure that their processes and procedures are in line with FGV's policies and procedures, as well as with international standards.
"Additionally, FGV is also in the process of establishing "One Stop Centres" in strategic locations within host countries, which will enable FGV's teams to audit the processes and practices of recruitment agencies by working directly with foreign workers," FGV said.
In view of the CP's findings, FGV said it has immediately commenced the auditing of every recruitment agency contracted by FGV.
FGV said it commits to blacklisting any agency that has breached its policies and procedures.
"FGV understands that this finding refers to workers employed by a transport company engaged by FGV in our Triang Complex in Pahang. FGV requires that all its agents and partners abide by its Supplier Code of Conduct which was implemented on April 2019, and which mirrors FGV's own commitments to its own foreign workers.
"FGV has socialised the said code along its supply chain and has stated regular audits will be conducted to ensure full compliance. Following this finding by the CP, FGV has directed an immediate audit of its contractors, first in Triang and then across FGV's operations. FGV will provide the CP with its findings as soon as possible," FGV said.
At Bursa Malaysia's 5pm close today, FGV's share price ended down four sen or 2.61% at RM1.49, for a market value of RM5.44 billion. The stock was traded between RM1.46 and RM1.52.
Read also:
RSPO suspends certification bids for FGV's non-certified units