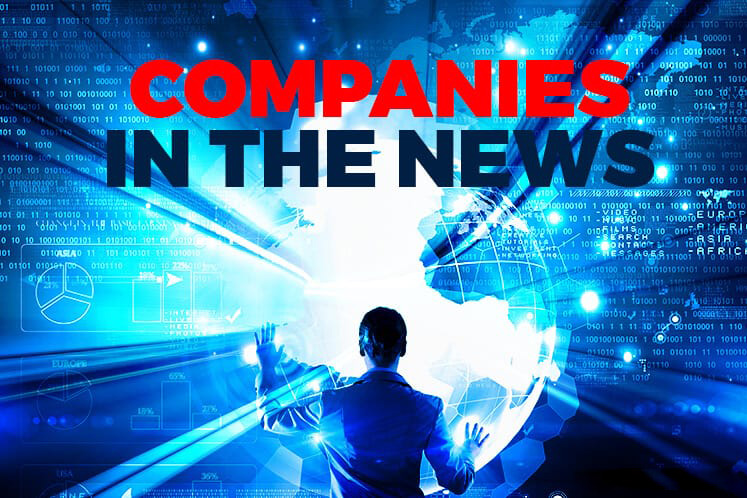 KUALA LUMPUR (Dec 21): Based on corporate announcements and news flow today, companies that may be in focus tomorrow (Dec 22) may include the following: Affin, FGV, Muhibbah Engineering, Ahmad Zaki, Daya Materials, Wah Seong, Aeon Credit, Sarawak Cable, Asia Poly and Datasonic.
Felda Global Ventures Holdings Bhd's indirect unit has inked agreements to sell to Affin Holdings Bhd a 12.87% stake in AXA Affin General Insurance Bhd (AXA Affin GI) for RM180.54 million, and AXA Asia almost all the unit's remainder stake or 3.13% for RM43.84 million.
The unit, Felda Marketing Services Sdn Bhd (Felma), will pocket RM224.38 million in proceeds from the sales, which will give FGV a net gain of RM26.85 million, based on its effective investment cost of RM33.28 million in the shares, which Felma bought for RM90.64 million in April 2010.
The deals translate to RM11.78 per share in AXA Affin GI, which is 1.5 times AXA Affin GI's book value of RM7.85 per share as at Dec 31, 2016, according to FGV's Bursa Malaysia filing on the disposals.
The disposals will leave Felma with just 100 shares in AXA Affin GI. It now has RM19.05 million shares in the general insurer, representing a 16% stake.
Post-acquisition, Affin's stake in AXA Affin GI will rise to 49.95% from 37.07% presently, while AXA Asia's stake will climb to 49.99% from 46.88%. The balance 0.05% in AXA Affin GI will remain with minority shareholders.
Muhibbah Engineering (M) Bhd has been awarded a RM189 million work package by Mass Rapid Transit Corp Sdn Bhd for the construction of the MRT Sungai Buloh-Serdang-Putrajaya line (MRT2).
Muhibbah will be responsible for the design, supply, installation, testing and commissioning of noise barriers and enclosures for the package.
The contract is scheduled to commence immediately and is expected to be substantially completed by end-2019.
Ahmad Zaki Resources Bhd (AZRB) has bagged a RM138.38 million contract to build two academic buildings for the faculty of geosciences and petroleum engineering, as well as a Tenaga Nasional Bhd 33kv substation, at Universiti Teknologi Petronas (UTP) in Bandar Seri Iskandar, Perak.
The contract works are expected to be completed in 30 months, i.e. by July 15, 2020.
Daya Materials Bhd has bagged a contract from Petronas Carigali Sdn Bhd for the provision of integrated production chemicals supply and services worth an estimated RM67 million, raising its outstanding orderbook to RM608 million.
Daya Materials said its 67%-owned subsidiary Daya Secadyme Sdn Bhd was awarded the contract for SK Oil — Miri Waters with a tenure of five years effective Dec 11. The contract comes with a one-year extension option.
Wah Seong Corp Bhd intends to sell its plantation unit WS Agro Industries Pte Ltd to Agro Panorama Sdn Bhd for US$6 million (RM24.46 million) to "streamline, realign and rationalise" its business activities, while realising resources that are tied to non-core operations.
Wah Seong added that the deal will not have any material financial impact on the gearing, earnings and net assets of the group for the financial year ending Dec 31, 2017.
Aeon Credit Service (M) Bhd's net profit rose 5.22% year-on-year to RM70.55 million or 28.86 sen per share in its third quarter ended Nov 30, 2017 (3QFY18) from RM67.05 million or 27.32 sen per share on higher profit from operations.
Its quarterly revenue climbed 11.41% to RM312.35 million from RM280.35 million a year ago.
For the cumulative nine months period (9MFY18), net profit grew 17.72% to RM217.75 million from RM184.97 million while revenue went up 14.16% to RM925.95 million compared with RM811.11 million last year.
Sarawak Cable Bhd has bagged a two-year contract valued at RM18.41 million from the Ministry of Health for helicopter services in the state.
Sarawak Cable said the Medical Evacuation Service and Flying Doctor Service will be undertaken by its wholly-owned subsidiary, Aerial Power Lines Sdn Bhd, which provides chartered or non-scheduled helicopter services.
The contract is expected to contribute positively to the earnings and net assets of the group from 2018 to 2020.
JKG Land Bhd posted a net profit of RM2.72 million or 0.12 sen per share in its third quarter ended Oct 31, 2017 (3QFY18) compared to a net loss of RM835,000 or 0.11 sen per share a year ago, thanks to stronger property development contribution.
Quarterly revenue soared 282.82% to RM14.15 million from RM3.69 million last year
For the cumulative nine-month period (9MFY18), net profit rose 9.75% to RM11 million from RM10.03 million last year on the back of RM53.94 million revenue, up 25.07% from RM43.13 million in 9MFY17.
Asia Poly Holdings Bhd's Indonesian unit has obtained the environmental and location permits for its proposed 12 megawatt power capacity hydro-electric power plant in Aceh province.
Asia Poly said it received notification today that PT Rimba Tripa, in which it has a 51% indirect share, obtained the permits from the relevant local authority on Dec 12.
The permits will allow PT Rimba to carry on the project which has passed the environmental study at the designated location. PT Rimba has also been given the authority to purchase the land required for the project.
Datasonic Group Bhd today launched its new factory in Petaling Jaya to manufacture the new generation of electronic international Malaysian passport (e-passport).
Datasonic started manufacturing the new e-passports in October this year and has made almost 650,000 e-passports, which was officially rolled out on Nov 15.
Datasonic said the new version of the Malaysian e-passport with enhanced security features complies with the standards of International Civil Aviation Organization Document 9303 (ICAO).