This article first appeared in The Edge Malaysia Weekly, on April 8, 2019 - April 14, 2019.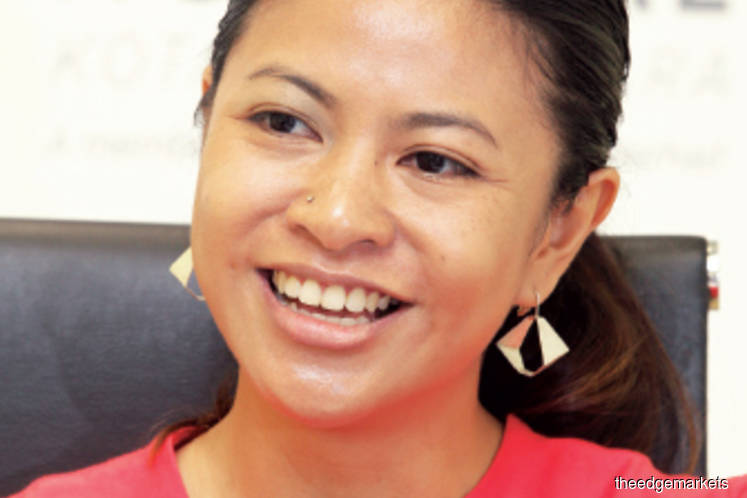 Nadiah: Around 20% of our patients are international Photo By Haris Hassan/The Edge
SINCE the opening of its first centre in Damansara Utama in 1994, TMC Life Sciences Bhd has been known — particularly among Malaysian couples who find it difficult to conceive naturally — for its expertise in fertility and reproductive medicine.
Twenty-five years later, the group is more rounded with a diverse range of expertise given its position as an integrated private healthcare provider in Malaysia.
Nevertheless, TMC group CEO Nadiah Wan acknowledges that the company's expertise remains at the forefront of the fertility market, commanding 20% of it.
"We embrace the fact that we have a niche in women and children's services. It is the beating heart of our integrated healthcare platform, [as] we help couples conceive babies that get delivered in our hospital, and we watch them grow.
"So even in the future when we talk about investments in research and education, it will always be around women and children's services, and cancer [treatment] — two big areas where we see [the most] potential," she tells The Edge at TMC's flagship Thomson Hospital in Kota Damansara (THKD) in her first interview since taking on the role of group CEO in February.
Others may find it daunting to run a 25-year-old healthcare group valued at RM1.29 billion at the age of 35 but the healthcare business is not exactly uncharted waters for Nadiah. Prior to joining the group, the Harvard College graduate was clinical services chief operating officer at Sunway Medical Centre. Then in June 2017, she joined TMC as CEO of Thomson Hospitals Sdn Bhd.
Her appointment is part of a planned succession strategy by TMC's Singaporean majority shareholder — Singapore Exchange-listed Thomson Medical Group (TMG) — to install strong local leadership in its partner countries.
TMG is controlled by Singaporean billionaire Peter Lim, who has numerous business interests including in Spanish football club Valencia.
"They [TMG] wanted to localise the operations definitely as with healthcare being a highly regulated business, it is always best to have a local team to drive that.
"The mandate given to me from the [major] shareholder is that we must be bold in carving our vision [to be an integrated healthcare provider]," says Nadiah who succeeded Roy Quek Hong Sheng — now CEO and also executive director of TMG. Quek, a Singaporean, was head of TMC from September 2015.
Staying relevant
Plans are underway for the expansion of THKD, which will see its current capacity of 205 beds triple to 600 by the end of next year, making it one of the largest private hospitals in the Klang Valley.
"In healthcare, scale matters, particularly where margins and costs are a big issue. For us, the scale does not mean building a massive chain of hospitals. Unlike other groups, our vision has always been to build an integrated healthcare platform, which is a mix of tertiary hospitals, ambulatory care centres, clinics. We have even ventured into lifestyle and preventive health with our traditional Chinese medicine and pharmacy businesses.
"I think it is important not just to have economies of scale but also attract the right talent. If you had a small-scale hospital, you would not be able to attract [the right] talent," says Nadiah.
Meanwhile, work has begun on the construction of the 535-bed Hospital Iskandariah and Thomson Iskandar Medical Hub in Johor Baru.
"Piling works for the hospital are expected to be completed by the third quarter of this year, and we expect to award the main building works [then]. If all goes according to plan, it will be completed by 2023," Nadiah adds.
TMC boasts the biggest in vitro fertilisation (IVF) lab in Malaysia, and even made it to The Malaysia Book of Records for the "highest number of IVF babies produced by a single IVF practice" when it registered 5,388 babies in October last year.
The accolade aside, this achievement boosted the group's market share of fertility services in Malaysia to 20%.
It also translated into a record fiscal year in 2018, as net profit grew 7% year on year to RM27.8 million on the back of a 11% expansion in revenue to RM169 million.
"With the new capacity coming in [from the extension of THKD], we expect to see double-digit growth in both revenue and net profit," says Nadiah.
Even so, in terms of the full suite of healthcare services offered, TMC's market share is smaller than that of other private healthcare players such as IHH Healthcare Bhd and KPJ Healthcare Bhd.
"As a hospital, I would freely admit that our market share is lower than that of our competitors because we are a single hospital. However, I would say that we are doing very well, given our size and full occupancy at the current facility.
"Unfortunately, that could sometimes mean (a) pretty long waiting time for our patients," says Nadiah.
THKD also receives droves of medical tourists from Indonesia, China, Myanmar and India.
"Indonesian patients come here due to the shortage of doctors [over] there. For patients from China — mainly for fertility reasons — many of them are trying to have babies after the lifting of the one-child policy," she says, adding that for Indians, the cultural stigma attached to fertility treatments forces many to seek such services abroad.
"Around 20% of our patients are international. If it goes up to 30%, that would be good but it is still important to maintain a strong local base.
"For example, there was this issue in Singapore where they had too many medical tourists, and the locals started to feel that they were not being taken care of. So in healthcare, there is a socio-political element to it, and we are very much aware of that."
Although the group has seen steady growth in its operations, its tight shareholding structure puts off retail and institutional investors. TMG controls some 70.3% of the group while Johor crown prince Tunku Ismail Sultan Ibrahim owns 7.66%. According to Bloomberg, TMC's public float is a mere 17.89%.
"We are trying to work on the liquidity issue, but at the same time we cannot divest everything overnight. So as we consider more corporate exercises, probably you will see things like share swaps," says Nadiah.
TMC closed at 74 sen last Thursday, valuing the company at RM1.29 billion.