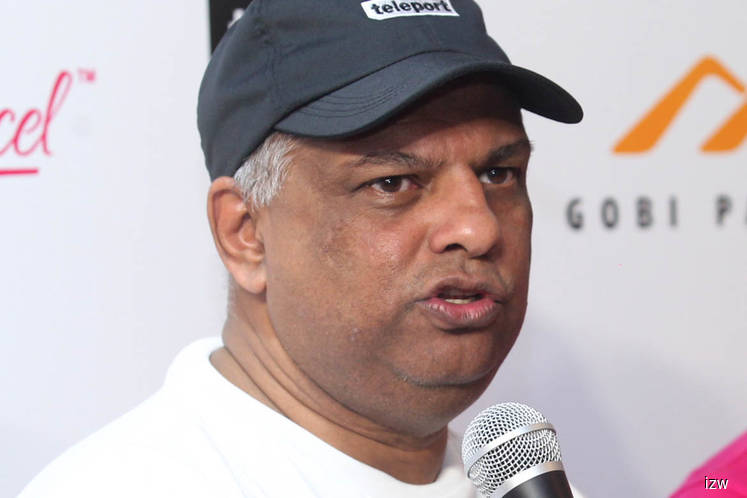 KUALA LUMPUR (Feb 4): AirAsia Group Bhd's directors Datuk Kamarudin Meranun and Tan Sri Tony Fernandes (pictured) have been urged to step down from the low-cost carrier's board pending investigations by Malaysian authorities over Airbus SE bribe claims against two AirAsia executives.
Minority Shareholders Watch Group (MSWG) CEO Devanesan Evanson said the two executives should have taken a leaf out of retired banker Datuk Seri Nazir Razak's book.
In April 2016, Nazir had taken a voluntary leave of absence from his role as CIMB Group Holdings Bhd group chairman amid a scandal about political funding and alleged misuse of money after it was revealed that his brother, former prime minister Datuk Seri Najib Razak, transferred a sum of about RM28 million into Nazir's account in the run-up to the 2013 general election.
Nazir returned to his role as chairman about a month later after the findings of a review concluded that he "did not misuse his position as group chief executive at the time nor was there any inappropriate use of the bank's resources".
"It would be better for them to take leave (similar to what Datuk Nazir Razak did in relation to the CIMB issue). The taking of such leave will also help these directors better prepare their cases and at the same time enable a more robust investigation by the public listed company (PLC) without the perception of possible interference by the implicated directors," Devanesan said in an email reply to theedgemarkets.com today.
"MSWG would have preferred the two directors to step down from the board pending investigations. If their expertise is required, they can always be advisors to the PLCs (AirAsia and AirAsia X Bhd) without assuming board positions.
"Having (both) the executive chairman (Kamarudin) being now classified as a non-executive chairman and the CEO and executive director (Fernandes) as a non-executive director may be untenable positions — they are still board members and the situation will create a general sense of unease and tenseness at the board level and stifle candid spontaneous discussions," he said.
Still, Devanesan said the allegations of wrongdoing or misconduct by the two executives of AirAsia and AAX that were revealed in the Deferred Prosecution Agreement entered into by Airbus and the UK Serious Fraud Office on Jan 31 remained just that for now.
"At this point of time, in Malaysia, they remain as allegations. Several authorities (the Malaysian Anti-Corruption Commission, the Securities Commission Malaysia and the Malaysian Aviation Commission) are investigating the allegations.
"We should allow the investigations to be concluded. The allegations are serious and have already had an impact on the share price negatively thereby destroying shareholder value materially over the last two days. Minority shareholders especially will be feeling the pinch of this value-destruction. As tempting as it may be to jump to conclusions, we should allow justice to take its due course," he added.
On the appointment of Tharumalingam Kanagalingam, better known as Bo Lingam, as the acting CEO of AirAsia in the interim, Devanesan is of the view that a different executive should be appointed.
Besides Fernandes, Bo and a few other AirAsia officials had been implicated in connection with a money laundering case in 2018 in India. According to Indian media reports, India's Enforcement Directorate had filed a case of money laundering against AirAsia officials and others for allegedly trying to manipulate government policies through corrupt means to get international licence for its Indian venture, AirAsia India Ltd.
"It is about erring on the side of caution. Though they have not been found guilty it is better practice for directors who are implicated of criminal offences to take leave of their board positions to create a more conducive atmosphere for the PLC to conduct due investigations. It is unfortunate that all three top-positions have been implicated with allegations," said Devanesan.
Meanwhile, Devanesan advises investors to base their investment decisions on the fundamentals of the PLCs. "In this case, the evolving situation in relation to the allegations and investigations are part of the fundamentals."
At 2.59pm, AirAsia shares were down 13 sen or 10.16% at RM1.15, with 93.17 million shares done, bringing a market capitalisation of RM3.84 billion. AAX shares were also down 0.5 sen or 4.17% to 11.5 sen, with 19.41 million shares traded, valuing the stock at RM477.04 million.
The FBM KLCI, meanwhile, was up 17.36 points or 1.14% at 1,539.31.
See also:
AirAsia X shares fall to record low after five straight days of losses
AirAsia executives say they were never approached by SFO over Airbus scandal
We wouldn't harm the companies we spent our lives to build, say AirAsia's Fernandes and Kamaruddin
Fernandes, Kamarudin relinquish executive roles in AirAsia amid corruption probe
SC to review US$50m graft claims against executives at AirAsia, AirAsia X
AirAsia denies bribery allegations
Airbus allegedly bribed AirAsia, AirAsia X RM205m in sports team sponsorship to secure deals