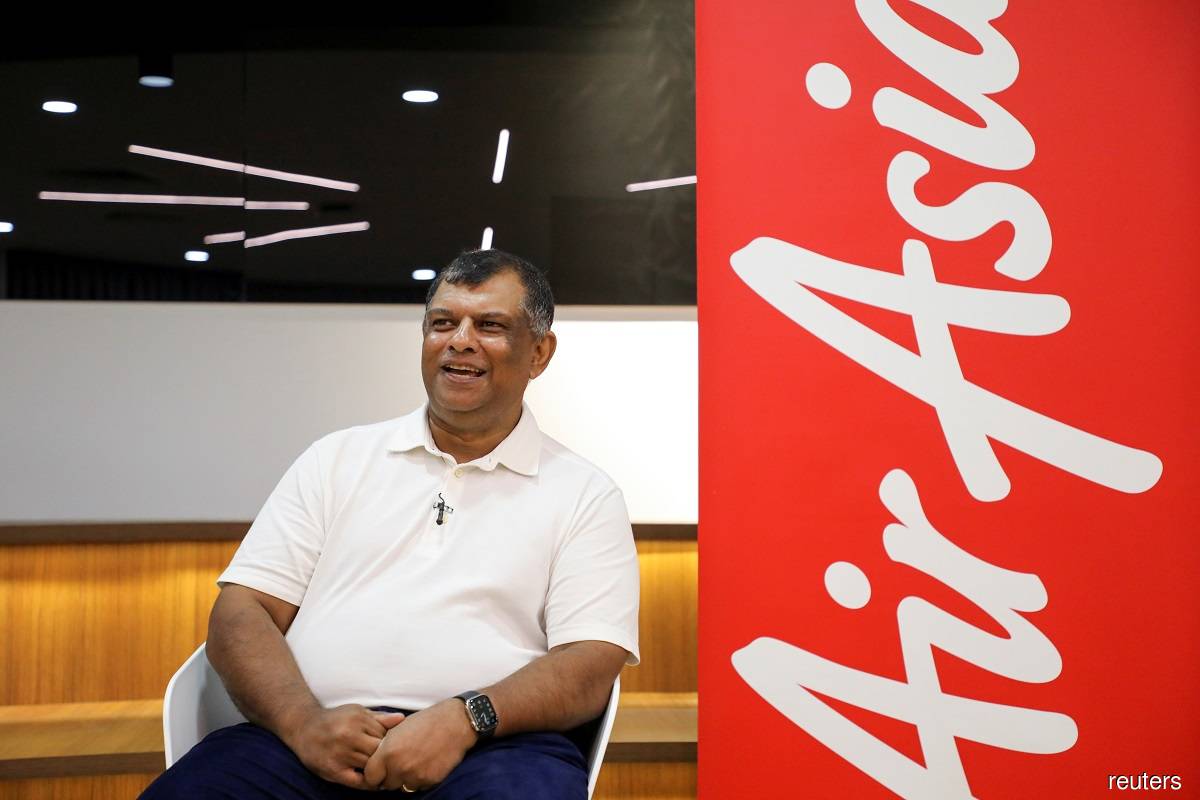 KUALA LUMPUR (Jan 20): "Delay [Airbus aircraft orders] more than cancel." The statement by AirAsia Group Bhd group chief executive officer Tan Sri Tony Fernandes may have encapsulated the budget airline's sentiment on its long-term business ties with aircraft manufacturer Airbus at a time when global Covid-19 pandemic-driven restricted movement policies have negatively impacted the aviation sector.
Fernandes said during a live interview with CNN yesterday that from AirAsia Group's standpoint, the company was expected to end up taking the airplanes, which it ordered from Airbus.
"We are not cancelling any orders at the moment," he said.
Fernandes, who is a major shareholder of AirAsia Group and AirAsia X Bhd, however, did not specify in the interview with CNN whether he was talking only about AirAsia Group or referring to AirAsia Group collectively with AirAsia X.
According to AirAsia Group's website besides the latest annual reports of AirAsia Group and AirAsia X, AirAsia Group via 100%-owned subsidiary AirAsia Bhd (AAB) holds a direct 13.76% stake in AirAsia X, where Tune Group Sdn Bhd (TGSB) held a direct 17.83% stake as at June 30, 2020.
In AirAsia X, Fernandes owns direct and indirect stakes of 2.69% and 31.59% respectively in the company, where he is non-independent and non-executive director, according to AirAsia X's annual report.
AirAsia X said in its annual report that Fernandes' indirect 31.59% stake is by virtue of his shareholding of more than 20% in AAB and TGSB.
At AirAsia Group, Fernandes owns direct and indirect stakes of 0.05% and 32.18% respectively in the company. AirAsia Group said in its annual report that Fernandes' indirect 32.18% stake is by virtue of him holding more than 20% stakes in Tune Live Sdn Bhd (TLSB) and Tune Air Sdn Bhd (TASB).
TLSB and TASB own direct stakes of 16.73% and 15.45% respectively in AirAsia Group.
On Jan 11, Reuters, quoting Fernandes, reported that AirAsia Group was not looking to switch aircraft supplier despite its long-haul affiliate AirAsia X Bhd cancelling orders from Airbus.
It was reported that Fernandes initially declined to comment when asked on a panel at the Reuters Next conference if the airline he founded would switch to Boeing, but then said that the airline and Airbus "love each other".
"We love each other. Between us and Airbus, we've lots of ups and downs like any relationship but we're joined at the hip," he said.
It was reported then that Airbus said a week earlier it had cancelled a deal with AirAsia X. It was reported that deal included 10 A350 wide-body jets worth US$3.2 billion (about RM12.96 billion) at list prices.
"It  (Airbus) still has more than 108 other orders from the financially troubled carrier. AirAsia Group, together with AirAsia X, is one of Airbus' largest customers and also purchases exclusively from them," Reuters reported.
Both AirAsia Group and AirAsia X reported losses in their latest quarterly financial results as the Covid-19 pandemic brought the global aviation sector to its knees amid countries' restricted movement policies to curb the spread of the pandemic.
AirAsia Group, which is restructuring its operations, has announced among others, that its 33%-owned associate AirAsia Japan Co Ltd (AAJ) filed for bankruptcy proceedings on Nov 17, 2020 due to insolvency resulting from a demand slump in travel induced by lockdown restrictions related to the coronavirus pandemic.
"Total cost of investment in AAJ has been fully written down," AirAsia Group said in a Bursa filing on Nov 17, 2020.
AirAsia X announced on Oct 6, 2020, among others, a debt restructuring scheme with unsecured creditors of the group.
In a Bursa filing then, AirAsia X said the debt restructuring entailed a restructuring of approximately RM63.5 billion of debts to be reconstituted into an acknowledgement of indebtedness by AirAsia X for a principal amount of up to RM200 million.
"Any balance in excess of the above-mentioned reconstituted amount and all other sums after the cut-off date as at June 30, 2020 arising from these debts (including interest, penalty interest etc) shall be waived," AirAsia X said.
At Bursa Malaysia's 12.30pm break today, AirAsia Group's share price fell 0.5 sen or 0.67% to 75 sen for a market capitalisation of about RM2.51 billion.
The stock saw 2.61 million shares traded.
At 5pm today, AirAsia Group and AirAsia X share prices closed unchanged at 74.5 sen and 6.5 sen respectively.
Both stocks saw some five million shares traded each.
At 74.5 sen, AirAsia Group has a market capitalisation of about RM2.49 billion, while AirAsia X's closing price at 6.5 sen values the company at around RM269.75 million.