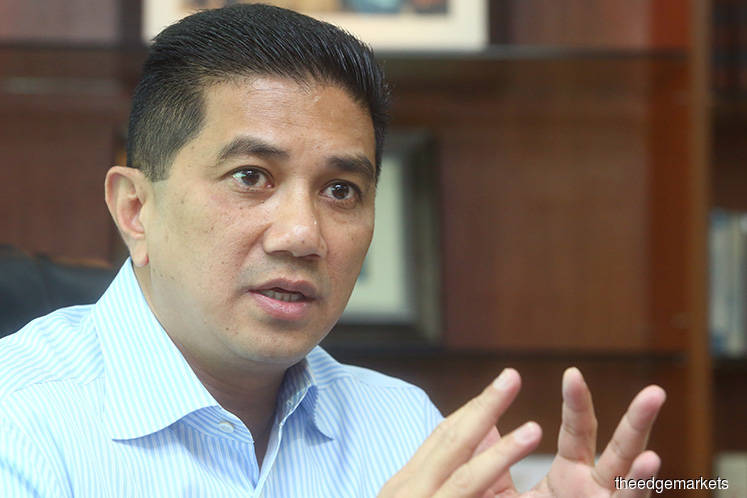 KUALA LUMPUR (July 8): Economic Affairs Minister Datuk Seri Mohamed Azmin Ali assured that the government's plan to merge Felda settlers' lands will not affect their ownership.
"The ownership will still be with the settlers. It's just that [what each own] is very small now, only about 10 acres per settler, so there is no economies of scale. That is why we proposed to amalgamate these lands, to increase productivity by using new technologies," he told reporters at Parliament lobby today.
Azmin also said the land amalgamation would ultimately require settlers' consent.
"We proposed this, but we need settlers' consent because the lands belong to them. We are not acquiring the lands. Therefore, PM this morning asked me to find out which owners are agreeable to this. Once we have secured a thousand or two thousand acres of land, maybe we can start with a pilot project.
"Additionally, we found that 70% of these settlers are aged 60 and above, [so] they don't have the capacity to work on these estates. So, we want to provide them with new technologies, but we need to amalgamate these lands. Once this [pilot] project succeeds, the rest can come onboard to continue this initiative," he added.
Yesterday (July 7), Prime Minister Tun Dr Mahathir Mohamad, while delivering his speech at the Felda Settlers Day 2019 celebration in Felda Selancar 3, Pahang, said the government plans to merge Felda settlers' lands to become bigger estates that can enjoy improved yields under more efficient and professional management.
Azmin, who was present at the event, also dismissed media reports that he was jeered at by the audience yesterday, when he gave a speech.
"No, I was there and I gave quite a lengthy speech. There was some distraction at the back — some commotion — but it was not levelled at me. We don't know [what it was] about," he said.
Azmin added that the event yesterday was "well received" by Felda settlers, given how many had travelled from all over the country to welcome the prime minister and the initiatives presented in the White Paper. "It reflected the support from Felda settlers, to this new model. That is why the PM used this platform to elaborate about Felda's new model," he said.
Though he is not clear as to what the commotion was about, he does not think it had anthing to do with the Pahang government being run by the Barisan Nasional coalition.
"The (Pahang) Menteri Besar was there, as well as the state excos, and we have a very good working relationship. 
"In fact, before PM (Prime Minister) went to Pahang, I received a letter from the Menteri Besar of Pahang to discuss some main infrastructure projects in Pahang, which our ministry looked into. We then agreed to consider three mega projects in Pahang and these were approved by the PM yesterday, as he announced in his speech, which will cost us (the federal government) about RM600 million," he said.
This, he said, shows that the federal government would not neglect Pahang's development.
"So we are very committed. The fact is that the PM was there yesterday [and] the crowd [size] was unprecedented — it was one of the biggest rally ever among Felda settlers," he said.