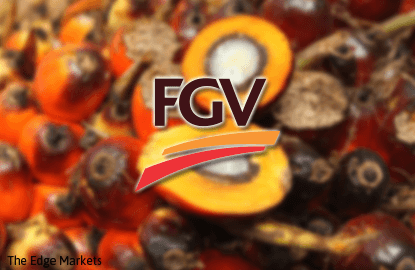 KUALA LUMPUR (Feb 28): Felda Global Ventures Holdings Bhd (FGV) reported a 21% drop in fourth quarter net profit at RM110.6 million, from a year earlier, mainly on the plantation group's significantly higher taxes.
Full-year (FY16) net profit also fell from a year earlier on lower crude palm oil (CPO) output, higher raw sugar cost and oil palm impairment losses, FGV told Bursa Malaysia today.
 
During the fourth quarter ended Dec 31, 2016 (4QFY16), FGV said its RM110.6 million net profit fell from RM140.7 million in 4QFY15, although revenue was higher at RM5.2 billion, versus RM4.15 billion a year earlier. Profit before zakat and tax rose to RM219.63 million, from RM195.27 million in the previous corresponding quarter.  
Taxes were significantly higher at RM114.1 milllion in 4QFY16, versus RM8.76 million a year ago.
"The effective tax rate of 74% for the financial year ended 31 December 2016 is higher than the Malaysian income tax rate of 24%, due to certain expenses which are not allowable, deferred tax assets not recognised on losses in certain subsidiaries and joint ventures, and derecognition of deferred tax asset which can no longer be utilised," FGV said.
For the full year (FY16), FGV said net profit fell to RM29.61 million, from RM188.79 million. Revenue however climbed to RM17.28 billion, from RM15.56 billion in FY15.
"The group posted a lower profit before taxation of RM265.96 million in 2016, compared to RM460.15 million registered last year, largely due to lower CPO production, higher raw sugar costs, impairment losses incurred in palm upstream and palm downstream segments, and losses suffered by jointly controlled entity," FGV said.