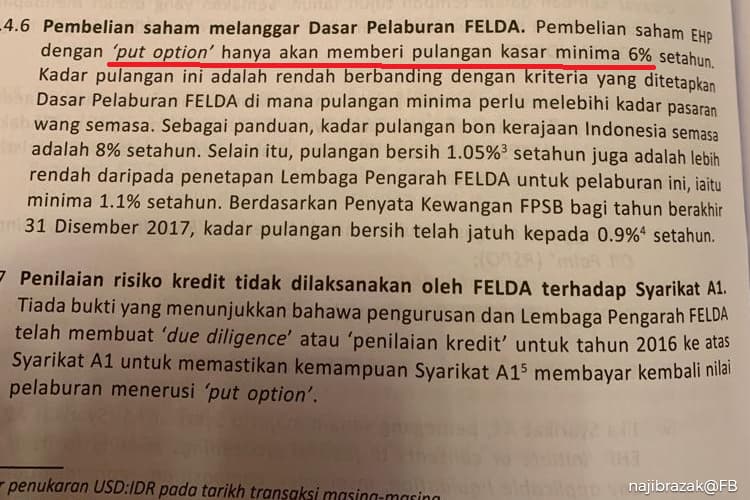 KUALA LUMPUR (April 9): Former prime minister Datuk Seri Najib Razak is urging the Pakatan Harapan (PH) government to reveal the purchase agreement that the Federal Land Development Authority (Felda) had signed to buy the 37% stake in Eagle High Plantations Tbk (EHP) from Indonesian businessman Tan Sri Peter Sondakh's investment vehicle Rajawali Group two years ago.
Najib highlighted that the purchase agreement came with a put option for Felda to sell back EHP shares to Sondakh at the purchase price of US$505.4 million plus 6% annual interest return.
Under the agreement, Felda could exercise the put option if EHP fails to get a Roundtable on Sustainable Palm Oil (RSPO) certification by 2019. It is worth noting that it was a cash deal, and the transaction price of US$505.4 million for the non-controlling stake was at a 95% premium to the market price.
In his Facebook post, Najib, who has been charged for corruption and money laundering, defended that the share purchase was a good deal given that if Felda decided not to continue with the investment in EHP, it can exercise the put option.
"PH had accused me of cheating Felda to buy (equity) interest in EHP, causing them to suffer losses. I have expected that PH will use this issue against me," said Najib, noting that he previously, in early February, wanted the PH government to disclose "put option" for this purchase agreement but the latter had remained silent.
It has been widely reported that Felda board of directors had exercised the put option in a letter dated Jan 3, on grounds Rajawali failed to meet key conditions, including securing the RSPO certification by the end of 2019.
However, Rajawali Group has since informed Felda that it intends to challenge the put option in court. This suggests that Felda wants to exercise the put option, but Rajawali Group is disputing its decision. Felda and Rajawali Group are now in a legal tussle over the exercise of the put option.
In February, the PH government announced that it will not interfere in the dispute between Rajawali Group and Felda on the put option.
Sondakh is known as Najib's friend. Najib's Facebook post came following a police report lodged by Felda director-general Datuk Dr Othman Omar against the former premier.
Othman had yesterday evening lodged a police report at the police commercial crime unit here, claiming that Felda was cheated into entering into a "one-sided" deal for the sale and purchase of EHP, owned by the Rajawali Group, two years ago.
Othman claimed that Najib had directed Felda to invest in EHP through a 37% stake and this was revealed in the finance ministry letter to Felda dated Dec 8, 2015. EHP's total debts were US$547.4 million in 2014 and its liabilities stood at US$676.9 million in 2016.
The director-general also alleged that the efforts to purchase EHP shares were offered to several agencies including FGV Holdings Bhd, the Malaysian Plantation Oil Board and the Malaysian Rubber Board before it was "forced" on Felda.
Read also:
Felda was cheated in Eagle High purchase, says director general
Cover Story: The big elephant in the room