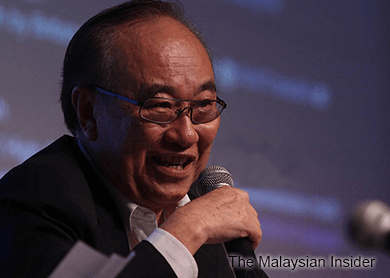 KUALA LUMPUR: The Malaysian Anti-Corruption Commission (MACC) has found no wrongdoing in the Federal Land Development Authority's (Felda) purchase of a luxury hotel in London. Datuk Paul Low, the minister in charge of transparency and integrity, in a written reply to Anthony Loke (DAP-Seremban) said initial investigations did not find any element of wrongdoing in the deal by Felda subsidiary, Felda Investment Corp (FIC).
This came after a news report in March mentioned that Felda group chairman Tan Sri Mohd Isa Abdul Samad's son, who is said to be a senior officer of FIC, was questioned by the MACC over the purchase.
In December last year, FIC announced that it had acquired the Grand Plaza Kensington Hotel in London to "diversify its investment assets". The acquisition made it the first London property for FIC and the second for Felda.
Low explained yesterday that the initial MACC probe to date has not yielded any basis for concluding that any wrongdoing had taken place under the MACC Act 2009 by any related parties on the issue raised.
"If any parties have any additional information or strong evidence regarding this issue, please forward it to the MACC for further action," he said.
Loke asked about the status of the investigation by the anti-graft body on the move by FIC, which paid RM538 million for the Grand Plaza Serviced Apartments and RM330 million for the Grand Plaza Kensington Hotel. He also wanted to know if Isa's son was involved in the transaction.
Online news portal, Malaysiakini, had reported in March that Isa's son had his statement taken to assist in investigations on the purchase of Grand Plaza Kensington Hotel.
Earlier reports on the purchase had quoted Isa as saying that the newly-acquired hotel served to complement Felda's existing property, the Grand Plaza serviced apartments in Bayswater, another hot spot for Malaysians visiting London. Isa also said that the acquisition of Grand Plaza Kensington Hotel brought the number of hotels and resorts owned by Felda to 12.
The Grand Plaza Kensington is a four-star hotel with 62 guest rooms and two three-bedroom serviced apartments, located at Lexham Gardens within the exclusive district of Kensington and Chelsea. It is close to west London's popular shopping street, the Kensington High Street.
Felda's overseas buying spree was raised by former prime minister Tun Dr Mahathir Mohamad earlier this year, when he urged Putrajaya to appoint external auditors for all its agencies to allay public concerns about the billions being spent on investments across the world.
"We see entities such as Felda, EPF (Employees Provident Fund), Tabung Haji spending billions in acquiring foreign properties while others, such as MAHB (Malaysia Airports Holdings Bhd) and Petronas (Petroliam Nasional Bhd), have bought shares in airports and Canadian ventures also involving huge sums of money," the former PM wrote in his blog.
In October 2013, Malaysian realtors said that state-linked Malaysian firms were buying up London properties at inflated prices in an otherwise stagnant British property market, raising fears that a meltdown could wipe out millions in public funds.
Several realtors then pointed to Felda's £97.9 million deal for the 198-unit Grand Plaza service apartments in Bayswater, London, as an example of an overpriced buy, saying that high-end real estate agents Savills and Knight Frank had only valued the property at £80 million in the past few years. At the time, The Malaysian Insider had reported that the deal was being investigated by the MACC and had been reported to the Public Accounts Committee. — The Malaysian Insider
This article first appeared in The Edge Financial Daily, on May 28, 2015.