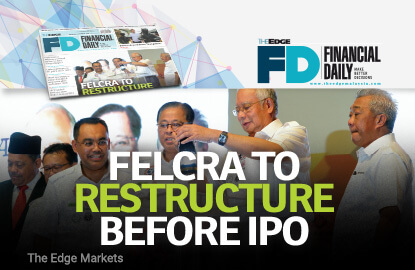 This article first appeared in
The Edge Financial Daily
, on December 21, 2016.
KUALA LUMPUR: Felcra Bhd said it will be focusing on restructuring and strengthening its operations — which includes a proposed venture into property development — before the group considers any potential listing of its subsidiaries.
Felcra chief executive officer Zulkarnain Md Eusope — who took the company's helm in July this year — said the group is looking into three key business areas to be developed going forward.
These business segments comprise its current core plantation business, as well as a diversification into property and food security.
"The plantation segment will be the main area that we will strengthen. We will be purchasing more plantation areas, and we are currently looking for land in Sabah and Sarawak," he said, on the sidelines of Felcra's 50th anniversary celebrations yesterday.
The Federal Land Consolidation and Rehabilitation Authority (Felcra) was established in 1966 and is now known as Felcra Bhd following its corporatisation in September 1997. Since then, the group has been exploring new business opportunities.
Zulkarnain said the group is targeting to develop about 50,000ha to 60,000ha of plantation area — either for rubber or oil palm — over the next three to five years.
Meanwhile, he said the group still has many land banks in the country which were previously meant for plantations, but said that some of the lands are no longer suitable for agricultural purposes.
"As you know, Felcra has lots of agricultural land, which were previously meant for plantations. But after 50 years, some of the lands are not suitable for agriculture, and these are the lands that we will use for property development," he said.
He revealed that Felcra is looking at a potential gross development value of RM5 billion over the next 10 years for these undeveloped land banks. He added that the group is looking at commercial and residential developments, but did not divulge the details.
"This will form part of the diversification plans for Felcra. We have identified lands in Kuala Lumpur, Gombak, Melaka, Langkawi, Perlis, and we are also looking at the lands we have in Sarawak," said Zulkarnain, adding that the group is targeting to commence its property venture sometime next year.
Thirdly, Felcra is also looking to venture into food security, with the group looking into planting maize as one of its main crops, besides rubber and oil palm. Zulkarnain said there is potential in maize, as Malaysia currently imports about RM5 billion worth of maize input per year.
"We have to strengthen the holding company itself and reorganise our subsidiaries. We have about 15 subsidiaries and 10 JV (joint venture) companies, and we want to reposition these companies and reorganise them according to the three segments, namely plantation, property and agri-food.
"Once we have settled this, we will study a potential listing. Of course, we are not looking to list the holding company, but we are looking at potentially listing our subsidiaries, maybe within the next three to five years' time," explained Zulkarnain.
Felcra had publicly voiced its intention to list a subsidiary as recently as 2014, and just last week it emerged that it was interested in taking a stake in Kuantan Flour Mills Bhd (KFM).
To recap, KFM on Dec 13 announced its receipt of a letter of interest from Felcra, which stated the latter's intention to explore and possibly participate in the company's equity.
In a bourse filing, KFM said Felcra will assess the feasibility and viability of injecting a suitable profit-generating asset into the company via a reverse takeover (RTO), which would turnaround its existing business and regularise its Practice Note 17 status, sending KFM's share price surging more than 180% on the following day.
However, the indication of interest was subsequently retracted on Dec 15, causing a plunge in KFM's share price.
Felcra said in a statement yesterday that it was "caught by surprise" when the flour trader and miller disclosed the proposal to the bourse, as KFM did not issue a formal response to Felcra prior to the announcement.
"Felcra's register of interest dated Dec 9, 2016, was purely exploratory and subject to usual management deliberation. While on one hand Felcra understands KFM's disclosure obligation of material information to Bursa Malaysia, on the other hand, Felcra was caught by surprise since there was no formal response by KFM on the register of interest prior to KFM announcing the same to Bursa Malaysia," it said.
Felcra further said that it did not definitively plan to undertake an RTO of KFM, as an RTO was merely one of the methods it was considering in relation to its potential collaborations with KFM.
The group said the retraction of interest was made in order "to avoid further public misconception of the matter" considering Felcra's duty to the public and its various stakeholders.