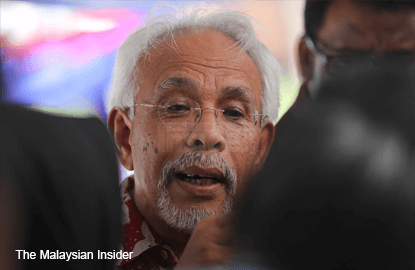 (Dec 3): Tan Sri Shahrir Samad refused to accept a memorandum from a group of activists on the National Security Council (NSC) Bill in parliament, saying he felt insulted by a remark from Datuk Ambiga Sreenevasan.
The Barisan Nasional (BN) Backbenchers Club chairman was approached by the group which wanted the bill's passage stopped.
But he appeared piqued when Ambiga, president of National Human Rights Society of Malaysia, asked if he really cared for the people.
She asked this after Shahrir seemed hesitant to arrange a meeting between BN backbenchers and the activists about the bill.
"You said I don't care for the people. I'm not going to stand here and be insulted by you," Shahrir said before handing back the memorandum to Ambiga and entering the House.
Deputy Education Minister Datuk Mary Yap also snubbed the handing over of the memorandum as she walked right past the activists waiting at the Dewan Rakyat entrance.
Among the activists seen today were Bersih 2.0 chairman Maria Chin Abdullah; Centre to Combat Corruption and Cronyism executive director Cynthia Gabriel; and Lawyers for Liberty director Eric Paulsen.
They handed the memorandum to the lawmakers demanding the bill be voted out and withdrawn.
The NSC bill gives wide ranging powers to Prime Minister Datuk Seri Najib Razak to declare a "security area" and order arrests without warrants.
Pakatan Harapan earlier today branded the bill a "death sentence to democracy".
"It will change Malaysia forever," the coalition said. – The Malaysian Insider