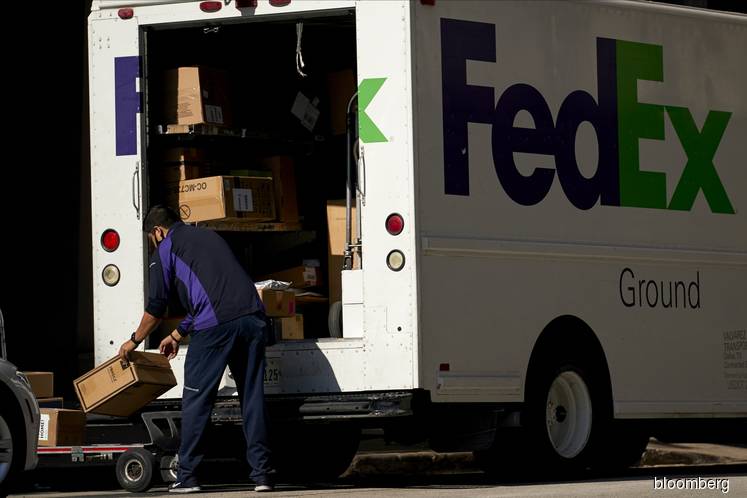 (July 1): FedEx Corp. soared after an efficiency drive and a surge in health-equipment deliveries propelled the courier's earnings beyond Wall Street's expectations.
The company said it held costs in check with a mix of job cuts, reduced incentive compensation, aircraft retirements and delays to some investment projects. Those actions and a drop in fuel costs helped offset $125 million needed to protect workers from the Covid-19 pandemic, FedEx said in a statement Tuesday as it reported earnings for the three months ending May 31.
FedEx's better-than-expected results underscore the company's efforts to protect its profit margins amid pressure from soaring residential deliveries, which are typically less profitable than commercial shipments. Looking ahead, the company said it has seen week-over-week improvement in demand since mid-April.
"As a result of the strategic investments we have made to enhance our capabilities and efficiencies, FedEx is well positioned to support and benefit from the reopening of the global economy," Chief Executive Officer Fred Smith said in the statement.
Topping Estimates
FedEx jumped 8.8% to $152.65 after the close of regular trading in New York. The shares haven't closed above $150 since late February, just ahead of a U.S. stock-market rout caused by the pandemic's spread. United Parcel Service Inc. and XPO Logistics Inc. also climbed in late trading.
While FedEx's adjusted earnings dropped to $2.53 a share for the fiscal fourth quarter, the performance surpassed Wall Street's expectations. Analysts had predicted $1.53, according to the average of estimates compiled by Bloomberg. Sales slipped 2.2% to $17.4 billion.
The company said there was too much uncertainty to provide financial forecasts for fiscal 2021.
FedEx's Express air-cargo unit picked up volume as the government and companies air-lifted personal protective equipment and other essential goods to combat the worldwide pandemic. Some cargo that otherwise would have been transported by passenger planes was shifted to freight couriers when air travel crumbled.
That helped make up for a decline from businesses that were closed to stem the virus from spreading. Still, the Express unit's sales fell almost 10% to $8.6 billion and margins dropped by more than half to 3.9%.
Residential Rush
Sales at FedEx's Ground unit soared 20% to $6.4 billion from a year ago, driven by consumers ordering items online instead of venturing out to stores. Home deliveries accounted for 72% of the division's sales, compared with 56% in the same period a year earlier.
The surge of residential packages and decline of more lucrative commercial packages hurt margins, which fell to less than 11% from 15% a year earlier. Home deliveries tend to include a limited number of packages per stop, making them less profitable than shipments to businesses.
Still, FedEx managed to protect its profitability more effectively than expected. The company's adjusted operating margin of 5.2% surpassed the 3.4% predicted by analysts.