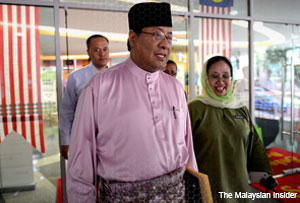 KUALA LUMPUR (Sept 12): The Federal and Selangor state governments had today signed a master agreement in relation to the Klang Valley water restructuring.
The signing of the master agreement followed a memorandum of understanding entered into by both parties on February 26 this year, followed by a heads of agreement on Aug 01.
In a joint media statement, Power, Green Technology and Water Minister Datuk Seri Dr Maximus Ongkili and Selangor Menteri Besar Tan Sri Abdul Khalid Ibrahim said the master agreement was signed by Secretary General of Treasury Tan Sri Mohd Irwan Serigar Abdullah, Selangor State Secretary Datuk Mohammed Khusrin Munawi, Water Asset Management Company (PAAB) CEO Datuk Ahmad Faisal Abdul Rahman, and Pengurusan Air Selangor Sdn Bhd (PASSB) CEO Suhaimi Kamaralzaman.
"The share sale agreement between PASSB and the respective parties will be signed soon, which will complete the process of acquiring the Selangor water concession companies and thus, finalise the process of the water industry restructuring," Dr Ongkili and Abdul Khald said.
The terms of the agreement include PASSB acquiring the three Selangor water concession companies, namely Syarikat Bekalan Air Selangor (Syabas), Puncak Niaga Sdn Bhd (PNSB), Konsortium ABASS Sdn Bhd (Abass) and services licence holder Konsortium Air Selangor Sdn Bhd.
Meanwhile, PAAB will pay RM1.68 billion to facilitate the concession acquisitions and in return, the Selangor state government will turn over the water assets to PAAB, for a period of 45 years.
PAAB will lease the water assets to PASSB, which will pay a leasing fee to PAAB, at a rate which will be determined between the two parties and set out in the facility and lease agreements.
"With this master agreement, the federal government believes that a holistic transformation can be implemented by PASSB, which will be the service core for water supply in Selangor, Kuala Lumpur and Putrajaya, to create an efficient water services industry, viable and sustainable.
"The federal government is also committed to be a facilitator for the acquisition of Syarikat Pengeluar Air Sungai Selangor Sdn Bhd (Splash) by PASSB," said Dr Ongkili and Khalid.
At the same time, a special committee co-chaired by Dr Ongkili and Khalid, will continue to monitor the construction of the Langat 2 water treatment plant and distribution system.