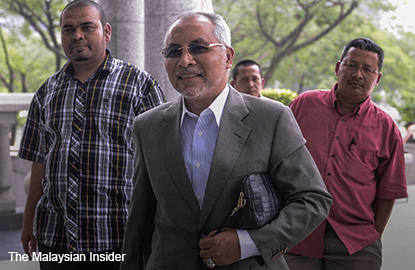 This article first appeared in The Edge Financial Daily, on September 23, 2015.
PUTRAJAYA: Former Selangor menteri besar (MB) Dr Mohamad Khir Toyo is guilty of corruption in his purchase of land and a bungalow while he led the state government, the Federal Court ruled yesterday in upholding his conviction.
Federal Court judge Tan Sri Jeffrey Tan Kok Hwa, who delivered the unanimous ruling of the five-man bench, said Mohamad Khir's appeal was dismissed and the prosecution had proven its case beyond reasonable doubt.
"All the ingredients of the charge have been proved, including whether he was a public servant," he told a packed court room.
Panel chairman Tan Sri Zulkefli Ahmad Makinudin allowed a 30-minute break for parties to make a submission on sentencing.
Mohamad Khir, a trained dentist, was charged at the Shah Alam Sessions Court in December 2010, with corruption involving the purchase of two plots of land and a bungalow in Section 7, Shah Alam.
He was accused of obtaining for himself and his wife, Datin Seri Zahrah Kechik, the plots and the house at No 8 and 10, Jalan Suasa 7/1L, in Shah Alam, from Ditamas Sdn Bhd through one of its directors, Shamsuddin Hayroni.
He committed the offence at the official residence of the Selangor MB in Shah Alam on May 29, 2007.
The case was transferred from the Sessions Court to the High Court and in December 2011, Mohamad Khir was convicted and sentenced to 12 months' prison. The trial court also ordered the accused to forfeit ownership of the property and hand it over to the government.
The Court of Appeal upheld Mohamad Khir's conviction.
Mohamad Khir is the second Selangor MB to face corruption charges after Datuk Harun Idris 40 years ago. — The Malaysian Insider