This article first appeared in The Edge Malaysia Weekly, on May 13, 2019 - May 19, 2019.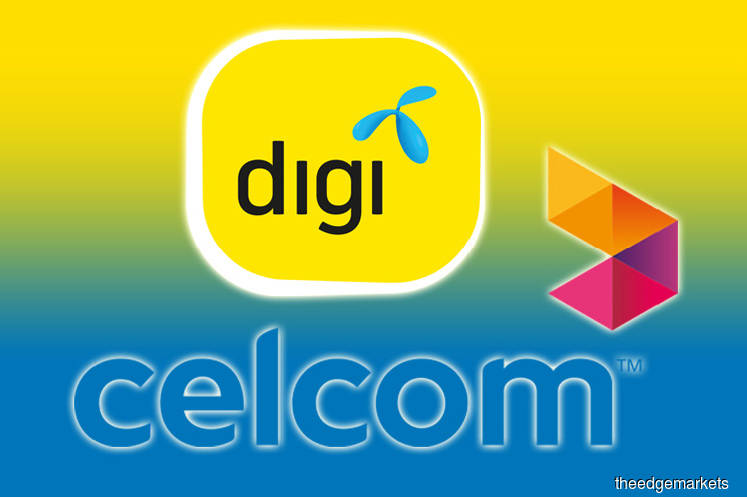 AS Axiata Group Bhd and Norway's Telenor Group confirmed on May 6 that they are in talks for a mega merger, it is clear that the Malaysian aspect is the crux of the deal.
At the heart of the matter is the proposed merger of Celcom Axiata Bhd — wholly owned by Axiata — and public-listed Digi.com Bhd, in which Telenor is the largest shareholder with 49%.
Given that Celcom and Digi.com are two of Malaysia's Big Three telcos, a question mark looms over whether the proposed merger will receive the green light from the authorities, particularly in respect of anti-competition concerns.
"We expect that regulatory approvals in Malaysia will be the most difficult of the steps that the company needs to climb to complete the transaction," said Nidhi Dhruv, senior analyst at Moody's Investor Service, in a May 9 report.
To put things into perspective, as at 2018, Digi.com had the biggest market share in terms of cellular subscribers with 28% while Celcom had 21%. A combined entity would have 49% of the cellular subscription pie, which stood at 42.4 million subscribers last year.
Last Friday, the Malaysian Communications and Multimedia Commission (MCMC) signalled that anti-competitive concerns will be a factor under consideration when it assesses the proposed merger.
"MCMC is always open to initiatives by industry players such as this proposal," it said in a statement, noting that the outcome of the merger talks is yet to be finalised.
"Thus, MCMC will make a decision once we have been provided with information and subsequently evaluate it. One of our roles is to ensure fair competition within the industry as well as to preserve consumers' choice and rights."
To be fair, Axiata has argued that the marriage between Celcom and Digi.com will not result in a monopoly, despite commanding over 50% of the mobile space, asserting that the converged nature of the telco industry means it only has 35% market share in reality.
Nonetheless, the merger talks have also got Malaysians buzzing on social media with fears that a dominant new telco will lead to less value for their money.
Speaking to The Edge in an exclusive interview, Axiata managing director Tan Sri Jamaludin Ibrahim acknowledges that the regulatory hurdle in Malaysia is a significant factor in the deal.
He notes that across the other eight countries, the merger may be more of a formality as it would centre on a change of legal ownership of the businesses involved.
So, if local authorities block a merger between Celcom and Digi.com, can the larger deal still go ahead without it?
"That (Celcom-Digi.com merger) is a significant part of the merger, so the deal might or might not be off, but we definitely have to relook at it," says Jamaludin in response.
To recap, the mega merger is expected to result in a new entity (MergedCo) boasting pro forma revenue of RM50 billion and earnings before interest, taxes, depreciation and amortisation exceeding RM20 billion.
MergedCo will have operating subsidiaries across nine countries, with a collective customer base of 300 million people from a combined population of over one billion.
It is worth noting that apart from Celcom and Digi.com in Malaysia, the businesses that Axiata and Telenor bring to the merger discussions do not overlap geographically.
For the purposes of the merger discussions,  Axiata's subsidiaries hold top market positions in Sri Lanka, Nepal and Cambodia, plus second market position in Indonesia. Meanwhile, Telenor's units are at the top in Bangladesh and Myanmar, second in Pakistan and third in Thailand.
Can Digi.com and Celcom wed?
Even if local regulators greenlight the proposed joining of Digi.com and Celcom, integration risk remains a critical factor that will have a significant bearing on whether the mega merger is successful. Much of its expected benefits rely on a successful integration of the Malaysian operations. For instance, the Digi.com-Celcom marriage alone is expected to yield about half of the mega merger's entire synergies, which are estimated at RM15 billion to RM20 billion over five years.
Jamaludin acknowledges that overcoming the cultural differences between the two telcos will be important. "In fact, this question has been raised before. One of the biggest issues is to overcome that culture (issue). "That, obviously, is one aspect of integration that has always been one of the challenges. So that has to be resolved, and many companies fail because of that, many companies succeed because of that."
So, what is the plan to bridge the culture gap? Axiata's perspective, in a nutshell, is to cross that bridge when it comes to it. That said, Jamaludin says it starts with the positioning of the larger merger itself.
"I think it starts with the concept of 'merger of equals' (between Telenor and Axiata). That is the spirit that we are talking about, it is very important. In fact, I would not have agreed if this were not a spirit of a merger of equals," he says.
Another issue for Axiata to navigate is public perception of the proposed merger with Telenor. Apart from public concern over a new monopoly emerging in the telco space, there is criticism that the exercise will mean the loss of Malaysian control over a homegrown regional champion in Axiata, among others.
According to Axiata's 2018 annual report, three institutional investors — Khazanah Nasional Bhd, Permodalan Nasional Bhd and the Employees Provident Fund — control a collective 71.74% stake in Axiata and its wholly-owned businesses. Post-merger, Axiata will control 43.5% of the businesses it has injected into the MergedCo.
"In a way, it is a fair point if you look at it on the surface. But then we ask ourselves, do we want to be a big fish in a small pond, or do we want to be a medium fish in a very big pond?" says Jamaludin. "So, in other words, to be a regional champion, I think we are there already and we can still build (on that position). But I don't think that alone, we can ever be a global champion of a global size. It's hard, you know."
He feels that weighed against the sentimentality of having a regional champion under Malaysian control, it is a "no-brainer" to pursue the deal, which will create a RM50 billion "global champion from day one" that is headquartered in Malaysia.
As for public concern and perception that the merger will create a new local monopoly, Jamaludin feels that his job is simply to explain the merits of the deal and assure Malaysians that jobs are safe.
"The majority of the board members are Malaysians and the chairman is going to be a Malaysian. They (Telenor) allow us to do that because they want to ensure that the Malaysian-ness of the company is still there."