This article first appeared in Wealth, The Edge Malaysia Weekly, on November 28, 2022 - December 04, 2022.
Moonshot investing, or betting one's money on start-ups set for a meteoric rise, is what Anthony Siau does. He is putting his money on one particular theme this time around — cell-based or cultivated food.
Siau is founding partner at venture capital firm Kairos Capital Group Pte Ltd. As at October, its FoodTech Fund had secured a capital commitment of US$20 million and deployed a portion of it into several start-ups.
One of the food technology (foodtech) start-ups the firm invested in received regulatory approval in December last year, allowing it to start offering its cell-based chicken meat in Singapore. The start-up's next big goal is to get the nod from the US Food and Drug Administration (FDA), which could open the floodgates for other similar-focused start-ups to enter the global market as the agency's approval is widely recognised worldwide.
"However, our moonshot investing approach is different from other early-stage VCs (venture capitalists) who put their money across many start-ups hoping for a couple of success stories. We have more conviction in the investments we made as we did a detailed analysis and due diligence to justify our investment outlay," says Siau.
Cell-based foods are mainly meats, be it chicken, lamb or beef, that are produced in a bioreactor with the help of various ingredients, including the cell line of a specific animal and other media.
"In simple terms, the bioreactor is like a mother's womb. By adding the cell line, growth factors, glucose and other media, the meat is formed. The final process is called scaffolding, where the meat is moulded and shaped. If it is chicken, it could be breast and thigh. For beef, it could be sirloin or tenderloin," he says.
The idea of being served cell-based food, such as a chicken chop on a plate, may seem rather far-fetched in Malaysia. Only that it is not. GOOD Meat, a subsidiary of California-based foodtech start-up Eat Just, was approved by the Singapore Food Agency in December last year to sell "cultivated chicken products", or cell-based chicken meat, in the city state.
In February, GOOD Meat partnered with Loo's Hainanese Curry Rice, a popular hawker stall in Tiong Bahru, to offer its products to food lovers. The meat is also offered in the form of satay, nuggets and shredded chicken for Ipoh Kai Si Hor Fun (shredded chicken rice noodles) at food tasting events.
As a food lover himself and someone looking to invest in these companies, Siau tasted the products to have a feel of their quality. "The shredded chicken was nice. That was a few months ago when I tried it. They have made it even better. But I haven't tried the latest version yet. My partners said it was a lot better," he says.
"The chicken nugget still has room for improvement. The skin was pretty good, but the inside was a bit soft. They recently improved on it."
In fact, Siau himself will organise a food tasting event in the coming months to promote cell-based meat in Singapore and introduce these products to consumers. He has spoken to a Malaysian institutional investor that has shown interest in Kairos FoodTech Fund and its investee companies. 
Potential solution to food scarcity
An investor might ask what value these start-ups provide to the market. Siau points out that these companies have gained traction in the past two years with the global food supply chain disrupted by the pandemic and the ongoing Russia-Ukraine war. As supply becomes scarce, prices rise tremendously for many major food-importing nations.
The impact of food scarcity is felt around the world. In Malaysia too, as the government set a price ceiling for chicken, eggs and cooking oil in recent months to control spiralling prices.
A potential solution is to have the country produce some of its essential food supply. But not all countries have the land and natural resources to do so, which is where cell-based meat comes into play. If it could be mass produced in a lab at an affordable price in the future, it would safeguard a nation's food security and even stabilise food prices, says Siau.
GOOD Meat is not the only player in this growing sector. There is also California-based Mission Barns, which specialises in cultivated fats and plant-based meat.
Meanwhile, Avant Meats is a Hong Kong-based start-up that specialises in cultivated fish products. According to news reports, it raised US$10.8 million through its Series A funding round in June, which was led by Chicago-based S2G Ventures.
Future Meat Technologies, an Israel-based start-up that produces cultivated meat, raised US$347 million through its Series B funding round in December last year to build a US production facility for its cell-grown meat products.
UK-based Roslin Technologies Ltd (Roslin Tech) is another company that Siau has set his eyes on. The firm does not produce cell-based meat, but owns and sells the patents of various animal stem cells — a key ingredient in cultivated meat — to producers such as GOOD Meat.
According to its official website, Roslin Tech was formed in 2017 as a venture between two impact-focused investment partners and the University of Edinburgh, which houses the Roslin Institute. The institute is known for its Dolly experiment, where a sheep was cloned and observed by scientists throughout its life cycle.
A common selling point for cell-based food start-ups is that their products are free from animal cruelty and could better preserve nature, thus making the planet more sustainable.
Siau says that as at Oct 26, Kairos FoodTech Fund had invested in GOOD Meat, Mission Barns, Roslin Tech and WhyQ, a Singapore-based food delivery service provider that has expanded to Malaysia. An investment in The EVERY Company (formerly known as Clara Food), a start-up that provides plant-based eggs and meat, will follow suit.
Investment strategy
Siau has invested in several foodtech start-ups through his private vehicles for the long term, but Kairos FoodTech Fund does not deploy the same strategy. The fund's investment horizon is three years, with an option to extend it for another two years at most. The duration is relatively short compared with most of its peers in the market.
Why not hold on to these start-ups for longer if they are good? He explains that it is part of the fund's strategy to reduce risk for investors as much as possible. The fund aims to generate attractive returns for investors by acquiring equity in leading start-ups at a discounted price in the foodtech sector, helping them grow and then disposing of their shareholding in their next phase of growth. 
A key event that Siau keeps a close watch on is the regulatory approval of the FDA for one of his investee companies to introduce its cell-based meat to the world. The overall valuations of the start-up, together with its peers, could rise when that happens and present a good exit opportunity for Kairos. 
"We don't foresee the valuations of these start-ups falling [in the next three to five years]. If we invest in small start-ups, the potential for a down round is very real. But all these are big companies with clear paths to commercialisation and profitability. They are already planning their next fundraising rounds and there is already a premium [factored] in," he says, adding that the exit strategy includes an initial public offering (IPO) and secondary share sales.
The key risks include a longer-than-expected delay in regulatory approval and a lack of consumer demand for cell-based food products. A potential global recession that could hamper investor confidence and businesses is another. 
Yet, Siau remains confident that the investment will play out well, as a similar investment strategy was deployed when he was CEO of venture capital firm Ericsenz Capital Pte Ltd. 
At Ericsenz, the firm invested in unicorns — start-ups valued at US$1 billion or more — in their later stages and exited them in IPOs and secondary market share sales within three to five years. Big names that the firm was involved in include Uber Technologies Inc, Spotify Technology SA, Airbnb Inc and Palantir Technologies.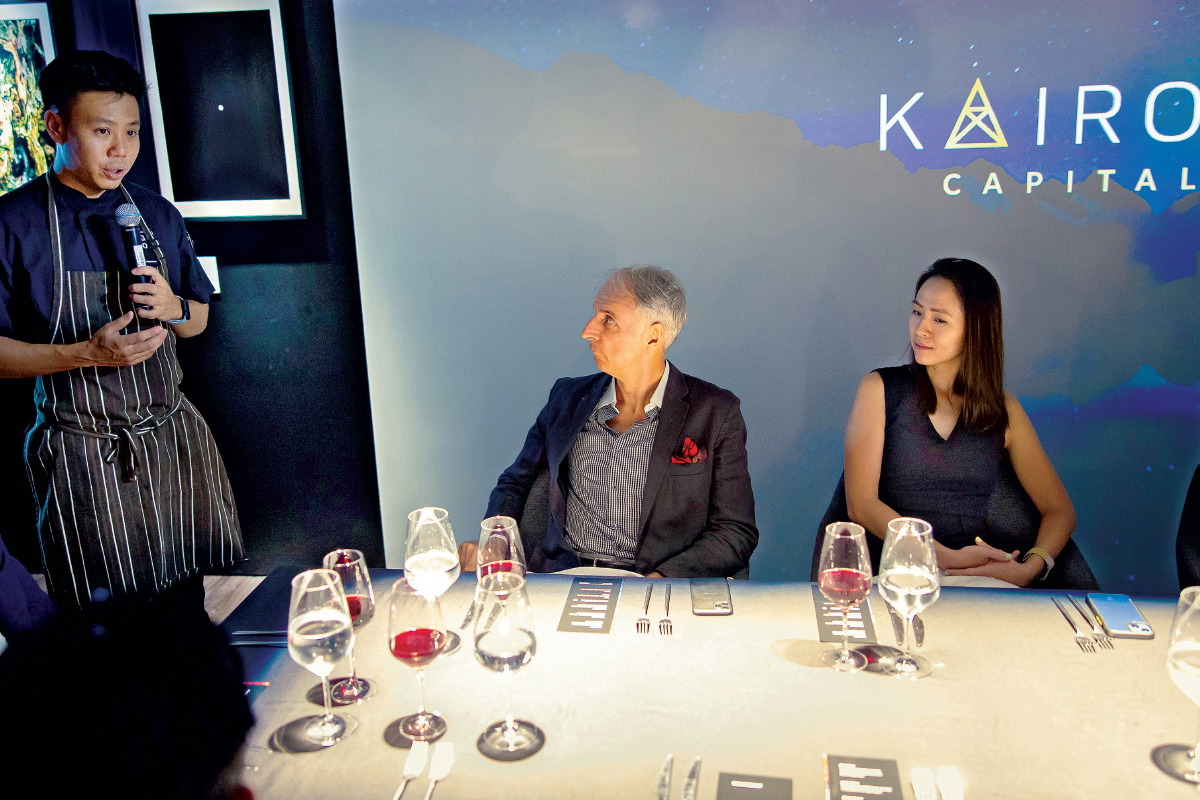 A GOOD Meat chef explaining to guests and investors how the dishes of cultivated meat were prepared and presented during a food tasting event
Applying for a VC licence in Malaysia 
Coming from a corporate background, it wasn't an easy transition for Siau to join the venture capital and start-up world. 
Prior to joining Ericsenz, he spent more than 15 years in the banking and asset management industry. He left Bloomberg in the US in 1999, when his mother passed away, and returned to Malaysia to join Ban Hin Lee Bank (BHLB) Pacific Trust Management Bhd. It was the second-largest unit trust company behind Public Mutual Bhd. 
About 1½ years later, BHLB merged with Southern Bank. The entity was later sold to CIMB Bank. 
"I was involved in product development, corporate strategy and investment during that period. A lot of things happened in that couple of years actually," says Siau.
He would eventually leave CIMB to join RHB Unit Trust, which later merged with RHB Asset Management. When he was with RHB Bank, he climbed the corporate ladder to become CEO and executive director of RHB Asset Management Pte Ltd to oversee and grow its overall asset management business in Singapore and Southeast Asia. 
In 2015, Siau resigned from the company as he felt that he had hit a ceiling in his career and wanted a change. Many were caught by surprise when they heard the news. 
"I didn't tell anyone, even my family. I just thought it was time. A lot of my friends actually 'scolded' me, saying that I was in a good position in the banking industry, why quit? I said no lah, I had a hunch [that things would work out better if I tried something new on my own]. I just wanted to follow my hunch," he says.
"Personality-wise, I've always been an optimist. I look at the good things. With my knowledge and network, I thought I should be able to make it." 
Siau chose to venture into the private market as he had always been intrigued by its inner dealings. It was also under his watch that RHB Asset Management launched several private equity funds, which were run out of Singapore. 
But striking out on his own, mingling with start-up founders on the ground, many of whom were entrepreneurs, programmers and software engineers, wasn't easy, and more so for an introvert like him. 
"The first few years were tough. And I realised who my friends were and who were not [as I left my previous corporate position]. There were also those who supported me when I started out on my own," he says. 
Over time, Siau managed to extend his network in the private market and the start-up world to get to where he is today.
Network is key in the private market as personal relationships and trust play a key role in landing a deal. The fund size of an investor, whether it is individual or institutional, matters less to well-funded unicorns than some public-listed companies. 
Siau witnessed how a renowned Singaporean state-owned fund, which many companies would have welcomed as an investor, was denied access to invest in Spotify, the Swedish audio streaming and media service provider, 1½ years before its IPO. 
"That was an eye opener for me as someone coming from a public market. The private market is very different. These unicorns were very well funded. They could just say 'no' to you," he recalls.
Having a personal network is important for an investor to sniff out opportunities to buy shares at discounted prices in a fragmented private market, or to sell them at a desirable price. 
Moving forward, Siau will continue to leverage his experience and network to invest in start-ups with good potential. He is applying for a licence with the Securities Commission Malaysia to set up Kairos Capital in Malaysia. "Hopefully, we will be able to get the licence to set up a fund here," he says.